Did You Slip and Fall in a Parking Lot Due to Parking Lot Hazards?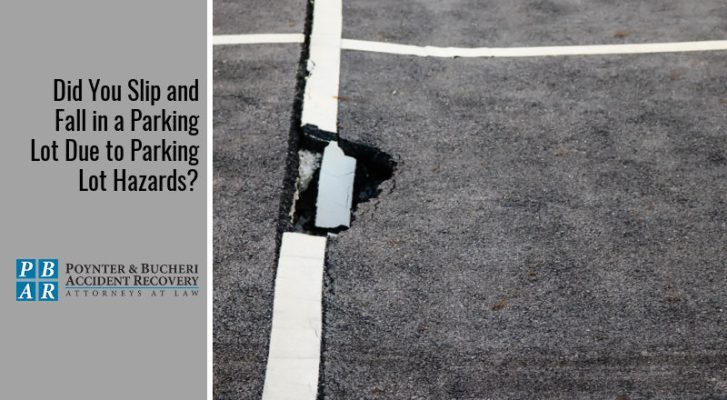 What you'll learn from this article:
Parking lot hazards present a risk of slip-and-fall injuries.
Indiana property owners have a responsibility to provide safe parking lots.
You can seek compensation for a slip-and-fall injury with the help of an experienced Indiana personal injury lawyer.
Did you slip and fall in a parking lot? Could an Indiana property owner be responsible for the dangerous parking lot hazards that caused your injuries?
Slip and fall injuries can severely disrupt your life by damaging your health and draining your bank account. A simple slip and fall in a parking lot can send you to an Indianapolis emergency room for hours of treatment, plus thousands of dollars in medical bills and months of suffering.
After an injury like this, you have options for recovering the compensation you need to rest and heal from your injuries. Here's what you need to know about holding the right party responsible for a parking lot injury in the Indianapolis area.
Parking Lot Hazards Commonly Cause Slips and Falls
Slips, trips, and falls in parking lots are much more common than most people realize. All it takes is one crumbling pothole or an icy sidewalk to send you sprawling onto the pavement with a serious injury.
Our nation's parking lots, businesses, homes, and public buildings are the sites of more than 3 million severe and fatal falling injuries every year. According to the National Safety Council, falls account for one-third of all non-fatal injuries nationwide. Falls during normal daily activities are among the top causes of death in older Americans.
Some of the most common causes of parking lot injuries include:
Stumbling on loose and crumbling paved parking areas
Tripping over low obstacles like curbs and surface changes
Slipping on cracked, broken, and missing parking lot sidewalks
Weather-related slips and falls due to flooding, ice, and snow
Falls due to missing lights, handrails, and other safety features
How to Pursue Slip and Fall Parking Lot Settlements
After a slip and fall injury, you can hold an Indiana property owner responsible for the parking lot hazards that put your safety at risk. Poorly-maintained parking lots present a danger to visitors and under Indiana premises liability laws, property owners are expected to maintain safe conditions.
For example, picture what happens when a big box store's customer suffers a slip and fall on ice in a parking lot. This ice isn't fresh but has been building up for several days. You could be one of the unlucky customers who take a spill on the ice and suffers a severe ankle injury that leaves you unable to walk. The big box store and/or the parking lot owner can be held liable for your injuries and related damages.
The first and most important step is to speak to a personal injury lawyer who can help you determine precisely who owns or manages the parking lot and is responsible for its upkeep. Gather evidence from the scene of your injury that backs up your claims, like photos, videos, and witness statements.
Request an accident report from the property owner. Your slip and fall lawyer can help you bolster your case with additional evidence like the building's security video footage, public records, a medical review, expert opinions on your case, and more.
Save your medical documentation that shows the extent of your injuries and the value of the healthcare bills you owe. Document the other losses you've experienced too, like wages from missed days of work.
In Indiana, personal injury claims can cover a wide range of losses, including:
Medical expenses, including ER trips, hospital stays, surgeries, and doctors' visits
Medical equipment, supplies, and medications
Rehabilitation and therapy
Past and future lost income
Out-of-pocket expenses like travel costs
Lifestyle modifications including help with household chores
Pain and suffering
Scarring, disfigurement, and permanent impairments
Emotional/mental anguish
Loss of enjoyment of life and consortium
Don't let anyone minimize your suffering. A slip and fall in a parking lot can lead to immense pain and ongoing health problems that sap your resources for recovery.
Contact Poynter & Bucheri Accident Recovery about your parking lot slip and fall accident. We know how to handle these claims and we're here to help you pursue the full and fair compensation you deserve.
Poynter & Bucheri Accident Recovery – Indianapolis Slip and Fall Attorneys
If you or someone you love was injured in a parking lot slip and fall accident, you need to know your legal rights. Our personal injury attorneys are experienced with cases like yours and can evaluate what your case may be worth.
We'll review your case and offer you guidance on your best options. Don't hesitate. One of our experienced attorneys can assist you right away. Call 1-800-265-9881 for a free slip and fall case review.