Immediate Steps to Take After a Slip and Fall Accident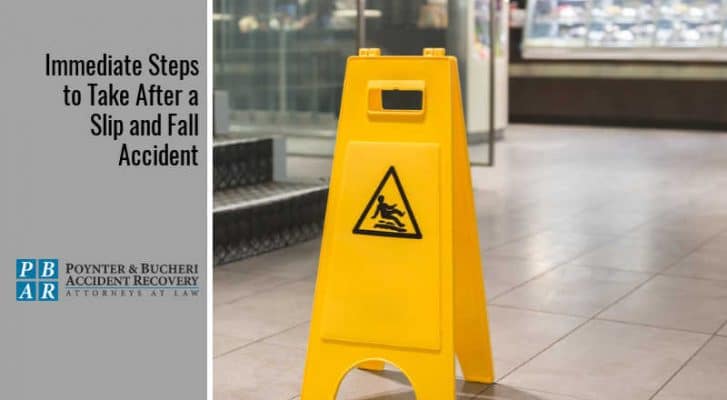 What you'll learn reading this article:
Things you may not realize, like posting about your slip and fall case on social media, can end up causing damage to your personal injury claim and should be avoided. 
There is a difference between reporting your accident to a manager or someone of authority and providing recorded statements on an incident report–you only want to do one of these! Request a copy!
Taking immediate action to identify and preserve information about your slip and fall accident in the form of photographs and witness contact information can make a huge difference in strengthening your slip and fall accident case.
If you or a loved one is unfortunate enough to suffer a slip and fall accident that results in a personal injury, there are several things you should do to both protect yourself and your personal injury accident claim. The Law Offices of Poynter & Bucheri Accident Recovery have the experience and expertise to guide you through the most important steps you should take immediately following a slip and fall.
Steps to Take at the Scene
Seek medical attention. Sit tight and be sure to call for help to ensure you don't further your injuries by trying to move.
Report the accident. Whether you are in a store, at your workplace, or at a neighbor's house, be sure to let the manager, owner, or someone else in a position of authority know what happened. Do not leave the premises before reporting. Avoid using hyperbolic language: state what happened in simple, straightforward terms.
Identify witnesses. Ask anyone nearby who witnessed your fall if you could have their information, such as names, phone numbers, email addresses, and home addresses. This will allow you to contact them later to support your claim.
Take photographs of the scene. Identify any items or objects that led to your slip and fall, such as cracked pavement, a wet floor, ice patches, obstructive objects that shouldn't be present, or an object that fell. If you don't have a phone or the ability to take pictures, see if a witness would snap photographs of the scene and send them to you. Be sure to get photos of the exact location of the slip and fall–the more angles, the better. Also be sure to get several photos from different perspectives, such as close-ups and wider shots that include more of the scene. Additionally, get photos of any visible injuries you sustained, such as scratches, bruises, or swelling and photos of what you are wearing.
Decline to provide statements. The liable individuals may ask you to provide a statement about what happened for their records. Avoid this. While it may seem harmless and like another way to document what happened, talented prosecutors and insurance companies can use these statements to attempt to poke holes in your claim. Once you have filed a premises liability report and alerted the proper individuals, the information required of you is complete. It may be easy to repeat what happened as people gather or to slip into a conversation with those around you and dismiss their responsibility as they apologize. Staying silent apart from required communication is best; this also removes the possibility of emotions and personalities changing the narrative of what happened and how.
Do not sign any waivers. Oftentimes the liable individuals can attempt to have you sign something that waives their responsibility for your injury.
After leaving the scene, you should immediately contact a slip and fall attorney if you have not yet done so.  For a free case review of your slip and fall accident case, contact Poynter & Bucheri Accident Recovery at 1-800-265-9881. Our injury lawyers are well-versed and prepared to make you their top priority. If you need someone on your side to help you fight for your rights, contact PBAR.
Steps to Take as You Build Your Case
Once you have contacted an attorney, you can continue to protect your case by taking the following steps:
Preserve evidence. If able, put away the shoes and clothes you wore during the accident and store them in a safe place where they won't be altered or lost. These could provide important information later should your case go to trial.
Avoid posting about your accident online. Seemingly harmless comments and conversations on social media can be used to poke holes in your story or be twisted to weaken your claim.
Continue medical treatment. If your doctor prescribed you medicine or physical therapy, or asked for follow-up appointments, be sure to see those through. By failing to complete medical treatments, insurance companies or prosecutors could question the validity of your injury or the seriousness with which you took it. Keep a record of all medical bills.
Poynter & Bucheri Accident Recovery – Indianapolis Personal Injury Attorneys
If you or a loved one has been injured physically or mentally by a person, product or company, you need to know your legal rights. Our personal injury attorneys are experienced with cases like yours and are able to provide the proper legal advice needed to protect your claim and can evaluate what your case may be worth. We will ensure that you are protected and compensated for your injuries and losses. Don't hesitate—one of our experienced attorneys can assist you right away. Call our law firm at (800) 265-9881 for a free consultation.