Increase in Indianapolis Pedestrian Accidents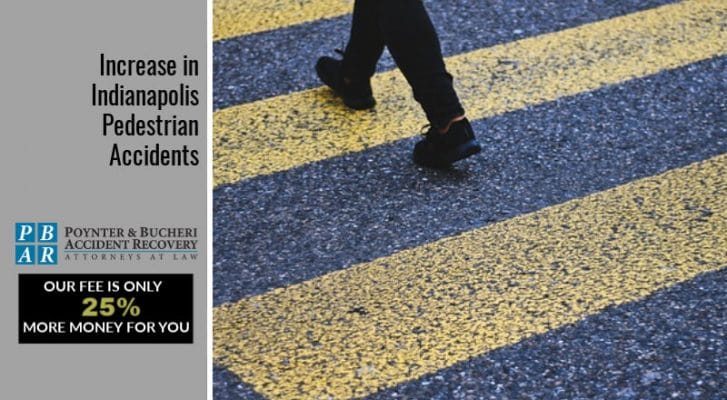 What you'll learn reading this article:
Fatal pedestrian accidents are on the rise throughout the entire United States.
Indianapolis has one of the most dangerous areas for pedestrians in the U.S.
Several ways to protect yourself and your loved ones from pedestrian accidents in Indianapolis.
Warmer weather means an increase in walkers and bicyclists, and while this is great for health, it also can be dangerous. Recently, there has been an uptick in pedestrian accidents in Indianapolis—just recently, six pedestrians have been fatally struck by motor vehicles, including three teenagers.
Last month, there were at least two high-profile fatal pedestrian accidents, one of which involved a pregnant woman struck by an off-duty police officer, the other a pedestrian struck and killed on U.S. 31 near Columbus.
The Indiana University Public Policy Institute's traffic safety studies show that accidents involving pedestrians in Indiana hit 1,914 in 2016. Between 2017 and 2018, pedestrian accidents increased by 3 percent while the fatalities of pedestrian accidents increased by .4 percent.
While this is a relatively small increase, any number of deaths due to a pedestrian accident are too many.
Why are Pedestrian Accidents Increasing?
A 2019 report found that Indiana's Seventh Congressional District, which includes two-thirds of Marion County, is actually one of the most dangerous places for pedestrians in the United States, ranking 68th out of the 435 House districts.
But the problem isn't just in Indiana State and local communities—across the country, pedestrian injuries and pedestrian deaths have risen by 35 percent in the last 10 years.
The report has found that while walking and driving haven't significantly changed in the last decade, the way we design our roads has, with a greater emphasis on wider streets for accommodating faster traffic. And when it comes to pedestrians, speed is the most significant factor in determining the outcome of an accident and how serious injuries will be for those struck.
How Can I Be Safer When Walking?
Using designated sidewalks is the safest way to walk, but it is not always an option. Sometimes, we need to walk places that do not have sidewalks, or we may need to cross trafficked streets and busy intersections.
Here are some facts about pedestrian accidents:
Most pedestrian accidents (73 percent) in the United States occur at non-intersections. If you can, always cross a street at a designated intersection and look both ways before beginning to cross.
Seventy-five percent of pedestrian accidents happen in low light or darkness; be sure to wear reflective clothing if you plan on walking in darker conditions.
Many of the pedestrian accidents in the U.S. occur between 6 and 9 p.m. If walking during these hours, be more vigilant about your surroundings and increase your visibility to motorists.
Almost 75 percent of pedestrian accidents take place in urban areas of the United States, with just 22.2 percent occurring in rural areas. Regardless of location, practice smart walking: Be aware of your surroundings and, when possible, walk in groups to increase visibility.
What Do I Do If I'm Hit?
If you are struck by a vehicle while walking, it is almost certain that you will sustain injuries, while the severity of your injuries will be determined by the size and speed of the vehicle. Here are the steps you should take if involved in a pedestrian accident:
Seek medical attention. If you are unable to call for help, have the driver or a witness do it for you.
Call the police. You will want to file an accident report as you would in a car accident.
Photograph and document your injuries.
Get statements from witnesses.
If you are injured by a motorist while walking, you will want to contact a qualified and experienced personal injury lawyer to help you navigate the best way to seek compensation for your accident case. Attempting to handle the situation without a lawyer can result in not getting fair compensation from your insurance company and being on the hook for future emotional, physical and financial pain.
Do not be a victim twice. Seek professional help from licensed personal injury attorneys for your Indianapolis pedestrian accident.
Poynter & Bucheri Accident Recovery—Indianapolis Personal Injury Attorneys
If you or a loved one has been injured physically or mentally by a person, product or company, you need to know your legal rights. Our Indianapolis pedestrian accident attorneys are experienced with cases like yours and can evaluate what your case may be worth. We will ensure that you are protected and compensated for your injuries and losses. Most firms charge 33% or 40%, at PBAR our fee is only 25% – THAT'S MORE MONEY FOR YOU!
Don't hesitate—one of our experienced attorneys can assist you right away. Call (800) 265-9881 for a free case review.