PERSONAL INJURY CASES — Pedestrian Accident in Indianapolis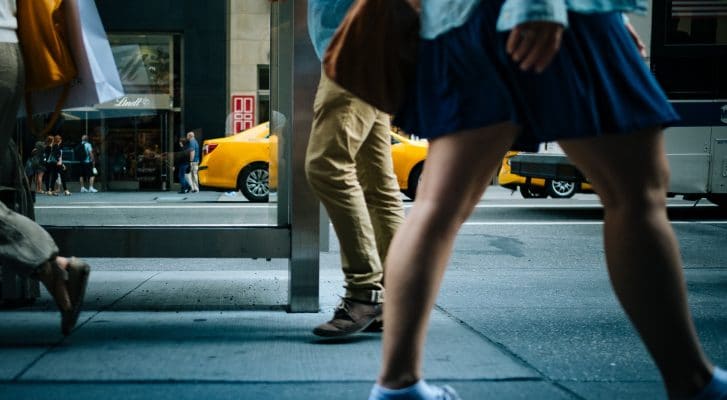 If a negligent driver hits you while you are walking or jogging in Indianapolis, you may be entitled to compensation. The personal injury laws in Indiana provide a way for pedestrians hit by vehicles to recover money to compensate them for their accident-related expenses and damages. Our Indianapolis pedestrian accident attorneys can help you file a claim for compensation if a negligent driver hit you.
What Are Your Options for Recovering Compensation for a Pedestrian Accident?
When a driver hits a pedestrian who is crossing the road, walking in a parking lot, jogging on the sidewalk, or walking along the side of the road, the driver may be responsible for the person's financial losses, pain, and suffering. You have the right to hold a driver who violates the law financially responsible for your damages. In most cases, compensation for injuries may be recovered by filing an accident claim with the driver's insurance company. An Indianapolis pedestrian accident attorney with our PBAR legal team negotiates a settlement directly with the insurance company based on the value of your losses and damages.
However, it is necessary to litigate a pedestrian accident if the insurance company will not negotiate a fair settlement. In that case, our Indianapolis pedestrian accident attorneys file a personal injury lawsuit against the driver. Even though we file a lawsuit, that does not prevent us from settling the case before the matter goes to trial.
Proving Fault and Building a Case Against the Driver Who Hit You
To recover compensation for injuries, we must prove that the driver acted negligently in causing your injuries. Proving negligence requires evidence that demonstrates the driver owed a duty of care, breached the duty, caused an accident, and the accident resulted in injuries and damages.
To prove the claim, we gather evidence from the accident scene and interview witnesses. We also review the accident report and your medical records. Our legal team obtains copies of invoices, receipts, and bills that prove your financial losses.
After you complete treatment for your injuries and we have obtained a final prognosis from your physician, we prepare a demand letter. The demand letter outlines the driver's role in causing your injuries and provides evidence of the damages you suffered because of the accident.
The demand package is sent to the insurance company for consideration. Our lawyers are skilled and aggressive negotiators. We fight for full compensation of all damages, so you receive maximum compensation for your claim.
What Damages Can You Receive Compensation for a Pedestrian Accident?
The amount of compensation you might receive for your accident claim depends on several factors. The severity of your injuries, your financial losses, the length of your recovery, and whether you suffered permanent impairment are factors used to calculate the value of a pedestrian accident claim.
Damages that are included in a pedestrian accident claim include:
The cost of medical treatment
Loss of income and wages
Replacement or repair of personal property
Physical pain and suffering
Mental and emotional stress
Scarring, disfigurement, and permanent disability
Future loss of income and ongoing medical care
Our legal team works with you to gather evidence that proves the full extent of your damages. We document each loss to increase the chance you receive a fair and just settlement for your claim.
Contact an Indianapolis Pedestrian Accident Attorney
Call Poynter & Bucheri 1-800-265-9881 or (317) 780-8000 to request your free consultation with an Indianapolis pedestrian accident attorney.