What are my rights if I was shopping for Instacart or Shipt and had a slip and fall accident?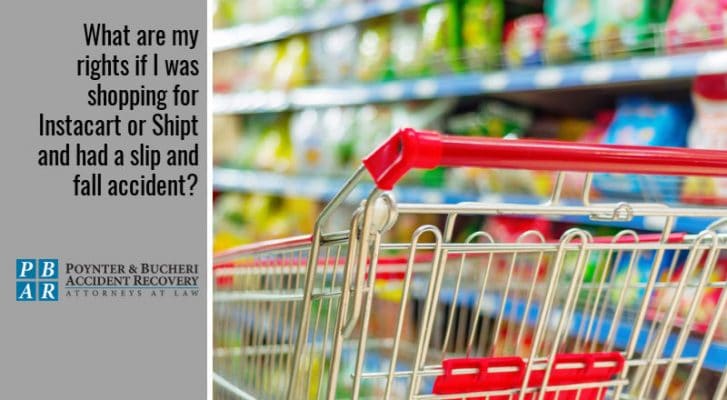 What you'll learn reading this article:
Delivery services like Instacart and Shipt are seeing their highest use ever during COVID-19.
When drivers are injured, delivery companies avoid covering their medical bills.
If you're injured, you may need to pursue a personal injury lawsuit with the help of an Indianapolis attorney.
During the COVID-19 pandemic, there's been explosive growth in the use of grocery delivery services like Shipt and Instacart. By March 19, 2020, the use of grocery delivery apps and delivery drivers had already risen 218% and was expected to continue growing steadily in the months to come.
This means there are hundreds of thousands of new customers and shoppers for these grocery store independent contractor services, with hundreds of thousands of new opportunities for injuries along the way. What if an Instacart or Shipt driver zooms into the driveway and dashes up the sidewalk, only to slip and fall on loose concrete? Who's at fault?
Delivery Companies Sometimes Say "Not It!" to Responsibility for Injuries
Most food and grocery delivery companies, including Shipt and Instacart, don't explicitly offer insurance coverage for injury claims that arise from personal injuries on homeowners' property. They've already required their drivers to sign forms that release them from responsibility. When employees of Instacart or Shipt have a slip and fall accident they receive reports of injuries and tell their drivers to talk to the property owner or customer/homeowner.
For example, Instacart maintains auto insurance that covers their drivers while actively working – that is, while driving in case of a car accident. However, a slip and fall accident on a homeowner's property isn't an auto accident. Neither Instacart nor their auto insurance carrier will cover it.
Shipt has been facing increasing public scrutiny over its handling of the COVID-19 crisis. Some Shipt workers claim that they are not receiving personal protective equipment (PPE), contrary to public statements from the company's CEO. It's hard to imagine that Shipt would be eager to cover a personal injury claim right now.
Here's How to Seek Compensation for Your Injury
If you're injured on someone's property while delivering food or groceries, seek medical attention as soon as possible. Describe the accident to your doctor and ensure you receive a complete medical workup including recommendations for any aftercare or physical therapy you may need.
Keep all of your paperwork and take photos/videos of your injuries. Report your injury to Shipt, Instacart, or whichever company you were working for, but don't be surprised if they won't cover your claim. Report your injury to the homeowner too, but don't get into an argument or extended discussion about it.
Contact an Indianapolis personal injury attorney as soon as possible. An experienced accident attorney will immediately recognize the steps you need to take to build a case against the person responsible for your accident. If the homeowner allowed their walkway to stay in poor condition or didn't provide adequate lighting, for example, you may have the right to pursue a premises liability claim for your personal injury.
Beware of an insurance company or homeowner who pressures you to agree to a small settlement right away. Speak to your injury lawyer first! Your medical bills could include months of physical therapy and doctor's visits, and you'll want to ensure it's all taken into account as you seek the compensation you deserve.
In Indiana, injured people can seek compensation for:
Both economic and non-economic damages
Medical bills, including emergency care, ongoing visits, and physical therapy
Your current lost wages, plus your future lost wages
Emotional and mental suffering, including anxiety and distress
If you broke your foot, your injury could affect your ability to continue working for a grocery delivery company, which impacts how you provide for your family. This loss could be factored into the amount of your lawsuit.
As a grocery driver working during the COVID-19 crisis, you're doing something heroic for your customers. But if you trip, slip, or fall during your mission, don't hesitate to contact Poynter & Bucheri accident lawyers to help place the blame where it belongs and get compensation for your injuries.
Poynter & Bucheri Accident Recovery – Indianapolis Personal Injury Attorneys
If you or a loved one has been injured physically or mentally by a person, product or company, you need to know your legal rights. Our personal injury attorneys are experienced with cases like yours and can evaluate what your case may be worth. We will ensure that you are protected and compensated for your injuries and losses. Don't hesitate – one of our experienced attorneys can assist you right away. Call 1-800-265-9881 for a free case review.