Megabus Indianapolis Returns After Leaving Market Due to Accidents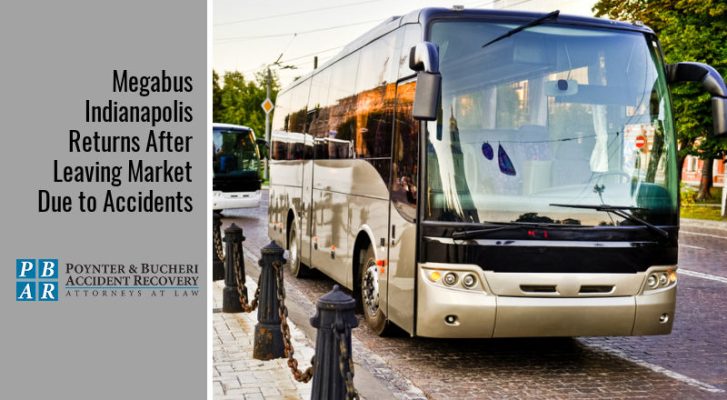 After multiple accidents involving Megabus in Indianapolis a few years back, the company pulled its services in the city. The accidents, which left many people severely injured, raised questions about the safety of these double-decker buses.
However, recent reports say that Megabus is returning to the area just in time for spring break. Initially, the company was partnering with Miller Transportation, but after consideration, the company decided to back out of that deal and once again said it would not be offering services out of Indianapolis.
But Megabus representatives now say the company is truly returning to the city, but instead is partnering with Burlington Trailways. The new service will offer Megabus trips from Indianapolis to Chicago and many other areas, including cities in Colorado, Iowa, and New England.
However, with so much back and forth and switching partnerships, it still raises questions about whether the company is to be trusted and whether they have taken measures to prevent accidents like before.
As lawyers, we advise caution and to do your due diligence to know your rights before stepping foot on a Megabus in Indianapolis. This is not to say that these buses aren't safe, but based on past accidents with the company, it's best to err on the side of caution.
And if you do end up involved in a Megabus Indianapolis accident, make sure you get in touch with one of our Indiana Bus Accident Lawyers. We can help you file your claim, ensure the right party is held liable, and ensure you are awarded the fair compensation you deserve for your injuries.
What Causes Megabus Accidents?
Bus accidents, including Megabus, can happen for any number of reasons, including:
Speeding
Distracted driving
Mechanical failures
Poor road conditions
Traffic congestion
However, intercity bus services offered by companies like Megabus can also result in accidents caused by things more specifically related to this type of service. For example, drivers that work for Megabus could be poorly trained, or they could be forced to drive long hours without breaks, meaning they are driving while fatigued. Megabuses are also much larger since they are double-decker buses, which means they are harder to maneuver and operate.
Common Megabus Accident Injuries
When Megabus accidents do occur, they are also more likely to result in serious injuries due to the size of these vehicles and the fact that they have passengers seated on upper and lower levels. Of course, any kind of bus accident can result in severe damage and injuries, but if you are riding on a Megabus, your risk of sustaining a more serious injury increases, especially if you are seated on the upper level and the bus tips over.
Common bus accident injuries can include:
Head and neck injuries
Severe lacerations
Blunt force trauma injuries
It's worth noting that not only can these accidents affect passengers on the Megabus, but other drivers and passengers in other vehicles involved in the accident can also sustain serious injuries. When a Megabus hits a smaller passenger vehicle, for example, the damage can be extensive, and the passengers in that smaller vehicle are likely to sustain severe, potentially life-threatening injuries.
Luckily, Indiana is an at-fault state, which means that if you were injured in an accident due to someone else's negligence, you could file a claim against that person or party to recover compensation for your injuries and other potential damages. However, you still need to be able to prove that another party was, in fact, responsible for the accident that caused your injuries.
Who Can Be Held Liable for a Megabus Indianapolis Accident?
When a Megabus Indianapolis accident happens, it is not necessarily the company that will automatically be held liable. There are multiple parties that could potentially be at fault in these types of accidents, which is why you'll need to work with an attorney who can help you investigate and determine who to file your claim against.
The parties that could be held liable for a Megabus accident could include:
The bus driver
The Megabus company
Another driver that caused the Megabus to crash
A passenger on the Megabus that did something to cause the driver to crash
The bus parts manufacturer if the accident was due to a defect
The bus mechanic if the accident was due to a mechanical failure
Recovering Compensation After a Megabus Indianapolis Accident
If you are injured in a Megabus accident in Indianapolis, you should contact an attorney as soon as possible. Bus accident cases, in general, can be more complex, including Megabus accidents.
Obtaining evidence, in particular, can be challenging after a Megabus accident. In most cases, you will need the help of an attorney with the resources and connections to obtain certain information that can be used as evidence. Such evidence can include the training practices of the company, driver logs, video footage of the accident, copies of police reports, and footage from the phones of passengers on the bus.
Your attorney will know what evidence and information is needed to build a strong case and ensure you are awarded the full and fair compensation you need to pay for the damages you have suffered.
These damages that you can recover a settlement award for can include:
Medical bills
Lost wages
Physical pain and suffering
Emotional distress
Property damage
Scarring and disfigurement
Permanent impairment and disability
Consult With a Megabus Indianapolis Accident Lawyer
If you are involved in a Megabus Indianapolis accident, our team of Indianapolis personal injury lawyers and bus accident lawyers can assist you.
At Poynter & Bucheri Accident Recovery, we have years of experience handling accident claims, including bus accidents, and know what it takes to ensure the right party is held accountable for their negligent actions. We will fight hard to protect your rights, help you navigate your claim, and ensure you are awarded the full and fair compensation you deserve.
Don't hesitate — an experienced Indiana bus accident lawyer can assist you right away. Call 1-800-265-9881 for a free case review.