Tips from a Bus Accident Lawyer: Steps to Take After an Indiana Bus Accident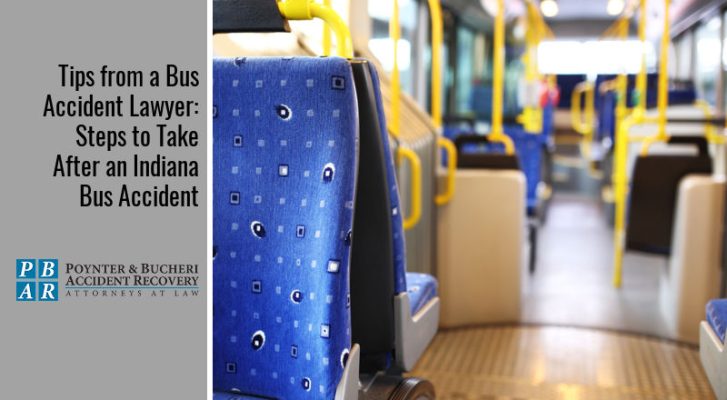 Thousands of bus accidents occur every year, resulting in severe injuries and even fatalities.
The exact numbers are hard to determine, as the Federal Motor Carrier Safety Administration combines large trucks and large buses when reporting these statistics — but in 2020, they reported 4,998 fatal large truck and bus accidents. The number of truck and bus accidents involving injuries that weren't necessarily fatal is even higher at 108,000.
Even if some of these numbers involve trucks, the overall total is quite high, which indicates that bus accidents are quite common and can result in severe and fatal injuries. And the reason for so many bus accidents is likely because there are many different kinds of buses on the roads every day.
A bus accident can involve public transportation buses like metro buses, school buses, tour buses, private charter buses, travel buses like Coach or Greyhound, and even airport and hotel shuttle buses.
Unfortunately, being involved in a bus accident can not only result in severe injuries, but filing a bus accident claim can be more challenging than filing a claim against another regular driver. As such, it's almost always necessary to work with an experienced bus accident lawyer.
Whether you are a passenger on the bus, a pedestrian who was injured, or another driver involved in the accident, an Indiana bus accident personal injury lawyer can help you navigate your claim, determine the right party to hold accountable, and ensure you receive fair compensation for your injuries and other potential damages.
So, if you or a loved one are involved in an Indiana bus accident, follow these steps below to ensure your personal injury case goes as smoothly as possible.
1. Call 911 and Tend to Your Injuries
Of course, the first thing you should do after any bus accident is to call 911 to report the accident and address your injuries. If your injuries are minor, you can call the police to make sure they send help for others that may need it and then get yourself to a safe spot out of the way if possible.
If your injuries are severe, call 911 and wait for emergency medical responders to arrive and treat you. In this case, moving out of the way may not be possible and could make your injuries worse. So try to stay calm and wait for the police and ambulance to arrive.
2. Gather Evidence at the Scene
If your injuries are not too severe, it can be incredibly beneficial to your case if you can gather evidence at the scene of the accident. The police will no doubt do this as well, but bus accidents can be traumatic and chaotic, making it easy for things to get missed or overlooked.
So if you can, gather evidence yourself by using your phone to take photos or videos of the scene. This can include shots of your injuries, the damage to the bus and/or your own car if you were driving, shots of the entire scene as a whole, and any other details that you feel may be relevant to what happened.
3. Locate Witnesses
Witness statements and testimonies can also be useful when bus accidents occur. Because there are likely multiple people and even multiple vehicles involved, it can be helpful to have outside perspectives on what happened.
For example, what you saw happen as a victim might differ from another victim's perspective, which could result in disputes over what occurred. But in some cases, outside witnesses who were not involved can have a clearer understanding of what happened because there is no bias.
So, if you can, identify people at the scene who witnessed what happened and collect their contact information so they can be called upon if needed to give a statement or testimony.
4. Contact a Bus Accident Lawyer
After the accident and after your injuries have been addressed, either at the scene or after being taken to the hospital, it's crucial that you call an Indiana bus accident lawyer as soon as possible. In fact, if the police, the bus company, or an insurance company contacts you to ask you what happened, you should wait to speak to them until you have consulted with a lawyer.
Anything you say could be used against you, which could negatively affect your bus accident personal injury claim. So always speak with an attorney first. Bus accident cases are often complex, so you will need professional representation to protect your rights and ensure the right party is held accountable.
5. Determine Who to File Your Bus Accident Personal Injury Claim Against
One of the aspects of bus accidents that makes them so much more complex is determining who is at fault and responsible for paying for the damages the victims suffered. When you are involved in an accident with another regular driver, it's pretty obvious that you would simply file a claim against that driver. But with bus accidents, multiple potential parties could be held liable.
This is something your bus accident lawyer will be able to help you with. They can evaluate your case and what happened to determine the right party or parties to pursue legal action against for your personal injury claim.
Potentially liable parties in bus accidents can include:
The bus driver
Other vehicle drivers that were involved
The company that owns the bus and employs the bus driver
The local government or municipality that owns/operates local transit systems
The service vendor or mechanic responsible for maintaining the bus
The bus manufacturer
In most cases, a bus is either privately owned by a business or owned by the local government or municipality. So it's important to work with your bus accident lawyer to determine who is at fault because the process of filing a claim can vary depending on who you are filing against.
For example, suppose the local government is responsible. In that case, you will be required to file a tort claim notice, notifying the appropriate government agency of your intent to pursue legal action within 180 days of the accident.
6. Obtain a Court Order for Access to the Bus Company's Information
With bus accidents, it may also be necessary to submit a court order to gain access to the bus and the bus company's information. And again, this is something you would need to work with your bus accident lawyer to obtain.
A court order could ensure that the bus is not tampered with after the accident, so your attorney can have experts examine it to determine what happened. You can also obtain a court order to access the bus's black box data recorder, which can provide info about the speed at which the bus was traveling, and braking and steering maneuvers.
A court order can also help you and your lawyer gain access to the bus driver's logs, employment records, driving records, communications with dispatch, and any other records that can provide essential evidence.
Obtaining a court order is an important step to take with your lawyer after a bus accident because it provides you with more evidence — evidence you will need to prove what happened and hold the right party accountable.
Consult With an Indianapolis Bus Accident Lawyer to Win Your Case and Recover Compensation
If you sustain injuries as a result of a bus accident that was due to another party's negligence, you have the right to file a claim against that party to hold them accountable and recover compensation. Compensation for a bus accident claim can help you pay for your medical expenses, lost wages, pain & suffering, emotional distress, and more.
At Poynter & Bucheri Accident Recovery, we have years of experience handling accident claims, including bus accidents, and know what it takes to ensure the right party is held accountable for their negligent actions. We will fight hard to protect your rights, help you navigate your claim, and ensure you are awarded the full and fair compensation you deserve.
Don't hesitate — an experienced Indiana bus accident lawyer can assist you right away. Call 1-800-265-9881 for a free case review.