Defective Decks and Balcony Injuries: Who's at Fault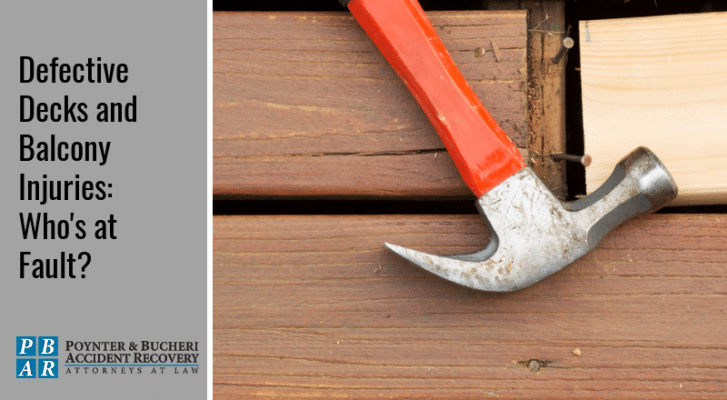 In this article, you will learn about:
Entities who may be responsible for a faulty or defective deck or balcony
Common causes of deck damage
Types of compensation you can seek
You may have seen one of many videos of house renters and their friends plunging to the rocks in Malibu as their balcony collapsed in May. Or maybe you saw news stories about a balcony collapse in Germany that injured 9 young people in June. Perhaps you remember the 6 Irish students who died after a balcony collapsed in Berkeley a few years ago. There are many more incidents like this — all of them tragic. However, a deck or balcony doesn't have to completely collapse for people to be injured.
A Consumer Product Safety Commission study reported that between 2003 and 2015, 6,500 people were taken to emergency rooms for injuries caused by unsafe decks; 29 of those people died. The North American Deck and Railing Association (NADRA) reported in May 2021 that there are over 60 million decks in the U.S. and estimates that 30 million of them need to be replaced or repaired.
Who is responsible if you are injured on a faulty deck or balcony?
A homeowner is responsible for keeping you safe on his or her property (duty of care).
If you rent an apartment or house, the landlord is responsible for maintenance and repairs to keep you safe.
If you are living in a large block of apartments owned by a large corporation, they probably employ a management company that is responsible for upkeep and safety checks.
Maintenance or repairs crews can be held liable if their work is not completed properly.
You may be at fault if there is nothing structurally wrong with the deck or balcony, but you climbed over a railing or exceeded the posted capacity.
In some places, municipalities are supposed to inspect buildings and issue citations for safety issues, so failure to do that could be an issue.
Decks or balconies may not adhere to building code, so architects, construction companies, and designers may be at fault. For example, when 13 people died and 50 were injured in a 2003 deck collapse in Chicago, poor construction was blamed because the balcony was bigger than permitted by city codes.
Possible causes of injuries on deck or balcony:
Wood rot or termite damage, causing a trip and fall accident
Wobbly railing, causing a loss of balance or fall
Ice, snow, or pooled water causing a slip or fall
Balcony separating from building as a result of joist or ledger failure or faulty construction
Common injuries caused by defective decks or balconies:
Concussions or traumatic brain injuries (TBIs)
Broken bones
Lacerations
Internal injuries
Defective deck and balcony injuries come under the classification of Premises Liability Law.
In Indiana, the Premises Liability Law means that property owners are responsible for injuries, damages, or deaths that occur to those who are legally on their property if the accident or incident occurred because of unsafe property conditions.
In order for a premises liability lawsuit to be successful, you and your attorney will need to prove that at least one of these is true:
The owner of the property caused the problem.
The owner of the property knew about the problem but did not fix it.
The owner of the property should have reasonably known about the issue because it would have been noticeable during regular checks and maintenance.
What damages or compensation can you ask for?
All medical expenses
Loss of income, including future income and possible reduced income
Other out-of-pocket expenses such as travel costs, over the counter medications, help with household chores, and home modifications to accommodate an impairment
Pain and suffering
Physical therapy
Therapist to deal with emotional trauma
Emotional distress
Development of phobias, such as fear of heights and falling
Scarring and disfigurement
Permanent impairments or disabilities
Loss of enjoyment of life and loss of consortium
Defective decks and balcony accidents can be more complicated than simple slip and fall accidents because so many entities are involved. It is very important to identify the liable party or parties.
In many cases, the property owner is liable for any injuries sustained on the property because of negligence. However, if the property is rented or leased, the tenant may be responsible. In some cases, multiple parties could be liable for the damages. By identifying each party that could be liable for a fall, our attorneys at Poynter & Bucheri increase the chance that you will receive full compensation for your damages.
You should document everything you can, get good medical care, and contact an experienced attorney at PBAR who can work to get you the compensation you need and deserve.
One more important fact to keep in mind: The Statute of Limitations for Indiana lawsuits is two years. If you do not file your lawsuit within that time, you will be out of luck, so contact Poynter & Bucheri as soon as possible.
Call 1-800-265-9881 for a free case review.
Video Transcript (blog version):
Hi, I'm Rich Bucheri from Poynter & Bucheri Accident Recovery Attorneys. And today, I want to talk to you about deck injuries. With the summer being in full swing and people having parties and inviting people over to their house for various social gatherings, it's important to make sure that your decks and other fixtures outside of your house are safe for your guests. You want to make sure you conduct a reasonable inspection of the premises before you invite people over. Because as invited guests, they are owed a duty of care by you to make sure that their visit is free from unwarranted danger.
And so a lot of times, what I see are people that are falling through decks because the wood is rotten, or there are boards that are sticking up, causing people to trip and fall, or maybe stairs on the outside that have not been properly maintained. And so these are all things that you need to be very aware of before you're getting ready to have that 4th of July party or that Labor Day and Memorial Day party, to make sure that your guests are going to be safe and that everybody's going to be able to have a good time. If you have any questions, please give us a call at Poynter & Bucheri Accident Recovery Attorneys. Thank you.