Types of Damages You Can Suffer in a DUI Accident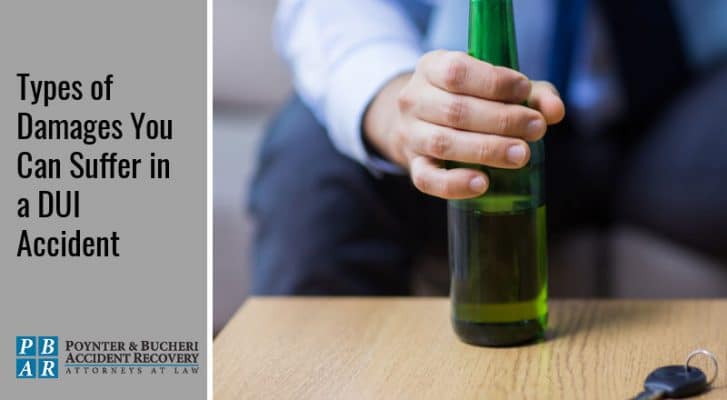 What you'll learn reading this article:
Indiana DUI crashes cause life-changing economic and non-economic damages.
As an injured person, you can seek compensation for certain damages.
A DUI accident lawyer can help you secure high-value compensation.
This year, hundreds of Indiana DUI crashes will cause severe bodily injuries and deep emotional wounds. Recovering from a catastrophic crash leaves a person struggling to cope with broken bones, organ damage, pain, follow-up care, rehabilitation, and potentially lifelong scars.
It's common for accident victims to have strong emotions like grief, loss, anger, frustration, and sadness as they come to grips with the unfairness of their situation. It can take months or years to heal from the trauma and often takes the help of a skilled mental health professional for a full recovery.
Plus, recovering victims often miss long periods of work and may even lose their jobs. The financial impact of a drunk driving accident can be enormous, especially for a family that depends on the injured person.
During all of this, DUI accident victims have to deal with the legal system and insurance claims process. Although it's common to use the term "accidents," DUI crashes aren't exactly accidental under the law. The use of alcohol or drugs before driving is dangerous and illegal, and it can be considered negligence in personal injury cases.
In Indiana, Proving Fault is Important
If you were injured in a DUI accident, establishing fault will be part of the process. A DUI driver may be held accountable in your personal injury case, but you'll need to show proof of your damages. To secure full compensation, you'll need to show that the DUI driver has changed your life for the worse in numerous ways.
You'll need all possible evidence available to make this claim, like the police report, witness statements, video footage, and other documentation that supports your side. Good news: It is possible to make a successful claim even if you are also partially at fault.
Indiana is a modified comparative fault state, meaning as long as you have less blame than the other person, you can still recover compensation. The fault will be weighed and compared, and your ultimate level of compensation will be reduced by the amount of your level of fault.
Types of Damages You May Be Able to Claim
Your total amount of compensation in a DUI case boils down to how much damage you suffered and what types of proof you have of your damages. Are you paying for expensive psychological counseling? Do you have massive medical bills? What about lost days of work?
There are also other, less obvious damages after a DUI accident. Perhaps you now have diminished opportunities for future employment. Maybe you can no longer share the same level of physical intimacy with your spouse. Your pain and suffering also have value.
Below are some types of damages you may be able to seek after being injured in a drunk driving crash in Indiana.
Hospital bills
Bills for follow-up surgeries and medical care
Medication copays and prescription costs
Physical therapy and rehab costs
Medical equipment and accessories, like crutches
Some types of in-home treatment and therapy
Lost wages
Loss of consortium for married couples
Pain and suffering
Vehicle repairs
Your DUI accident lawyer can help you demonstrate the widespread impact of the accident on your life, like having to take a pay cut at a time when you suddenly have a mountain of medical bills. If you're permanently disabled, this may play a major role in establishing your necessary level of compensation.
Your non-economic damages include your mental suffering and physical pain from the accident. Generally speaking, these damages are calculated based on the severity of your injuries, your level of pain, your future medical prognosis, and the emotional impact of being injured by a drunk driver.
At Poynter & Bucheri Accident Recovery, we have worked with thousands of injured victims and understand the struggles you're experiencing. We have a strong team of accident and DUI attorneys available to help you seek the high level of compensation you deserve after a drunk driving accident.
Poynter & Bucheri Accident Recovery – Indianapolis Personal Injury Attorneys
If you or a loved one has been injured physically or mentally by a person, product or company, you need to know your legal rights. Our personal injury attorneys are experienced with cases like yours and can evaluate what your case may be worth. We will ensure that you are protected and compensated for your injuries and losses. Why pay up to 40% in attorney fees? Our fee is only 25%* and we fight to win your case or you pay no attorney fees at all. Don't hesitate – one of our experienced attorneys can assist you right away. Call 1-800-265-9881 for a free case review.