How to Protect Yourself When Driving in Bad Weather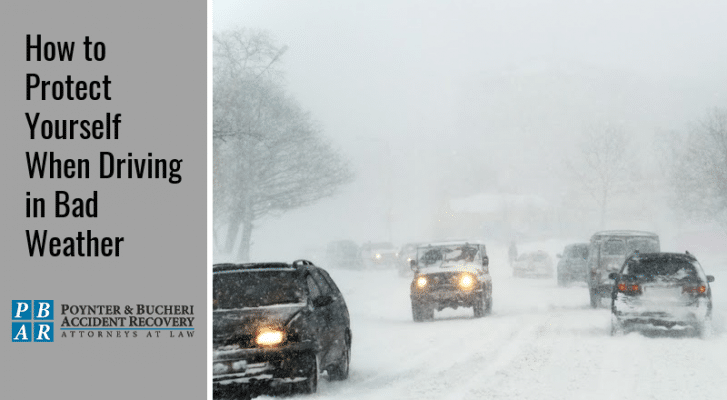 What you'll learn reading this article:
Bad weather contributes to many road accidents.
Planning ahead can help keep you safe.
If you're hurt in an accident, a local lawyer can help clarify how weather played a role in your crash.
Did you know bad weather is a factor in 1 in 5 traffic accidents? In the U.S., more than 400,000 people are injured and more than 5,000 are killed every year in weather-related road accidents.
However, there are some tips you can follow to limit your risk of being injured. We'd like to share some important information you should know about staying safe in bad driving weather.
Safe Driving Starts at Home
To avoid weather-related accidents, start with some at-home safety planning. Create a kit of gear to keep in your trunk that could help during bad weather.
The Indiana Department of Transportation (INDOT) recommends putting all of the following items in your vehicle safety kit:
Water
Sealed food like granola bars
Flashlight
Batteries
Blankets
Boots and gloves
First-aid kit
Road flares
Tire chains
Ice scraper/brush
Jumper cables
Keep your eye on the weather reports and avoid traveling at the peak of poor weather. If you must travel, notify someone of your estimated arrival time and check-in later to update them about your safety.
When you know bad weather is on the way, walk around your car and inspect it before you leave the house. Look for worn tires, missing lights/reflectors, and icy or snowy buildup that impacts your visibility.
Weather is a Factor in Accident Claims
Any experienced car accident attorney has seen plenty of insurance claims and lawsuits that arise from bad weather. Sometimes one car can't stop in time and rear-ends another due to ice. Sometimes vehicles hit each other head-on due to poor visibility from fog, snow, or hurricane conditions.
Avoid getting into an accident in the first place by staying aware of conditions that impact your odds of being in an accident.
Visibility – Keep windows clear of ice and snow. If your windows fog up, pull over in a safe spot and allow the condensation to dissipate before continuing. When it's too rainy, snowy, foggy, or otherwise inclement to drive safely, get off the road until conditions improve.
Speed – When the weather is bad, slow down and increase the distance between your vehicle and other vehicles. Exceeding the road's speed limit is particularly risky in bad weather.
Lights – Use your lights sensibly according to the weather. Turn on your headlights to improve how well you can see and how well you can be seen by others.
Emergencies – If you get a flat tire or your car breaks down in bad weather, it will be difficult for other drivers to see you. Use road flares and your hazard lights. Pull off into a safe area and avoid opening your door into moving traffic.
Distractions – Bad weather is distracting enough. Don't add to the distraction by traveling in bad weather with pets, while eating food, when using your cell phone, or if you're sick. Don't drive when you've been drinking, taking drugs or medications, or are too drowsy to stay attentive to changing weather conditions.
If you do end up being in an accident on the road, contact an Indianapolis-area attorney who is familiar with your local roads. An Indianapolis car accident attorney will understand how weather conditions factored into your crash and can help you use this information to your best benefit.
Poynter & Bucheri Accident Recovery – Indianapolis Personal Injury Attorneys
If you or a loved one has been injured physically or mentally by a person, product, or company, you need to know your legal rights. Our personal injury attorneys are experienced with cases like yours and can evaluate what your case may be worth. We will ensure that you are protected and compensated for your injuries and losses. Why pay up to 40% in attorney fees? Our fee is only 25%* and we fight to win your case or you pay no attorney fees at all. Don't hesitate – one of our experienced attorneys can assist you right away. Call 1-800-265-9881 for a free case review.