Who's Responsible for a Car Accident in Bad Weather?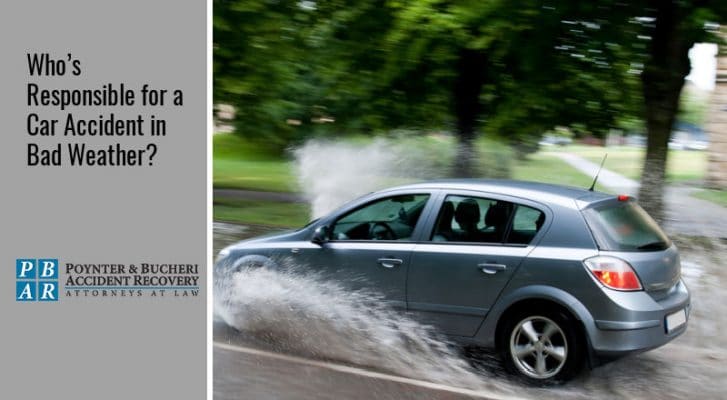 What you'll learn reading this article:
Indiana, as a four-season state, sees a reasonable amount of severe weather ranging from thunderstorms to tornadoes to winter storms.
Indiana is an at-fault state, meaning someone is always found responsible for an accident.
Indiana's modified comparative fault negligence system means that one or more individuals can share in liability for an accident, and if you are under 51% liable, you can still claim damages.
Severe weather in Indiana is a common occurrence, no matter the season. Spring and summer can see severe thunderstorms, hail and tornadoes, whereas fall and winter can commonly see freezing rain, hail, sleet, snow and icy roads.
Indiana can have particularly troublesome winters and was even found to be the fourth deadliest state in the United States for winter driving by USAToday in 2017. Knowing how to drive through Indiana's adverse weather conditions is important for all drivers as even the most competent can be affected by severe weather.
Weather-Related Accidents in Indiana
Indiana sees its fair share of weather-related accidents. In 2018, the Indiana Crash Fact Book detailed the following in terms of accidents and weather conditions:
8,271 accidents occurred due to driving that was too fast for weather conditions, with 15 of these accidents resulting in fatalities.
23,195 accidents occurred while it was raining.
7,895 accidents occurred in the snow.
3,029 accidents occurred in freezing rain, sleet or hail.
2,146 accidents were attributed to blowing sand, soil or snow.
1,383 accidents occurred during foggy, smoky or smoggy conditions.
210 accidents occurred during severe crosswinds.
October, November and January saw the highest number of collisions.
Following too closely and failing to yield the right of way accounted for the largest percentage of accidents caused by unsafe driver actions.
Why Is Someone Always at Fault in Indiana?
While some states are no-fault states, Indiana is an at-fault state, meaning that at minimum, one driver is always responsible for the accident.
To determine liability, the insurance companies of those involved in the collision—and the courts if the case goes to trial—will consider the following:
Whether one or more of the drivers was speeding.
Whether tailgating was involved.
Whether right of way was being followed.
Whether reasonable care was taken to avoid the accident.
Whether one or more of the drivers was distracted, such as talking on their phone.
In Indiana, we have a negligence system that is referred to as "modified comparative fault," which means that liability can be held by one or more parties involved in an accident. In order to file a claim and receive compensation, an individual must be responsible for less than 51% of the accident. Even if you are found to be liable for a percentage of the accident, you may still qualify for compensation due to the negligence of the other parties involved.
Exploring Your Options
If you have been involved in a weather-related accident, you have options. Contact a car accident attorney who is well versed in Indiana law and knows how to navigate the aftermath of accidents caused by weather conditions.
Indiana saw record-breaking temperatures last winter and ranked as "much above average" in terms of annual precipitation, with the Midwest as a region setting a record for the wettest year on average for both 2018 and 2019.
With winter 2020 fast approaching, be sure to have a plan in place should you become involved in an accident due to weather, and know that no matter the season, the car accident lawyers at PBAR will review your case for free.
Poynter & Bucheri Accident Recovery—Indianapolis Personal Injury Attorneys
If you or a loved one has been injured physically or mentally by a person, product or company, you need to know your legal rights. Our personal injury attorneys are experienced with cases like yours and can evaluate what your case may be worth. We will ensure that you are protected and compensated for your injuries and losses.
Why pay up to 40% in attorney fees? Our fee is only 25%*, and we fight to win your case or you pay no attorney fees at all. Don't hesitate—one of our experienced attorneys can assist you right away.
Call 800-265-9881 for a free case review.