Should You Make a Claim Against Your Own Insurance Company?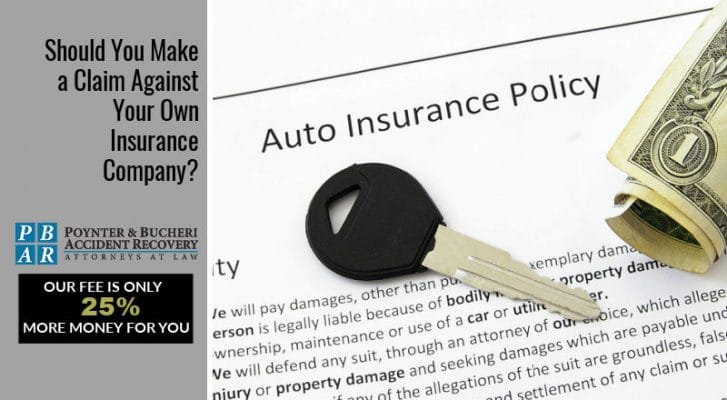 What you'll learn reading this article:
Some insurance companies do raise rates after an accident even if it wasn't your fault. 
It's important to understand just what you're paying for with your auto insurance policy in order to avoid wasting money or failing to make use of the benefits you've paid for. 
Indiana law requires all drivers to hold a minimum of liability insurance, so choosing the right insurance for you is an important step in feeling comfortable before and after an accident. 
If you've been in a car accident recently, you might wonder about whether or not to make a claim against your own insurance company, particularly if you believe the other driver to be 100% at fault. You may worry that your rates will increase, and so you fret about what to do to pay for the damage.
There are a few important things to consider, and many of them boil down to what type of insurance policy you have and what it covers.
Understanding Your Insurance Policy
The point of an insurance policy can, ironically, sometimes be forgotten. Essentially, you pay monthly to your insurance company so that they will cover expenses should an accident occur. Worrying about making a claim against your insurance, then, is somewhat nonsensical—you've been paying them all along for this very purpose.
Another important thing to consider is supplementary policies you may have without realizing it. These policies can make filing a claim with your insurance company especially worth it.
Medical payments insurance, often referred to as MedPay, covers medical bills regardless of who is at fault in the accident. If you are paying for this feature, you should strongly consider using it, particularly to cover out-of-pocket expenses.
Under/Uninsured Motorists Coverage
This policy provision covers you should the person who hit you not have insurance or enough insurance to cover the accident.
The fear of increased insurance rates is very real. However, your right to compensation, especially when you've been paying for it, is also real. To avoid nasty surprises, we recommend researching insurance companies before choosing.
You have every right to check with your insurance company to see if they raise rates after an accident in which you're not at fault. If they do, perhaps that isn't the company for you. Anything that keeps you from wanting to make use of the benefits you've paid for deserves to be questioned.
Because when it comes down to it, why pay for insurance if you are afraid to use it?
Insurance Laws in Indiana
Indiana requires motor vehicle insurance in order to hold a valid driver's license.
This also means that when an accident occurs, the BMV will require proof of insurance. Since Indiana law requires you to provide your insurance information, it is important to be upfront and inform your insurance company of an accident when you are involved in one as they will in all likelihood find out about it regardless.
If the accident involves injuries, it is especially important that the police are alerted so a police report can be filed and medical assistance is summoned.
There are a lot of factors to be aware of when it comes to car accidents, injuries and making insurance claims, and it can be overwhelming. Luckily, you don't have to be an expert at it—you just have to have one on your side.
If you're feeling lost, confused and frustrated after a car accident that resulted in injuries to yourself or a loved one, don't hesitate to call a qualified car accident attorney to help you sort through all of the paperwork involved in the claims process and begin the road to recovery.
Poynter & Bucheri Accident Recovery—Indianapolis Personal Injury Attorneys
If you or a loved one has been injured physically or mentally by a person, product or company, you need to know your legal rights. Our personal injury attorneys are experienced with cases like yours and can evaluate what your case may be worth. We will ensure that you are protected and compensated for your injuries and losses.
Why pay up to 40% in attorney fees? Our fee is only 25%*, and we fight to win your case or you pay no attorney fees at all. Don't hesitate—one of our experienced attorneys can assist you right away.
Call (800) 265-9881 for a free case review.
Video Transcript
Hi, I'm Rich Bucheri from Poynter & Bucheri Injury Attorneys, and today I want to talk about whether you should make a claim against your own insurance company.
A lot of times how this comes up is that you're in a car accident, for instance, and you believe that the third party, the other person, is totally at fault for the accident. You don't think you should be calling your insurance company because you don't want your insurance company to make any claims because they increase your rates. Insurance rates are the most important consideration to you as far as why you don't want to contact your insurance company.
While that's understandable, the question that you have to ask yourself is, why am I paying for certain policy coverages if I'm never going to use them as a matter of principle? For instance, you might have what's called medical payments coverage, which is for payment of medical bills, regardless of who is at fault for an accident.
The other thing that you might have that could be very important is uninsured motorist or underinsured motorist. Those are policy provisions that cover for the fact that the person that hit you may not have any insurance or may not have enough insurance. There's no reason to have those policy coverages, which you are paying extra for, if you're just never going to use them.
The one thing that you can do is you can talk to your agent to determine if your insurance company is one that does, in fact, raise your rates if you make a claim, even if the accident is not your fault. If your insurance company is one of those companies that does, in fact, raise your rates regardless of fault, then maybe you should consider going to another insurance company.