What Are My Rights as an Injured Passenger in Indiana?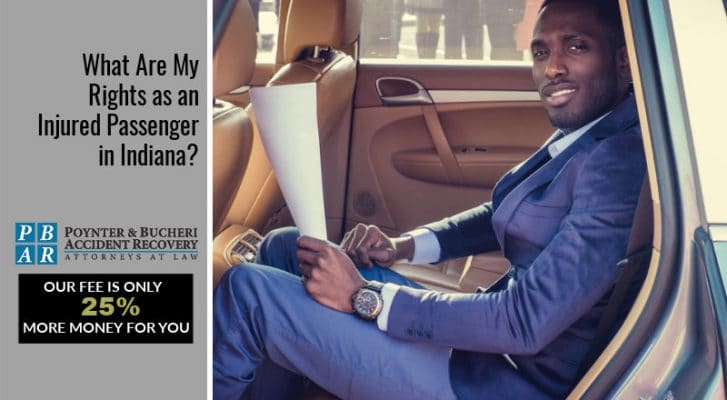 What you'll learn reading this article:
There are certain situations in which you, as a passenger, could be found partially at-fault for an accident.
As a passenger, you have the right to pursue damages after an accident except in specific situations, such as the driver being a close relative.
Accidents that involve multiple passengers can be more difficult for insurance companies to cover.
As a passenger in a car, you don't have much control over what happens once the vehicle starts. However, the choices your driver and other drivers on the road make can affect you–sometimes seriously. When the vehicle you are traveling in is involved in an accident that leads to your injury, you may have the right to file a claim and seek compensation from the at-fault driver.
What are My Passenger Rights?
If you have been involved in an accident as a passenger, you have the right to:
Assume drivers are using reasonable caution while driving
Collect contact information from all drivers involved in the accident, including insurance information
Document the accident via photograph or video recording
Collect names and contact information of witnesses
If you have been involved in an accident as a passenger and been injured, you also have the right to:
Seek medical treatment
Speak to an attorney
Receive compensation for the physical, emotional, and financial injuries you suffered as a result of the negligence of another
How Do I Determine the Driver Responsible for My Injuries?
The at-fault driver will be determined after the accident according to the evidence collected by the insurance agent, witness testimony, the police report, and consulted attorneys. Because Indiana is a comparative fault state, it is possible that both drivers can be found liable for percentages of the accident.
In rare cases, passengers themselves can be found at fault or partial fault if they contributed to the accident in some way, such as purposefully distracting the driver, forcing an accident, or allowing the driver to operate the vehicle under the influence of drugs or alcohol.
Insurance companies may also deny your claim if you failed to wear a seatbelt or didn't seek medical treatment after the accident.
If you are found partially at fault, you will only be able to obtain damages up to a certain percentage that corresponds to the amount of fault you bear for the accident.
What if I'm One of Many Passengers?
If you are involved in an accident that involves a multi-passenger vehicle, such as a bus or van, your insurance and the other drivers' insurance plans may not be sufficient to cover all of the victims. For this reason, multi-passenger car accident victims should speak to an attorney as soon as possible to find out if they are eligible for and how to pursue fair compensation.
What if the At-Fault Driver is My Relative?
In Indiana, the Guest Statute (Indiana Code 34-30-11) limits a passenger's ability to file a claim against close relatives. This applies to
A spouse
A parent
A child or stepchild
A sibling
If you have been injured as a passenger in a motor vehicle accident, you have rights. Speak to an attorney today to determine your eligibility for compensation for damages such as medical costs, lost and future wages, mental anguish, and pain and suffering.
Poynter & Bucheri Accident Recovery—Indianapolis Personal Injury Attorneys
If you or a loved one have been injured physically or mentally by a person, product or company, you need to know your legal rights. Our personal injury attorneys are experienced with cases like yours and can evaluate what your case may be worth. We will ensure that you are protected and compensated for your injuries and losses.
Don't hesitate—one of our experienced attorneys can assist you right away. Call (800) 265-9881 for a free case review.