Tips for Shopkeepers to Maintain Safe and Secure Premises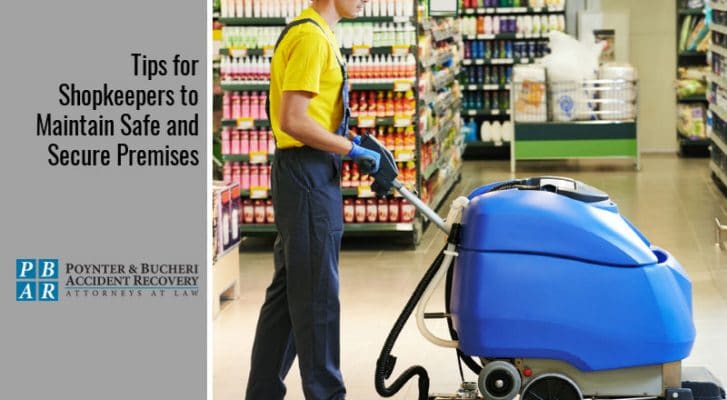 What you'll learn reading this article:
Indiana shopkeepers have a duty to keep their visitors safe.
There are steps you can take to prevent injury claims.
Maintain your building, remove hazards, and contact an experienced attorney if you ever face a lawsuit.
Have you ever stumbled on a floor mat? Tripped on some loose pavement? Slipped on ice? It happens to most of us at some point.
But when a stumble becomes a fall with injuries and expensive medical bills, things get a lot more complicated. And when it happens at a public place like a supermarket, restaurant, or retail store, the victim may need to sue the property owner to get proper compensation.
Slip and fall accidents account for more than 1 million annual visits to U.S. emergency rooms, costing more than $13 billion in medical care. Fortunately, a shopkeeper can take preventive steps to keep their premises safe and protect themselves against personal injury lawsuits.
Watch Your Floors for Slipping and Tripping Hazards
Loose and worn flooring is one of the top contributors to slip and fall accidents. The Consumer Product Safety Commission attributes about 2 million annual fall injuries to flooring materials.
This highlights the importance of maintaining safe floors, especially in a shop that has high foot traffic. Set an ongoing maintenance schedule that includes building-wide flooring checks, including restrooms, entryways, dressing rooms, and employee-only areas to help keep your employees and customers safe. Keep all walking zones free of pallets, boxes, and debris.
It's a good idea to hire a floor maintenance service to inspect and clean your floors regularly. If you have any flaps of loose carpet or crumbling vinyl, the floor cleaners can alert you to address it quickly.
Monitor Your Lighting, Handrails, Parking Lot, and More
Beyond flooring, there are also many other types of hazards that put shopkeepers and their visitors at risk. Establish a daily routine of checking and repairing all of the following areas in and around your store.
Examine the parking lot for potholes, crumbling surfaces, and trash.
Ensure parking areas are free of snow and ice soon after a weather event.
Maintain your building's exterior, including gutters and siding.
Install bright lighting in any area where customers will be walking.
Check all sidewalks and walkways daily at scheduled times.
Look over entryways, including steps and handrails.
Never allow cords or seasonal displays to be strung across walkways.
Promptly repair flooring cracks, carpeting, loose tiles, and so forth – and keep records of all repairs, in case you are ever questioned about them in court.
Conduct employee safety training sessions.
Stay Vigilant to Stay Within the Law
Keep an eye on your local news reports, too. Indiana property owners can be held responsible for failures to maintain safe and secure premises when there are known dangers present. So if there have been numerous muggings nearby, add extra lighting in your parking lot or even a security guard to help protect your customers and employees.
Remember, a new hazard can crop up at any time. If a customer spills something in a store aisle and you fail to clean it up quickly, you could be sued if someone slips in the spill. Keep "wet floor" and other safety signs easily accessible in your store so employees can set them out whenever a hazard is present.
Poynter & Bucheri Accident Recovery – Indianapolis Personal Injury Attorneys
If you or a loved one has been injured physically or mentally by a person, product, or company, you need to know your legal rights. Our personal injury attorneys are experienced with cases like yours and can evaluate what your case may be worth. We will ensure that you are protected and compensated for your injuries and losses. Don't hesitate – one of our experienced attorneys can assist you right away. Call 1-800-265-9881 for a free case review.