Steps To Take If Your Child Was Injured in a School Bus Accident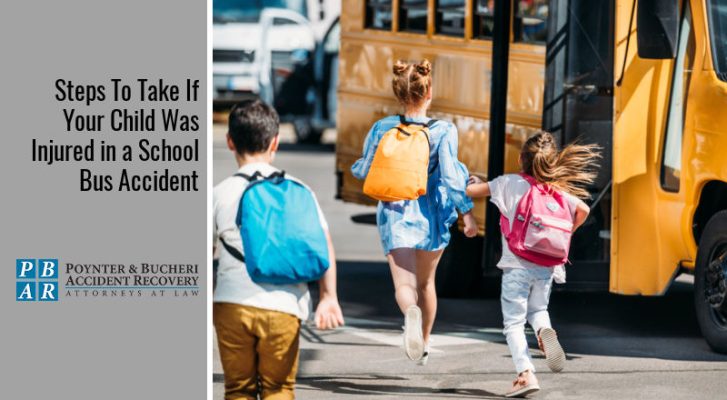 A school bus accident can be very severe, and sadly, many children can suffer serious injuries as a result. Although these occurrences are rarer than standard car accidents, they are not as rare as you may think.
The worst school bus accidents involve serious injuries and death. One tragic case happened in Chattanooga, Tennessee in 2016. Due to a school bus driver's negligence, six children were killed and thirty-one suffered injuries.
In August 2022, a school bus driver crashed into a residential home in Union County, Indiana, after suffering cardiac arrest. Fortunately, none of the students suffered serious injuries.
If your child is injured in a school bus accident, you need to take immediate action in order to recover the compensation your son or daughter deserves. Here's what you need to know about school bus accidents in Indiana.
Common Causes of School Bus Accidents
Typically, school bus drivers navigate roads safely, and other drivers have the good sense to operate their vehicles with caution around them. Of course, that is not always the case. Here are some common causes of school bus accidents:
Driver error or negligence: If the driver makes a mistake or willfully engages in negligent driving behavior, they can easily cause an accident. For example, the driver who caused the fatal accident in Chattanooga lost control of the bus because he drove at a dangerously high speed.
Improper hiring practices: School and bus companies are responsible for hiring qualified and safe school bus drivers. If a school or bus company hires someone with a history of dangerous driving, as was the case in Chattanooga, the school or company could be liable.
Blind spots: School bus blind spots are larger than the blind spots of an average car because of their greater size. Bus drivers need to be extra cautious when changing lanes for this reason.
Turning left: With the school bus's significant size, it takes the vehicle a longer time to complete a left turn. Unfortunately, other drivers on the road don't always anticipate this, leading to rear collisions.
Negligent maintenance of the school bus: It's the school or bus company's responsibility to keep up with bus maintenance. If a mechanical issue causes a traffic accident, the school or company could be liable.
Who Is Liable for My Child's Injuries After a School Bus Accident?
If your child suffers from injuries after a bus accident, various parties could bear partial or whole responsibility. Those who are liable could include:
The school: Your school district is primarily responsible for the safety of its students, and that includes the transportation of your child. Situations in which the school may be responsible for an accident include:
The school hires a bus company that wasn't explicitly stated in the contract. For example, if a bus company drops a student off in a new location at the school's behest and the driver wrecks, the school may be liable.

The bus driver who caused the accident is a school employee.

The school owns the bus, and the crash occurred due to negligent maintenance.
The bus maintenance company: If a maintenance company's mistake or error of omission causes the bus accident, the company may be liable.
The bus driver: If the school or bus company has a rigorous screening process in place for drivers, the bus driver may bear sole responsibility if they cause the accident. For example, if a driver drives recklessly or while intoxicated, they could be liable for the wreck. If the school or bus company fails to screen the bus driver, the company or school could bear partial liability.
Another driver: If another driver causes the school bus accident, they will likely be liable for any resulting injuries.
The bus company: If the bus company fails to properly maintain their buses or hires unqualified drivers, they could be liable.
School Bus Accident Damages
If your child is injured in a school bus accident, they need to receive medical assistance as soon as possible, even if their injuries are seemingly minor. You should keep a record of their medical bills and write down what their doctors say about their condition. This will serve as key evidence that your child sustained damages and deserves to be compensated.
Fortunately, when it comes to bus accidents, there will likely be an investigation into what went wrong and who is liable, so you can then file a claim against the negligent person or party.
The amount that you can recover for your child's injuries will depend on their medical bills and how the injury impacts their life. Depending on the case, you may be able to recover damages for:
Medical expenses: This includes ongoing medical care, prescriptions, surgeries, etc.
Loss of income: If you take time away from work to care for the child's injuries, you may be able to recover compensation for the wages lost.
Disability of disfigurement: If the child suffers permanent scarring or limitations that impact their life, you may be able to recover additional damages.
Wrongful death: If the most tragic scenario occurs and you lose a child, you can recover compensation that includes funeral and burial costs, pain and suffering, emotional trauma, and any medical bills accumulated before their passing due to the accident.
Was Your Child in an Indiana School Bus Accident? Call Poynter and Bucheri.
If your child is involved in a school bus accident in Indiana, you need legal representation to recover as much compensation as possible. For experienced Indianapolis school bus accident lawyers, contact the offices of Poynter & Bucheri Accident Recovery Attorneys at Law at 1-800-265-9881, or you can schedule a free case review here.