Airbnb Slip and Fall. Who's Liable?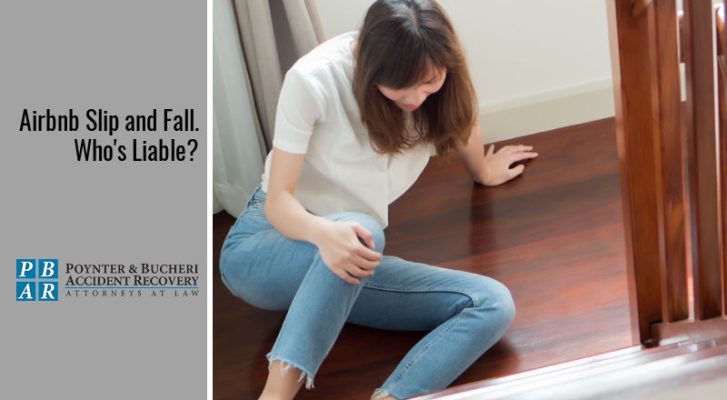 When using an Airbnb property or another vacation home rental company, liability can seem complex when someone suffers a slip and fall injury.
The unfortunate reality is that homeowners are liable for hazards on their property, and Airbnb is NOT liable. Here's what you need to know about slip and fall liability when these accidents occur on Airbnb properties.
Premises Liability Law in Indiana
If you suffer from an Airbnb slip and fall accident, it will likely fall under an area of the law known as premises liability. Premises liability laws state that it is homeowners' responsibility to ensure the safety of visitors, and that includes visitors renting property. Property owners must supply a standard of care when it comes to the safety of their rentals.
Slip and falls are not the only type of premises liability injury, but these injuries occur the most frequently. Some common Airbnb hazards that can cause slip and fall injuries include:
Holes in the yard
Potholes and other pavement issues
Cluttered or blocked walkways
Loose and torn carpets or rugs
Broken stairs or lack of handrails
Bad lighting
Spills that predate the renters' arrival
Slippery wooden floors from polish or wax
Protruding hazards, including nails and splinters
Leaky showers, bathtubs, roofs, and appliances
Suffering from a serious slip and fall can result in a number of injuries that may range from minor to fatal. Common slip and fall injuries include:
Hip sprains or fractures
Wrist sprains or fractures
Spinal cord injuries, which can cause partial or full paralysis
Head injuries, including concussions and traumatic brain injuries
Shoulder injuries, including tears, dislocations, and damage to the shoulder cuff
Knee tears, sprains, or fractures
Ankle sprains or fractures
Even if you only suffer from a mild injury after a slip and fall, you need to seek immediate medical attention. Receiving immediate medical care is essential if you plan on filing a claim because you need to provide supporting evidence that your accident directly caused your injuries.
Does Homeowners Insurance Cover Airbnb Slip and Fall Injuries?
The majority of homeowners insurance policies include exclusions that don't protect those renting a property through Airbnb. Some might be able to work out an arrangement with their homeowners insurance company to protect renters, but it's uncommon for insurance policyholders to get rid of this exclusion.
Airbnb Liability Insurance
In situations involving commercial businesses and hotels, it falls on the company that owns the property to ensure the safety of others. But when an individual owns the property, as is the case with Airbnb and VRBO properties, the property owner is liable.
When signing up to become an Airbnb host, property owners must agree to their terms of service, which state that Airbnb doesn't bear responsibility for injuries that occur on rental properties.
Fortunately, Airbnb now provides a form of insurance that benefits both guests and property owners called "Host Protection Insurance" (HPI). The HPI liability coverage supplies up to $1 million per accident and covers both personal injuries and property damage.
Although this is a great option for property owners, the insurance does NOT cover the following:
Personal injuries and damage caused by intentional wrongdoing, including sexual assault, murder, and battery.
Personal injuries that result from issues with the property, which may include asbestos, mold, toxic drywall, bed bugs, and pollution.
Personal injuries and damage caused by a car accident on the property.
Proving Liability in an Airbnb Slip and Fall Case
If you or a loved one suffer from an Airbnb slip and fall accident, you need to take certain actions to ensure you receive compensation for your personal injuries. When filing a claim against the property owner, you need to be able to prove that the owner's negligence caused the accident and that the accident directly caused the injuries.
After suffering from a slip and fall accident, take the following actions:
Seek immediate medical attention and call 911 if necessary.
If possible, take many photographs and videos of the hazard.
Retain all of your medical bills and documentation having to do with your injury.
Record eyewitness statements from those who were on the property at the time of the accident.
Call a slip and fall lawyer.
Contact Indiana Slip and Fall Attorneys
Proving that a property owner was at fault for your slip and fall injury can be challenging. To increase the likelihood of settling your claim or winning your case, contact Indianapolis slip and fall attorneys.
For expert guidance and years of experience as sisting victims of slip and fall injuries, contact Poynter & Bucheri Accident Recovery Attorneys at Law. We'll help you recover the damages you deserve for your fall, which may include compensation for medical bills, lost wages, loss of future earnings, pain and suffering, and more.
Call our office today at 1-800-265-9881, or you can schedule a FREE case review here.