Common Causes of Boating Accidents in Indiana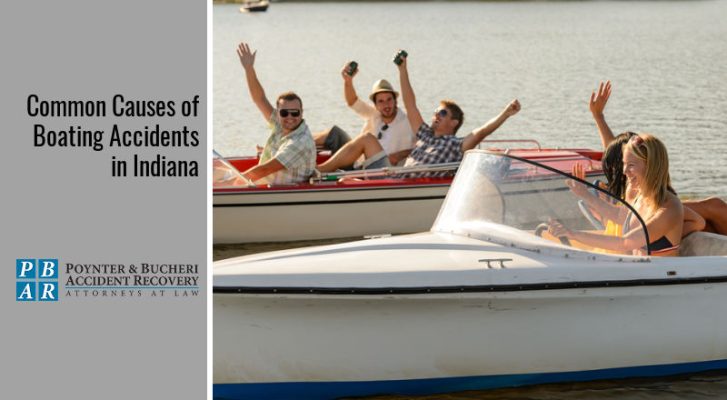 The state of Indiana is home to over 100 natural and man-made lakes that many residents flock to for recreation. Boating, fishing, and all kinds of water fun take place in the hot summer months in Indiana, but things can quickly become dangerous in the event of a boating accident. In 2018 alone the U.S. Coast Guard reported 4,145 recreational boating accidents across the country, resulting in 633 fatalities and $46 million in property damage.
While recreation is a great activity for the summer months, anyone operating a boat must be aware of the dangers that come with this activity. Boat drivers must exercise caution while operating their vessels, and failure to do so can put everyone present in danger.
Even a momentary lapse in the attention of an individual operating a boat can lead to catastrophic injury. If you or a loved one were injured in an Indiana boating accident due to another party's negligence, you may be entitled to financial compensation.
In this blog, we discuss some of the most common causes of boating accidents in Indiana, as well as the most common injuries sustained from these types of accidents.
Not Just Motorboats
While it's true that motorboats quickly maneuver across bodies of water and present danger to others, the Coast Guard documented that these vessels accounted for 50% of all fatalities in boating accidents in 2018. However, many people fail to realize that there are a great number of other watercraft that pose a similar risk to others on the water. Some other types of craft that are commonly involved in boating accidents include:
Cabin-cruiser boats
Yachts
Jet-skis
Wakeboards, water skis, and sport boats
Kayaks
Paddleboards
Sailboats
The Most Common Injuries Sustained in Boating Accidents
Indiana state as well as federal laws, regulate boating activities to minimize the danger that comes with accidents. Unfortunately, many people disregard these laws and safety precautions when engaging in summer boating. This can lead to serious harm and bodily injury. Some of the most common injuries sustained after a boating accident include:
These injuries may require immediate medical attention and may even have long-term effects, which may put a financial strain on you and your family. Don't carry this burden alone, let an experienced boating accident lawyer help you get the compensation you deserve.
The Most Common Causes of Boating Accidents in Indiana
Piloting a boat is an exceptionally fun activity, but it can carry the same amount of responsibility as driving a car. When individuals driving a boat fail to exercise necessary caution, it can lead to serious injury as well as financial loss. Some of the most common reasons these boating accidents happen include:
Operator distraction
Improper lookout
Inexperienced drivers
Speeding
Mechanical failure
Dangerous water conditions
Alcohol or drug use
Poor weather conditions
Boating in hazardous water
Violating navigation rules
Contact an Indiana Boat Accident Lawyer Today
You need an aggressive personal injury lawyer to fight for your rights. The insurance adjuster does not represent your best interests. Let the experience Indianapolis personal injury attorneys at Poynter & Bucheri Accident Recovery Attorneys at Law protect you and your family from insurance companies seeking to undervalue and deny your valid insurance claim.
Call our law firm at 1-800-265-9881 or (317) 780-8000 to request your free consultation with an Indianapolis boating accident attorney. Your free case review includes an explanation of your legal rights, a discussion of your options, and our legal opinion of your claim based on our years of experience handling boating accident claims in Indianapolis.