Boating Accidents Are Increasing on Indiana Waterways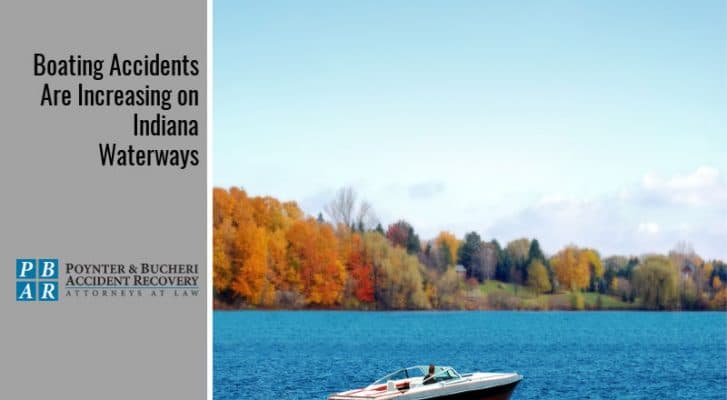 What you'll learn reading this article:
A significant number of boating accidents occur in Indiana and most of them involve small recreational watercraft.
A recent ruling in a Missouri boating accident case where nine people from Indianapolis were killed involved the 1851 Shipowners Limitation of Liability Act to avoid compensating survivors and relatives of any passenger who suffered injury or death.
A boat accident can cause severe injury, trauma, drowning and death, so personal injury lawsuits are often necessary to compensate those who suffer losses as a result.
Boating More Popular in Indiana Than Ever
Since 2000, boat accident occurrences in Indiana have been more frequent even though the number of Indiana boat accidents fell steadily during the 1990's. but With renewed interest in recreational boating and new home building along Indiana waterways, serious injuries and fatalities have become more common in the past 20 years. In a typical year, more than 4,000 boat accidents resulting in about 2,600 injuries and up to 700 deaths happen in the Hoosier State.
The most recent statistics from the U.S. Coast Guard show that by far, the most common type of watercraft involved in Indiana boating accidents is an open motorboat, which is a small craft often used for fishing and recreation. Kayaks, canoes, pontoons and small personal watercraft make up the majority of other boats involved in Indiana boating accidents.
A collision with another vessel is the number one type of boating accident that results in casualties in Indiana and most deaths are due to drowning. This means the most likely scenario where you could lose your life on an Indiana waterway goes something like this: While enjoying a day of recreation on a small watercraft, you collide with another boat and drown. These catastrophes can happen in a matter of moments.
Maritime Law Does Not Apply in Boating Crash That Killed 9 Hoosiers
You might remember the July 2018 news story about a duck boat accident near Branson, Missouri where a family of nine people from Indianapolis perished. Although we don't commonly see duck boats in Indiana, these mid-size touring vessels are quite common in tourist areas like Branson.
After a long legal process, a judge recently ruled that the owner of the duck boat, Ride the Ducks International before Ripley Entertainment bought the boat, could not benefit from the 1851 Shipowners Limitation of Liability Act to avoid compensating survivors and relatives of any passenger who suffered injury or death. The company had argued that damages should be capped at the value of the sunken boat, which was determined to be $0. A federal judge determined the maritime law didn't apply because the waterway, Table Rock Lake, is not a "navigable waterway" under federal law.
What to Do After a Boating Accident
This brings up the question of what surviving individuals and families of the deceased should do after a boat accident that involves injury or death. The next best step is to contact a boating accident attorney who can help you determine whether negligence is involved and who may be responsible for the accident.
Many kinds of situations occur where a day of boating involves a negligent act and leads to a disaster. Have you experienced any of these?
The boat owner fails to maintain the boat and it sinks
The person operating the boat is traveling at high speeds
Everyone is crowded onto an overloaded boat
The boat operator is drinking or on drugs while operating the vessel
A passenger is injured when the watercraft collides with a fixed object, such as a dock
Two boats collide in the water due to operator inattention
Someone swimming in the water nearby is hit by a boat propeller
The boat operator hits a big wave at high speed or doesn't obey a wake zone
Someone takes the boat controls and causes a crash without proper instruction or experience,
If you are injured in one of these kinds of boating accidents or someone you love was injured or killed, the boat accident attorneys at Poynter & Bucheri Accident Recovery understand the legal ramifications of proving someone else's negligence and can help get you the compensation you'll need to move forward with your life.
Poynter & Bucheri Accident Recovery – Indianapolis Personal Injury Attorneys
If you or a loved one has been injured physically or mentally by a person, product or company, you need to know your legal rights. Our personal injury attorneys are experienced with cases like yours and can evaluate what your case may be worth. We will ensure that you are protected and compensated for your injuries and losses. Don't hesitate – one of our experienced attorneys can assist you right away. Call 1-800-265-9881 for a free case review.