What Can I Do After My Child Was Injured in an Indiana Pedestrian Accident?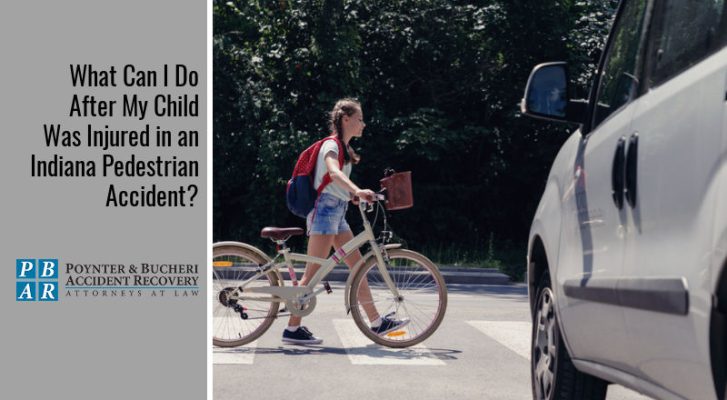 What you'll learn reading this article:
If your child was injured in a pedestrian accident they deserves proper medical treatment.
Children have certain rights regarding Indiana pedestrian accidents.
You can pursue the vehicle's driver for accident compensation that covers your many costs and losses.
There's nothing more frightening than your child being injured, especially in a destructive traffic accident. Imagine the shock of seeing your child hit by a car when they're simply crossing the road as a pedestrian.
Child pedestrian accidents are on the rise across the U.S., including right here in Indiana. Despite a decade-long drop in child pedestrian deaths until 2019, pedestrian deaths are now rising again due to pandemic-related increases in distracted driving, reckless driving, and intoxicated driving.
As a parent, you may feel helpless to handle the impact of your child's pedestrian accident. The Indiana pedestrian accident attorneys at Poynter & Bucheri Accident Recovery are here to help you understand what to do next.
How Do I Make Sure My Child Receives the Care They Need?
After the accident, your priority should be to ensure your child receives emergency medical care with a full evaluation and treatment from qualified medical professionals. Your child may need a trip to the ER, emergency surgery, a long stay in the hospital, and months of follow-up care.
The cost of this care could be staggering, but please don't let it deter you from accessing the high-quality care your child deserves after a traumatic accident. Help them get the care they need regardless of the cost.
An accident attorney can help you pursue repayment through an Indiana pedestrian accident compensation case. Plus, a talented attorney can use their expertise and experience to negotiate with your providers and lower your bills to a much more manageable level.
What Rights Does My Child Have After an Indiana Pedestrian Accident?
Parents of a child injured in a pedestrian accident often wonder about their child's rights. Are there any protections that cover minor pedestrians in Indiana? What if your child did something to contribute to the situation, like running out into the road?
Generally speaking, all Indiana pedestrians, including children, have the right of way when using crosswalks and obeying traffic signals and other laws. Drivers never have the right to just run over a pedestrian with no regard for their safety.
While adult pedestrians are expected to exhibit basic safety behaviors like looking both ways before stepping into the road, children aren't held to quite the same standard. Historically, Indiana has used the "rule of sevens" where children ages 7 and under can't be considered at fault due to their inability to fully comprehend what's going on around them.
In 2009, the Indiana State Supreme Court issued a ruling that children ages 7 to 14 are incapable of contributory negligence. This means there is a presumption of no negligence on the child's part and it would be very difficult for an adult driver to prove a child's negligence.
Children over age 14 are generally held to adult standards for liability in Indiana pedestrian accidents. This means if your over-14 child disobeyed the law and ran out into a busy street, they may hold some amount of responsibility for the accident. This could reduce the potential dollar value you recover, but it doesn't necessarily eliminate your right to claim some level of compensation.
Does the Driver Have to Pay for My Child's Injuries?
The driver who hit your child may hold partial or total liability for what happened. Holding an at-fault driver responsible for their negligence gives your child a measure of justice and helps cover your mounting costs from the accident.
While we can't guarantee any particular outcome in your case, Indiana courts tend to take a sympathetic view of cases involving adult drivers hitting child pedestrians. These cases often end up in the news and the other driver and their insurance company may be eager to resolve your case with a high-value settlement.
Contact the experienced accident team at Poynter & Bucheri Accident Recovery to determine your best possible route to full and fair compensation for your child's pedestrian injuries.
Poynter & Bucheri Accident Recovery – Indianapolis Personal Injury Attorneys
If you or a loved one have been injured physically or mentally by a person, product, or company, you need to know your legal rights. Our personal injury attorneys are experienced with cases like yours and can evaluate what your case may be worth. We will ensure that you are protected and compensated for your injuries and losses. Why pay up to 40% in attorney fees? Our fee is only 25%* and we fight to win your case or you pay no attorney fees at all. Don't hesitate. One of our experienced attorneys can assist you right away. Call 1-800-265-9881 for a free case review.