What You Should Do If You Are Injured at a Concert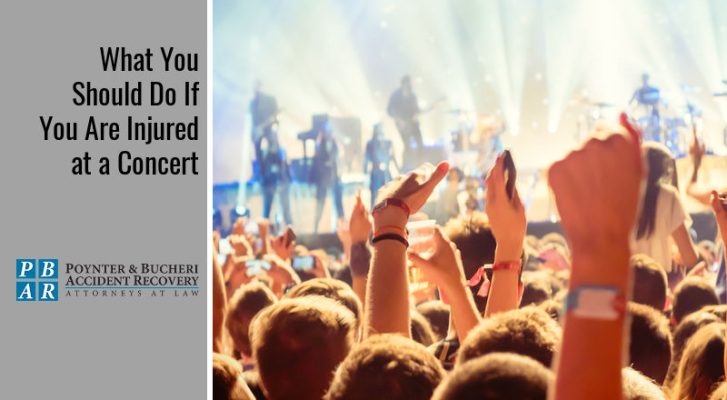 Every year thousands of people attend concerts and music festivals. While these are generally exciting and entertaining events, they can sometimes be dangerous. There are many factors that can contribute to music venue accidents and injuries.
In 2011, tragedy struck when the Indiana State Fair stage collapsed due to strong winds, killing seven and injuring 58. Though not all venue accidents are as tragic as this, it is not uncommon for concertgoers to sustain injuries in various concert-related incidents.
When an individual is injured at a concert, they may be eligible to pursue compensation for their injuries by filing a personal injury claim or even a lawsuit against the venue or other negligent parties. However, doing so can be challenging and often requires the assistance of an experienced attorney who can advocate for their rights to ensure they get the full compensation they deserve.
How Concert Venue Injuries Occur
There are a number of factors that can contribute to an accident at a live music event. The nature of these events alone—large crowds of people gathered in one area—can easily lead to an incident where injuries are sustained. While some injuries may genuinely be an accident, others may result from someone's carelessness or negligent actions. Some of the common reasons that concertgoers sustain injuries at music venues include:
Falls on stadium steps or over balconies due to poor lighting or lack of safety rails
Slips and falls on spilled liquids from drinks and food served at the event
Lack of barricades around hazardous areas
Cables and power cords that are not adequately secured
Poorly constructed walkways and venue structures
Faulty equipment
Lack of security
Liability in Concert Venue Injury Claims
Venue owners, management, and other staff have a duty under premises liability law to provide a safe environment for concertgoers. If their carelessness, negligence, or failure to maintain a clean and safe space leads to an accident, they can be held responsible for any injuries that occur.
If the venue or any of its staff are responsible for the accident that led to your injuries, you will file a personal injury claim or even a lawsuit against them to recover damages. Even if another concertgoer was responsible, the venue could still be held liable. For example, if a fight breaks out or a mosh pit is started, the venue could still be seen as responsible if they did not provide adequate security to handle the situation. However, you may also be able to file a claim against the party who started the fight or the mosh pit.
In either situation, whether the venue is directly responsible for the incident that occurred or another negligent party, you will need to work with an experienced attorney to argue your case and provide the necessary evidence to prove fault. This can sometimes be challenging if there is a lack of security footage or if there are multiple witnesses with different accounts of what happened. But an attorney will know how to work with you to provide the information needed to support your case to ensure you get the compensation you deserve.
Steps to Take After You Sustain an Injury at a Concert
If you are injured at a live music event, there are steps you should take following the accident to ensure your safety and to help support your case should you file a claim or a lawsuit. No matter what happens, your health and safety should always be your number one priority after sustaining an injury.
Seek immediate medical attention: Directly following the accident, you should seek treatment from onsite first aid or have emergency medical responders called to the scene if necessary.
Call the police: Make sure the authorities are contacted so an official police report can be filed. Even if venue staff or security say they have documented the incident themselves and will report what happened, you should not trust that they will do so. Always make sure local police arrive on the scene to properly document what happened.
Gather evidence: If possible, take pictures or videos of the scene and your injuries to document what happened. Photographic evidence is extremely beneficial in personal injury cases, especially if the venue does not have its own security footage of what happened. You should also collect contact information from witnesses who can provide statements to help support your case.
Contact an attorney: After the accident, you should contact a personal injury attorney as soon as possible. Do not give any statements or information to the venue or their insurance company without first consulting with a lawyer. They may try to use your own words against you to deny fault. It is always in your best interest to work with an attorney who is on your side and will advocate for your rights.
Poynter & Bucheri Accident Recovery — Indianapolis Personal Injury Attorneys
If you or a loved one are injured at a concert venue such as the Gainbridge Fieldhouse, or the TCU Amphitheater, the experts at Poynter & Bucheri can help. Accidents at music venues can be challenging to deal with, but our experienced team knows what it takes to help victims and their loved ones get the compensation they deserve. Don't hesitate to reach out — one of our personal injury attorneys can assist you right away. Call 1-800-265-9881 for a free case review.