What Are My Rights After A Paralyzing Injury?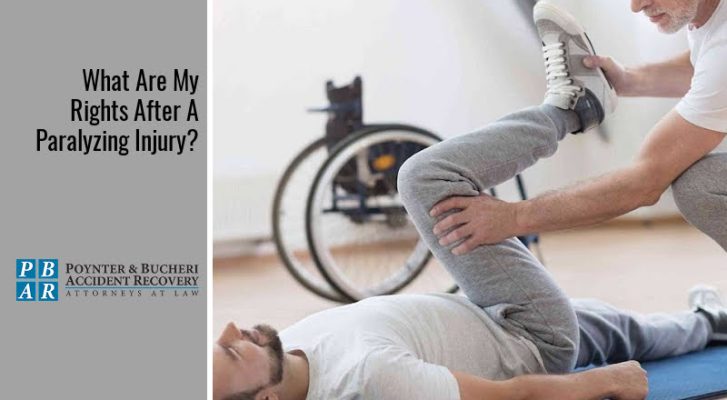 Car accidents that result in catastrophic injuries, such as paralysis, can be extremely traumatic and devastating. Suffering a paralyzing injury can leave you permanently disabled and impair your quality of life. Those who suffer catastrophic injuries after an accident can also develop severe emotional distress, including PTSD.
Recovering from the physical and emotional pain and suffering of a paralyzing accident can be a long and challenging road. You may need years of treatment and therapy, resulting in expensive medical bills. Paralysis can also affect your ability to work and earn an income, which can cause you even further financial distress.
If you or a loved one suffer from paralysis due to an accident, the experienced team of personal injury attorneys at Poynter and Bucheri can help. We understand how a catastrophic injury such as paralysis can alter the course of your life. You deserve compassionate representation from a team that can help you seek justice and get the full amount of compensation you deserve.
Understanding Paralyzing Injuries
Paralysis occurs as a result of damage to the spinal cord or nervous system. The level or extent of paralysis can depend on how much nerve damage there is and what part of the spinal cord is affected. Generally, those who experience paralysis are unable to move certain parts of their bodies.
Degrees of Paralysis
Depending on the severity of the injury and how the patient responds to treatment, the paralysis can be temporary or permanent. In medical terms, when discussing paralysis, there are two different levels or degrees of injury:
Partial: When a patient loses control of some muscles or parts of the body, but not all of them.
Complete: When the patient loses total control of all muscles.
Types of Paralysis
Beyond labeling a paralyzing injury as partial or complete, there are also a few different kinds of paralysis that can occur depending on the muscles that are affected. These include:
Diplegia: Paralysis in the same area on both sides of the body. I.E., both arms, legs, etc.
Hemiplegia: Paralysis in more than one area on the same side of the body.I.E. and arm and a leg on the right side.
Monoplegia: Paralysis of one limb. I.E., one leg or one arm.
Paraplegia: Paralysis of both legs, sometimes including the torso.
Quadriplegia: Paralysis of all limbs. Typically this involves little to no movement from the neck down.
What Causes Paralyzing Injuries?
Nearly 1.7 percent (5,357,970 people) of the population in the United States suffer from some form of paralysis. While the leading cause of paralysis is strokes, the second leading cause is spinal cord injury, which can occur in various ways.
Aside from strokes, the top causes of paralysis include:
Injuries from physical labor
Falls
Sporting accidents
Gunshots
Physical assault
Your Rights After an Accident Resulting in Paralysis
If a paralyzing injury occurs as a result of an accident caused by someone else's negligence, you have a right to file a claim or even a lawsuit to seek compensation. Negligence can mean someone's reckless or careless actions, such as speeding or running a red light, or it can refer to harmful and malicious intent, such as assault. If you want to file a personal injury claim, you will need to prove that another party is guilty and acted negligently.
To prove fault, you must show that:
The guilty party owed you a duty of care.
The guilty party breached their duty of care by acting negligently.
Their negligent actions caused the accident.
Your paralysis injury is a direct result of the accident.
Proving the above can be difficult. It often requires the help of an experienced attorney who knows the ins and outs of the law and what it takes to win a case. This can include finding witnesses and professionals to make statements as well as gathering evidence, such as medical documents, photographs or video surveillance of the accident scene, and police reports.
Damages for Paralysis
Putting a monetary amount on the pain and suffering one experiences after a paralyzing injury is not easy. Typically, paralysis is considered a catastrophic injury that warrants more compensation than the average personal injury claim might award a victim. Damages that a paralyzed victim can receive compensation for include:
Medical expenses
Ongoing treatments
Rehabilitation
Psychological counseling
Loss of wages and diminished earning potential
Property damage
Pain and suffering
Emotional distress
Loss of enjoyment of life
Poynter & Bucheri Accident Recovery — Indianapolis Personal Injury Attorneys
If you suffer a catastrophic paralyzing injury as a result of an accident, you deserve to receive the highest amount of compensation to help you recover and move on with your life as comfortably as possible. At Poynter & Bucheri, our compassionate attorneys are dedicated to helping injured victims and their families seek justice and get the money they need to help cover all injury-related expenses. We understand how traumatizing and debilitating a paralyzing injury can be and we are here to help you see the best possible outcome.
Don't hesitate — one of our experienced attorneys can assist you right away. Call 1-800-265-9881 for a free case review.