Double Teardrops are Slashing Accident Numbers in Indiana's "Roundabout City"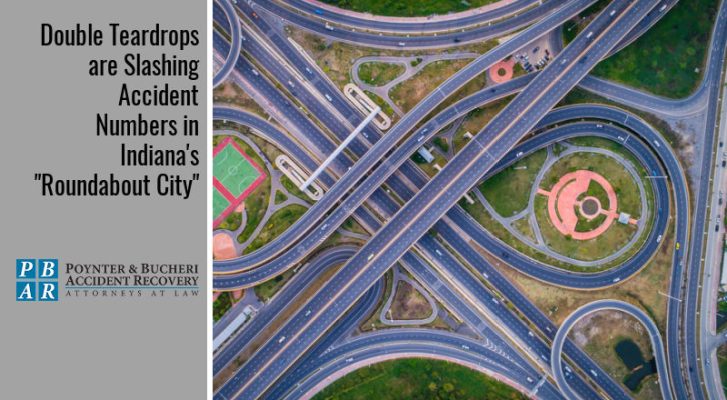 Car accidents are a leading cause of personal injuries in the United States, and Indiana is no exception. Carmel, Indiana has incorporated helpful road changes that have greatly reduced the number of crashes and injuries sustained at the wheel. Carmel has numerous roundabouts that have been put in place at dangerous intersections, and Carmel also features double-teardrop interchanges.
The use of roundabouts and double-teardrop interchanges has greatly reduced injuries, and their many interchanges have brought widespread national attention for their proven safety. In this article, you'll learn all about the benefits of roundabouts and double teardrops, and also about a helpful study conducted by the Insurance Institute for Highway Safety that corroborates their effectiveness.
Why Carmel, Indiana Is Known as the "Roundabout City"
Carmel has more than 100 roundabouts. It has more roundabouts than any other city in the United States, which is surprising considering that it has fewer than 100,000 residents. Their roundabouts combined with their double teardrops have greatly increased the safety of dangerous intersections.
Double teardrops are also known as "dogbone" interchanges, and they're similar to roundabouts. The major difference is the center of the interchange. A roundabout obviously features a circle at its center, but double teardrops feature a squashed circle, which enables it to intersect with freeways and other roads where cars travel at high speeds.
The Insurance Institute for Highway Safety conducted a study that found that roundabouts and double teardrops significantly reduced the percentage of accidents and injuries sustained while in a vehicle. The Insurance Institute for Highway Safety is a non-profit educational and scientific organization that aims to reduce vehicular injuries and deaths. Their study found that Carmel's roundabouts reduced injury crashes by 50%, and their findings on double teardrop interchanges were even better. Double teardrop roundabouts reduced the total number of crashes by 63%, and they reduced injury crashes by 84%.
Why Double Teardrops and Roundabouts are Effective at Reducing Wrecks
Roundabouts are significantly safer than traffic signals and stop signs because they force drivers to slow down as they enter the circle. The vehicles travel perpendicular to one another, which means that cars can't wreck through head-on collisions or from turning left or right. Roundabouts don't entirely remove the risk of a car accident, but they greatly reduce your chances of experiencing an injury during an accident. Additionally, both roundabouts and double teardrops can reduce traffic delays by up to 90%.
Double teardrops are even more effective in reducing your risk of injury. In Carmel, the city government placed double teardrop roundabouts on dangerous roads and intersections so that drivers would have to reduce their speed. They replaced State Road 431 with Keystone Parkway. Rather than add several additional lanes, which was the Indiana Department of Transportation's plan for the congested highway, Carmel added double teardrops to major intersections to reduce stoppage and increase the flow of traffic. Roundabouts and double teardrops offer an efficient and safe alternative to congested roads.
Contact a Personal Injury Lawyer
Although Carmel has created fantastic safety measures for reducing injury crashes, it's still not immune to serious traffic accidents. If you or a loved one experienced a traffic accident that resulted in a personal injury, you need to contact car accident and personal injury attorneys. Personal injuries sustained at the wheel frequently result from the negligence of other drivers, and if you were injured because of the wrongdoing of another person, you have the right to seek compensation for injuries and damage to your vehicle. If you're located in Avon, Carmel, Mooresville, Greenwood, or Plainfield, contact Poynter & Bucheri Accident Recovery Attorneys at Law. Our lawyers are experts in helping people get the money they deserve for a personal injury. Call us at 1-800-265-9881 or click here for a free case review.