Are Traffic Roundabouts Reducing Car Crashes As Intended?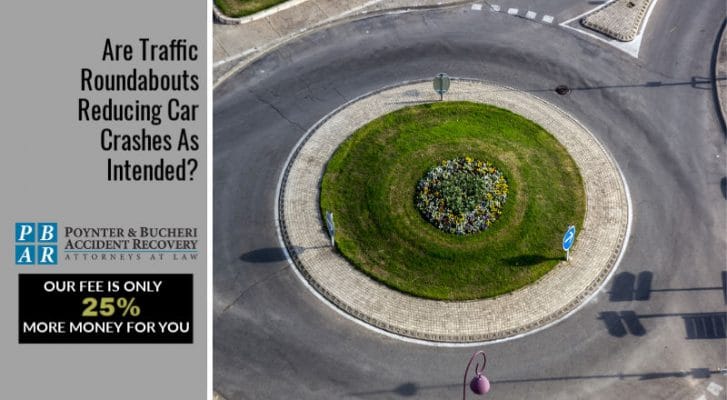 What you'll learn reading this article:
Roundabouts are intended to reduce car crashes, although many traffic intersections converted to traffic circles have actually become more accident-prone than before.
Carmel, Indiana -the roundabout capital of the world- is looking at additional ways to limit crashes at traffic crossings, including an enforceable speed limit for roundabouts.
If you're injured in a roundabout car crash, you'll need excellent legal representation from a local Indiana attorney.
The World's Roundabout Capital Is In Indiana
If you don't already realize it,Carmel, Indiana is known as the roundabout capital of the world. Since the late 1990's -before most Americans ever have to drive through a roundabout- Carmel has been the epicenter of a pilot program to add them to local roads.
The city has a total of 125 roundabouts, most of which use a wide-footprint multi-lane design that routes traffic across lanes and into specific exit points. In fact, every Carmel roundabout is specifically designed to meet its exact road conditions, making each one an entirely unique traffic mover.
Carmel roundabouts are faster, more efficient and safer than other types of roadways, at least according to the city of Carmel. The city's official position is, "They work because of their safety record, their compatibility with the environment, their aesthetics, and their ability to make it easier for pedestrians and bicyclists to navigate."
Are Roundabouts Safer? Maybe. Maybe Not.
The city estimates the number of injury accidents in Carmel has gone down by 80% and the overall number of accidents is down 40%. They point to Insurance Institute for Highway Safety statistics, which are similar.
A recent investigation by the Indianapolis Star shows the most recent accident percentages in Carmel might not be so rosy. They find the number of auto crashes have actually increased at many major intersections across the city after these intersections were changed from signals to traffic circles.
According to Carmel's city engineer, Jeremy Cashman, one of the main contributors to local roundabout accidents is driving speed. When drivers take the roundabout too fast, accidents are more common and are also more severe.
Slower Speed Limits Could Help Roundabout Safety
In an effort to limit the risk of roundabout accidents, Carmel Mayor Jim Brainard is calling for an enforceable speed limit of 15 mph across all of Carmel's roundabouts. Currently, yellow 15 mph signs are posted at most roundabouts. The 15 mph speed limit is merely a suggestion – although many drivers don't realize that. Technically, if you pass through a roundabout at 25 mph on a 25 mph road, you're not breaking the law, at least for now.
Of course, people who are injured or lose their lives in a roundabout vehicle accident might not be so interested in the technicalities. Roundabout traffic accidents can be quite severe because vehicles are entering the roundabouts at complex angles, often at unsafe speeds for driving through a roundabout and are slamming into each other at vulnerable points beyond a car's bumpers.
If you're injured in a roundabout vehicle accident, seek compensation for your injuries and hold the driver responsible for their actions. The car accident attorneys at Poynter & Bucheri Accident Recovery understand the legal ramifications of proving someone else's negligence and can will protect your rights.
Poynter & Bucheri Accident Recovery – Indianapolis Personal Injury Attorneys
If you or a loved one has been injured physically or mentally by a person, product or company, you need to know your legal rights. Our personal injury attorneys are experienced with cases like yours and can evaluate what your case may be worth. We will ensure that you are protected and compensated for your injuries and losses. Why pay up to 40% in attorney fees? Our fee is only 25%* and we fight to win your case or you pay no attorney fees at all. Don't hesitate – one of our experienced attorneys can assist you right away. Call 1-800-265-9881 for a free case review.