What GEICO Doesn't Want You to Know When Settling an Insurance Claim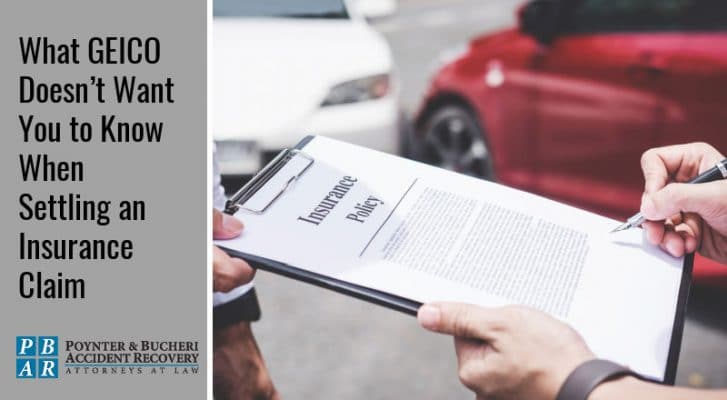 GEICO is one of the largest insurance providers in the United States, with some 15 million customers. It's very possible that they are the providers of your car insurance. If you're in an accident, the other driver might be insured by GEICO.
As with any insurance company, GEICO is looking to make a profit. In terms of profit, the less money that it pays out in insurance claims compared to the amount of money that it takes in from premiums, the better.
It's important to be very careful when speaking with insurance adjusters, whose job is to adjust the level of compensation provided after an accident. It's best to let an experienced Indiana car accident attorney handle the insurance adjusters and compensation negotiations with GEICO. As such a large insurance provider, GEICO knows well how to limit liability for accident claims. Our attorneys, on the other hand, will fight to get you your fair and full compensation.
Handling injury claims
Insurance companies like GEICO may very well not offer to cover the full amount needed to handle costs associated with a personal injury claim. An injury claim should cover medical expenses, pain and suffering, lost wages, mental and emotional distress, and additional out-of-pocket expenses.
Additionally, it's important not to try and settle or negotiate a personal injury claim while you're still receiving care and treatment for injuries. You may have additional costs and therapies necessary in order to more fully recover. GEICO, and many insurance companies, will likely not provide adequate, or any, compensation for future medical expenses that could still come up. This is why it's important that a car accident attorney in Indiana joins your side before GEICO can begin pushing you to settle your claim.
Use caution with statements and descriptions
Following a car accident, GEICO may ask that you provide a statement regarding your accident. However, despite any insistence, you should not provide a statement until you've contacted an Indiana car crash lawyer to advise you. GEICO might use your statement details against you and could find ways to lessen your compensation based on material provided in the statement. Even casual statements, such as saying that you feel fine, could be used against you.
It's also important to use caution when speaking with insurance adjusters and other GEICO employees. Casual conversation and seemingly innocuous statements could be used to lessen your case and compensation. More detailed descriptions will likely be assessed in order to find additional ways to decrease compensation.
Often, an insurance adjuster will come to you shortly after an accident and ask a range of questions. They might ask about accident details, how you're feeling, and medical and treatment details. However, it's best to avoid providing such information and to instead let your automobile accident attorney handle these inquiries.
Devaluing medical expenses
GEICO representatives might use a tactic to lessen compensation for your medical expenses that involves "usual and customary charges." In some cases, GEICO might look at your medical expenses and compare them to so-called standard expenses for similar treatment with the help of a medical professional.
In most cases, the insurance company will say that your expenses are higher than usual and customary charges, therefore lowering the amount of funds offered and leaving you with insufficient compensation. Since personal injury attorneys in Indiana are aware of and used to such practices, we will be ready to spot such techniques and take action to counter unfair practices.
Don't face GEICO alone
When dealing with GEICO, it is best to have legal assistance from the start. Large insurance companies have many tactics for helping to guarantee that they pay out as little money as possible following an accident.
In order to give your claim and your situation the best chances for receiving maximum compensation, contact the experienced legal team at Poynter & Bucheri. GEICO and many other insurance companies can be intimidating in trying to get you to settle a claim early and quickly. But we'll take the time and effort needed to make sure you receive fair compensation following an accident.

Give us a call at 1-800-265-9881. We'll answer your questions. We'll fight for you.