What to Do in the Event of Catastrophic Injury in Indiana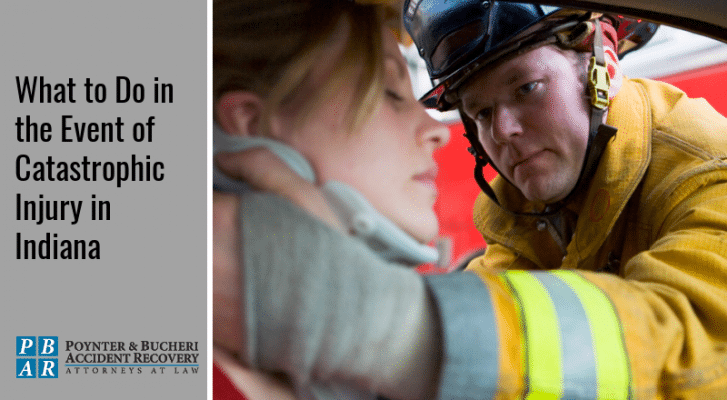 What you'll learn reading this article:
Catastrophic injuries are severe injuries with extreme trauma.
Victims experience damage to almost every aspect of their lives.
Heal from a catastrophic injury by seeking compensation with excellent legal representation.
While every accident is a serious matter, some accidents are among the worst that can ever happen. These fall into the category known as "catastrophic" because they involve extremely severe and traumatic injuries.
Would you know what to do if you or a loved suffered a catastrophic injury? These accidents come with huge medical bills plus job loss, strained relationships, lifestyle limitations, and horrific physical and emotional pain. How would you handle it all?
When Injuries Are Beyond Bad, They're Catastrophic
In a broad sense, a catastrophic injury is a life-changing injury that severely impacts someone's ability to function. However, there is no single widely accepted definition of the term "catastrophic injury."
The American Medical Association defines it as an injury to the spine, spinal cord, skull, or brain, including traumatic brain injuries (TBIs). Other organizations also include injuries like severe burns, paralysis, loss of a limb, sexual dysfunction, crushing injuries, toxic substance exposure, facial disfigurement, and deep scars and lacerations that impair bodily function.
Catastrophic injuries – particularly those that arise from traffic accidents – can have a cumulative impact on the body and mind. An injured person may have an array of injuries to their bones, muscles, organs, and systems, which creates a complex medical situation. They face months or even years of recovery time.
Catastrophic injuries impact almost all aspects of someone's life. A person who previously had a successful career, a busy social life, and a thriving marriage may find that their new limitations prevent them from working, socializing, and enjoying their interpersonal relationships the same way they used to.
What You Can Do After Being Catastrophically Injured
The most common situations where catastrophic injuries arise are traffic accidents that involve extreme physical forces, high speeds, and large vehicles like semi-trucks. Pedestrian accidents also result in catastrophic injuries because a person's body is no match for the crushing force of a moving vehicle.
However, many other situations result in catastrophic injuries, like medical malpractice, birth injuries, and poorly-designed products that harm people. Even a slip-and-fall accident can result in catastrophic bodily injury if the person falls a great distance or stumbles into something sharp that severely injures them.
After a catastrophic injury, seek immediate medical assistance and save all of your related paperwork. Take your doctor's orders seriously and don't miss any appointments during your follow-up care. If you're planning to seek compensation for your medical bills and other costs, you'll need to prove there was no delay in treatment and all of your damages arose directly from the accident.
Don't discuss your injuries with your friends or family, and don't talk share details on social media. Although your injuries may have caused massive changes in your life, anything you say publicly could come back to haunt you later when you try to claim injury compensation.
As soon as possible, arrange legal assistance from an experienced Indiana personal injury attorney. You only get one opportunity to take legal action after a catastrophic accident, so don't miss your chance to seek full and fair compensation.
Poynter & Bucheri Accident Recovery – Indianapolis Personal Injury Attorneys
If you or a loved one has been injured physically or mentally by a person, product or company, you need to know your legal rights. Our personal injury attorneys are experienced with cases like yours and can evaluate what your case may be worth.
We will ensure that you are protected and compensated for your injuries and losses. Why pay up to 40% in attorney fees? Our fee is only 25%* and we fight to win your case or you pay no attorney fees at all. Don't hesitate – one of our experienced attorneys can assist you right away. Call 1-800-265-9881 for a free case review.