Car Accidents Are Rising: Experts Blame Risky Driving During the Pandemic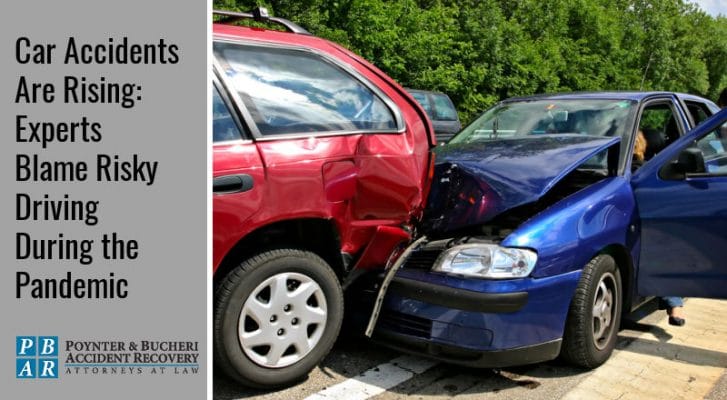 What you'll learn reading this article:
Statistics demonstrating the unexpected increase in fatal accidents during the pandemic
Causes of increases in car accidents during 2020
How you can keep yourself safe on the road
At a time when fewer cars have been on the road because of Covid restrictions and concerns about leaving the safety of home, you would expect America's roads to be safer.
In fact, the exact opposite is true. A report released by the NHTSA (National Highway Traffic Safety Administration) in January revealed statistics showing that 2020 was a far more dangerous year to be on the roads than 2019, and in fact, was the most dangerous year since 2005.
Despite the fact that the pandemic found 71% of Americans working from home (up from 20% pre-pandemic), the fatality rate per mile driven rose 24% last year. At the same time, the number of miles driven nationwide decreased by 15%.
In the last three months of 2020 alone, there were 11,260 traffic deaths, an increase of 1,307 over the same period of 2019. This tragic national trend was evident in Indiana as well. According to the Indiana State Police, there were 813 fatal crashes in the state in 2020, 61 more than in 2019. This is despite an estimated 12.2% decline in the number of cars on Indiana interstates, freeways, and expressways.
Why did fewer cars and drivers get in more accidents?
The U.S. Department of Transportation cited several factors:
Lack of Seatbelt Use
Seatbelts save an average of 15,000 lives per year, but the number of persons ejected from cars in fatal accidents last year suggested that the rate of seatbelt use was down in 2020.
Impaired or Distracted Driving
Fewer DUI or DWI tickets were written in Indiana last year, but that didn't necessarily mean that fewer drivers drove under the influence. Monica Greer, executive director of the Hamilton County Council on Alcohol and Other Drugs, said that 25% of Indiana drivers involved in fatal collisions are legally impaired. She attributed the high number of cases of risky driving last year to stressors like job losses, food insecurity, and evictions.
Alcohol use increased measurably during the pandemic nationally as well. For example, JAMA (Journal of the American Medical Association) reported that in the week ending on March 21, 2020, national sales of alcohol increased 54% from the same week in 2019.
Speeding
For people who were inclined to speed, empty roads proved to be a temptation too difficult to resist last year. The executive director of the Governor's Highway Safety Association, Jonathan Adkins, attributed the spike in car crash fatalities mainly to speeding.
He also mentioned that many states had a reduction in speeding enforcement, so drivers may have felt that they could get away with it. However, state troopers in some states, such as Maryland, Virginia, California, and Minnesota reported writing more speeding tickets than usual.
What Can you Do to Avoid Becoming a Statistic?
Wear your seatbelt, and insist that all of your passengers buckle up.
Don't drive under the influence, and keep your distance from anyone who seems to be driving erratically.
Don't tailgate. A safe following distance at 55 mph is 243 feet, which is about 16 car lengths.
Don't speed, and have your passenger call the Indiana State Police to report any dangerous drivers, whether they are aggressive or speeding.
Lowell 1-800-552-8917
Lafayette 1-800-382-7537
Peru 1-800-382-0689
Toll Road 1-800-421-4912
Fort Wayne 1-800-552-0976
Bremen 1-800-552-2959
Bloomington 1-800-423-1286
Jasper 1-800-742-7475
Evansville 1-800-852-3970
Versailles 1-800-566-6704
Sellersburg 1-800-872-6743
Pendleton 1-800-527-4752
Indianapolis 1-800-582-8440
Putnamville 1-800-225-8576
If you or a loved one has been injured in a car accident, the attorneys at Poynter & Bucheri want to hear your story. Call 1-800-265-9881 or (317) 780-8000 now to speak with a PBAR representative. You can also chat with a representative 24/7 on our website to get the help you need now!