Indiana's Dangerous Roads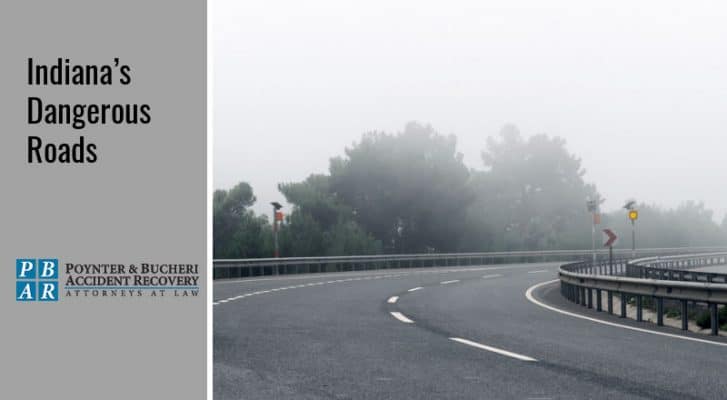 What you'll learn reading this article:
Indiana hosts many dangerous roads, and drivers in Indianapolis, which is encircled by interstates, are especially in danger of accidents.
Surprisingly, many of Indianapolis' roads that are most dangerous for drivers are also most dangerous for pedestrians, seeing heavy traffic of all kinds throughout the year.
Drunk, distracted and aggressive driving often leads to the mistakes and behaviors that most commonly cause Indianapolis accidents with incapacitating injuries or fatalities.
The Indianapolis Metropolitan Planning Organization (IMPO) tracks crash data for Central Indiana for all accidents resulting in fatalities or incapacitating injuries. The most recent data available is from 2018 and shows the locations of the 3,292 incapacitating crashes and 156 fatal accidents that occurred in the following central Indiana counties:
Marion.
Hendricks.
Hamilton.
Johnson.
Morgan.
Boone.
Hancock.
Shelby.
Dangerous Roads in Indianapolis
An invaluable resource, the IMPO map provides road and weather conditions, contributing factors, and the time and date of each of these recorded crashes. In 2018, Indianapolis alone saw 1,184 incapacitating crashes and 87 fatal crashes. These numbers have increased steadily from 2015, which saw 841 incapacitating crashes and 76 fatal crashes.
While the majority of these crashes are vehicular in nature, the data also shows pedacyclist and pedestrian accidents. In 2018, there were four fatal pedacyclist crashes, 20 incapacitating pedacyclist crashes, 101 incapacitating pedestrian accidents and 24 fatal pedestrian accidents.
For Pedestrians
According to this data, the most dangerous roads for pedestrians in Indianapolis include:
Shadeland Avenue.
Keystone Avenue.
Emerson Avenue.
Washington Street on both the west and east sides.
West Michigan Street.
Lafayette Road near 38th Street.
38th Street.
86th Street near Michigan Road.
86th Street near Georgetown Road.
For Motor Vehicles
For drivers, Indianapolis' most dangerous roads include:
I-465.
I-65.
I-69.
I-70.
State Road 37.
Michigan Road.
Kessler Boulevard.
Binford Boulevard
North Illinois Street.
West 10th Street.
East Michigan Street.
East Raymond Street.
East 38th Street.
West 56th Street.
West 71st Street.
West 86th Street.
Country Club Road.
While an accident can happen any time and anywhere, Indianapolis drivers should especially drive with caution on all interstates, which saw a large proportion of fatal accidents. Additionally, 38th Street, particularly near the State Fairgrounds, is especially hazardous.
Common Causes of Indianapolis Fatal Crashes
Of the fatal vehicular crashes recorded in 2018, the following are noted as being the primary contributing factor for the accident:
Overcorrecting/oversteering.
Driving left of center.
Unsafe lane movement.
Following too closely.
Failure to yield right of way.
Unsafe speeds.
Running off road.
Wrong way on a one way.
Improper passing
Disregarding signal or traffic sign.
Driver illness.
Many of these factors are common results of drunken driving, distracted driving or aggressive driving. Driving safely and with focus should always be a person's No. 1 priority every time they get behind the wheel, but unfortunately, this is not always the case.
Tips to Be a Better Driver
It is illegal to drive under the influence of alcohol or drugs, but to be a better driver you should also avoid driving when angry or upset, especially if you are someone likely to suffer from road rage. Indiana has the highest incidence of road rage deaths in the United States.
Additionally, do not drive distracted. This means attempting to multitask while behind the wheel, from talking on the phone to changing the radio station to eating to applying makeup. By driving while distracted, you are unnecessarily putting yourself, passengers you have and others sharing the roadway with you at risk.
In inclement weather, you should adjust your speed and make use of your vehicle's features such as headlights and windshield wipers to ensure a safer drive.
Whether you're driving on one of Indiana's more dangerous roadways or on a road with no prior history of accidents, if you've been injured in a car accident because of a reckless or negligent driver, you deserve compensation.
Car accident injuries can be devastating to a person physically, mentally and financially. Don't stay helpless; instead reach out to the PBAR team for your free case review today, and let us help you evaluate what your case is worth and what your rights are moving forward.
Poynter & Bucheri Accident Recovery—Indianapolis Personal Injury Attorneys
If you or a loved one has been injured physically or mentally by a person, product or company, you need to know your legal rights. Our personal injury attorneys are experienced with cases like yours and can evaluate what your case may be worth. We will ensure that you are protected and compensated for your injuries and losses.
Why pay up to 40% in attorney fees? Our fee is only 25%*, and we fight to win your case or you pay no attorney fees at all. Don't hesitate—one of our experienced attorneys can assist you right away.
Call 800-265-9881 for a free case review.