What Happens When an Indiana Car Accident Involves a Government-Owned Vehicle?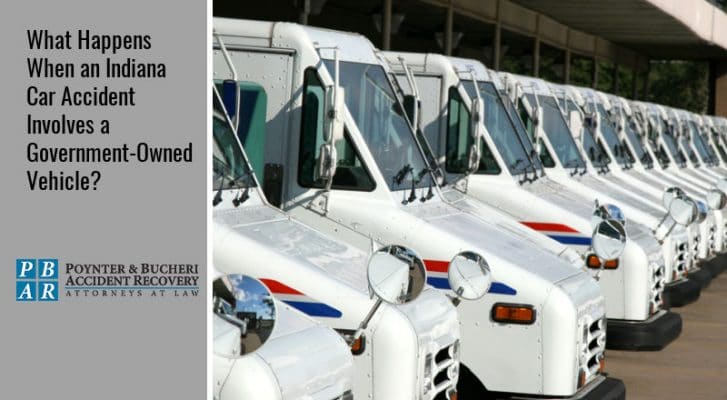 What you'll learn reading this article:
In many cases, the government and its officials have immunity when it comes to being found liable for accidents.
Exceptions to governmental immunity do exist, and you can pursue claims in the event of an accident with a government-owned vehicle.
Because of contributory negligence, if you are found to be at all liable for the accident, you will not be able to recover damages.
No one ever wants to get in a car accident. However, experts estimate that the average person will be involved in about 4 accidents in their lifetime. This means that at some point in your life, unless you are extremely lucky (or are never on the road in a vehicle), you will go through an accident, with or without injuries, and its aftermath.
While even minor accidents with another vehicle can present major stress, being involved in a car accident with a government-owned vehicle (GOV) can create additional complications not found in accidents involving private vehicles.
What Qualifies as a Government-Owned Vehicle?
Some of the most common state or federally-owned GOVs that frequent Indiana roadways are enforcement vehicles, surveillance vehicles, and pool vehicles. These may include:
Sheriff and police vehicles
Fire engines
Ambulances
United States Postal Service (USPS) mail trucks
School busses
City busses
City utilities vehicles
Garbage and waste disposal vehicles
Governmental agency semi-trucks
Indiana Department of Transportation (INDOT) vehicles and equipment
Snow removal vehicles and plows
Any vehicles leased by the government to government workers
What Makes an Accident with a GOV Different?
In Indiana, and many states, there are laws that protect the government and government officials from being held liable for accidents that occur while they are performing their duties.
Known as the Indiana Tort Claims Act, this law essentially diminishes the situations in which an individual can pursue a lawsuit against the government. While there are many cases in which you cannot pursue a claim due to government immunity, there are exceptions to the rule which allow you to pursue compensation.
Such exceptions are often seen in cases of medical malpractice or premises liability cases, such as slip and fall accidents in government buildings. Additionally, automobile accidents with GOVs are also exempt, meaning you may seek compensation.
But because government employees cannot be held responsible for an accident that occurred during the performance of their duties, you must instead file a claim against the State of Indiana or the department or division in which the individual works.
What If I'm At-Fault, Too?
In accidents between two private vehicles, Indiana uses the principle of comparative negligence, meaning one or more parties may share in the fault. Compensation is then determined based on the percentage of fault, and you may receive damages as long as you are less than 51% liable.
Many accidents involving GOVs occur due to emergency situations, such as responding vehicles rushing through intersections or pursuing suspects in a police chase, though it is also possible for a bus driver to rear-end your vehicle or for the garbage truck to sideswipe you.
But no matter the situation, in any accident with a GOV, Indiana operates under contributory negligence. This means that you, the non-government entity, cannot recover damages if you share in any fault for the accident.
Additionally, you cannot seek punitive damages against the government employee, and caps may apply to the compensation you receive.
How Do I Pursue a Claim?
After an accident with a GOV, you must file an administrative claim with the government. Because you will want to detail damages and include a settlement figure in your claim, it is important to know what your case is worth. One way to better understand your case is to discuss it with a qualified attorney.
Then, if the government denies your claim, or does not respond within 90 days, you may move forward by filing a lawsuit.
If you have been injured in an accident with a government-owned vehicle and wish to pursue a claim, don't hesitate! There are strict deadlines for filing claims. Make use of our free case review and begin the process today!
Poynter & Bucheri Accident Recovery—Indianapolis Personal Injury Attorneys
If you or a loved one has been injured physically or mentally by a person, product or company, you need to know your legal rights. Our personal injury attorneys are experienced with cases like yours and can evaluate what your case may be worth. We will ensure that you are protected and compensated for your injuries and losses.
Why pay up to 40% in attorney fees? Our fee is only 25%*, and we fight to win your case or you pay no attorney fees at all. Don't hesitate—one of our experienced attorneys can assist you right away.
Call (800) 265-9881 for a free case review.