How Does Ice Affect Driving in Indianapolis and How to Drive Through It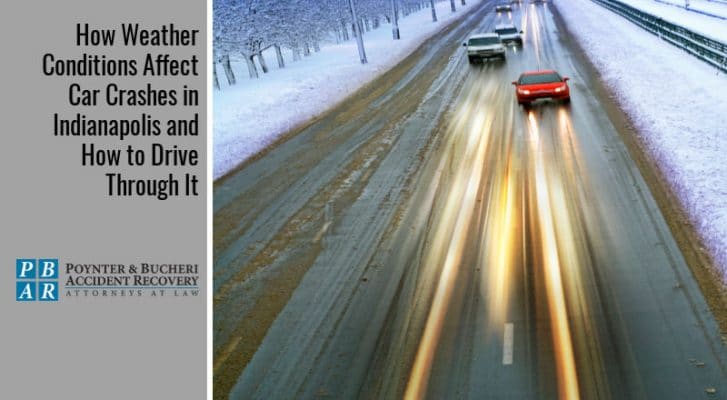 What you'll learn reading this article:
How driving on icy roads and other weather conditions can affect even the best driver's abilities. Especially in winter, drivers require careful focus to avoid accidents involving other vehicles.
More than just ice and snow can contribute to adverse driving conditions. Be sure you know whether you are heading out in poor conditions.
There are several steps you can take to prepare yourself for safer winter driving, such as stocking your car with a winter driving kit and keeping your car in well-maintained condition.
While road conditions can affect or impair a driver at any time of year, winter weather is particularly problematic.
In November 2019 for instance, police responded to 95 road accidents after the first snow in Ft. Wayne, Indiana with additional call-ins for things like sliding off the road due to black ice. Of these 95 incidents, 85 resulted in property damage and nine caused injuries to those involved.
What's more, these accidents all happened in an eight-hour time frame, between 2 p.m. and 10 p.m.
In January 2019, winter storms contributed to multiple crashes in the central Indiana and Indianapolis metro areas, such as one multiple vehicle accident in Fishers that resulted in two lane closures of a five-lane highway. Traffic was affected for hours.
How Does Ice Affect Driving and Other Top Winter Weather Conditions
As Indiana State Police Sgt. John Perrine notes, "Snow and ice don't carry liability insurance." It's a strong reminder that vehicle crashes and accidents on Indiana roads are not the fault of the weather even if the weather may have affected the driver. With mid-winter driving conditions, it is important to familiarize yourself with safe driving practices.
Temperatures – While many may not know this, cold weather itself can affect or even damage your car. Cold temperatures can affect a car's battery, the engine fluids like oil, brake and transmission fluids and antifreeze, tire pressure, wipers and window washing fluid or a car's spark plugs and ignition. Cars that don't start properly or don't run as intended can cause an accident or contribute to a drivers' distractibility. 
Ice, Snow and Sleet – Ice and snow on the roadway can affect driving speeds, vehicle stability and performance, and particularly braking distances. Falling snow and sleet also affect driver visibility.
High Winds – High winds can affect traffic and individual vehicles' stability, but in the winter they can cause additional issues by blowing snow, which can affect driver visibility and lane clearance.
Ice Fog – Also known as freezing or frozen fog, this occurs when tiny droplets of water freeze on a surface, such as a roadway, sidewalks, vehicles and trees.
Black Ice – Often caused by ice fog, black ice that forms on a roadway or walkway is difficult to see, meaning you are not expecting it to be there, as a pedestrian or a driver.
How Much Ice Affect Driving and Does Weather Affect Injury-Causing Car Crashes?
According to the Federal Highway Administration, the 10-year percentages from 2007 through 2016 attribute snow and sleet to 18% of weather-related crashes, which resulted in 14% of weather-related injuries and 13% of weather-related fatalities. Icy pavement is attributed to 13% of weather-related crashes, with 11% and 10% of weather-related injuries and deaths, respectively.
How To Drive Through Adverse Weather Conditions In Indiana
While the best way to avoid an accident in adverse weather conditions is to stay home and off the road, sometimes such advice is unrealistic. So, if you have to be on the road:
Be prepared for the possibility of getting stuck. Store warm clothing, blankets, water and food in your vehicle as well as other emergency items such as a flashlight, first-aid kit and cell phone charger. Keeping a small snow shovel and ice scraper is also a must.
Drive with caution. Allow for longer braking time and distance and be aware of other drivers on the road. Reduce your speed to reflect the conditions, your visibility and your comfort on the road.
Use your lights and be on the lookout for stalled cars, pedestrians or emergency vehicles and personnel along the road.
If you do find yourself injured in a weather-related accident, stay calm and contact an Indianapolis Car Accident Attorney who will fight for your rights.
Poynter & Bucheri Accident Recovery – Indianapolis Personal Injury Attorneys
If you or a loved one has been injured physically or mentally by a person, product or company, you need to know your legal rights. Our personal injury attorneys are experienced with cases like yours and can evaluate what your case may be worth. We will ensure that you are protected and compensated for your injuries and losses. Why pay up to 40% in attorney fees? Our fee is only 25%* and we fight to win your case or you pay no attorney fees at all. Don't hesitate – one of our experienced attorneys can assist you right away. Call 1-800-265-9881 for a free case review.