How to Obtain Your Indiana Crash Report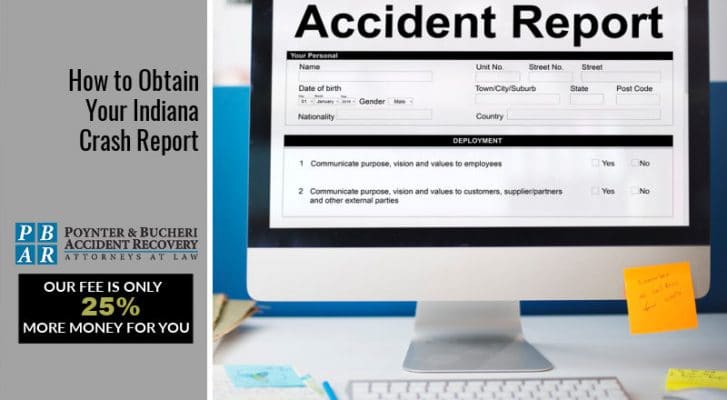 What you'll learn reading this article:
One of the most important reasons to call the police after an accident is to ensure an official crash report is filed in your state. 
After an accident, there are several ways you can go about obtaining your copy of the official crash report, which includes important details from both drivers, witness statements, notes on damage, known injuries, and the responding officer's view of who is at fault.
Crash reports can help you to negotiate compensation during a personal injury claim after an accident by providing official information from the accident. 
What Is a Crash Report?
A crash report also called an accident report, is taken down by the responding officer when an Indiana car accident occurs.
The officer often will take notes on the incident, draw a diagram of the crash, and begin interviewing witnesses. They also will interview each driver and any passengers separately to get their story of what occurred, and they will note any damage done to property and any injuries to persons.
Lastly, the officer will decide who they believe is at fault in the accident.
What Are the Different Options for Obtaining My Report?
Contact ISP in person.
This is, in a lot of ways, the least convenient option. The Indiana State Police allows you to contact its subcontractor in person in Greenwood, Indiana, to get a copy of your official report. You also may call the current subcontractor at (317) 215-8300. Most likely, though, you will be asked to pursue obtaining your report via the next option below.
Use the ISP-endorsed website to purchase a copy of your report.
For a small fee, you may purchase a copy of your crash report at www.buycrash.com. A few days after your crash, the information should be available via this resource. Simply select "Indiana" and search for your report via the number provided by the police department. If you lost that information, you also may search using your last name and either the date of the accident or the reporting agency.
Have a lawyer obtain your report.
Many law offices, when providing free case reviews, will want to have access to the accident report. This means that an attorney may procure a copy for you to go over during your consultation.
Inquire with your insurance agent.
Your insurance adjuster also may want to procure a copy of the report and may do so on their own. If they have, you can ask if they would be willing to share it with you. Alternatively, your insurance may ask you to provide a copy to them, in which case you will need to obtain one via one of the above-listed ways.
What Does a Crash Report Provide Me?
The crash report gives you the details as observed by the police officer who responded to your accident and provides you with an official document stating these details. Used in conjunction with medical reports, a crash report can be used as a piece of evidence to help argue your personal injury case if you suffered injuries from the accident.
Police reports also can be invaluable when a personal injury was sustained by you or you were unaware of the injury at the time. Having a detailed document that pinpoints the date, time and specifics of the crash can help you to trace any symptoms back to the accident.
Crash reports also can be handy if the other driver changes their story after the fact; the crash report will have each driver's version of events from the crash recorded as well as the officer's understanding and summary of the incident.
After an accident, gaining access to your crash report can help to provide you with the details you may not remember well yourself due to injury or emotional trauma or shock. A personal injury lawyer with experience in car accident cases can help you to make sense of the report and better understand your options when it comes to seeking compensation.
Poynter & Bucheri Accident Recovery—Indianapolis Personal Injury Attorneys
If you are an accident victim or a loved one has been injured physically or mentally by a person, product or company, you need to know your legal rights. Our personal injury attorneys are experienced with cases like yours and can evaluate what your case may be worth. We will ensure that you are protected and compensated for your injuries and losses.
Why pay up to 40% in attorney fees? Our fee is only 25%*, and we fight to win your case or you pay no attorney fees at all. Don't hesitate—one of our experienced attorneys can assist you right away. Call (800) 265-9881 for a free case review.
Video Transcript
Hi, I'm Rich Bucheri from Poynter & Bucheri injury attorneys. And today I want to talk about how to obtain your Indiana crash report. So police officers come to the scene and they start talking to all the witnesses, and they will note the vehicles that were involved, and they'll sketch a diagram of the accident, and they'll decide who they believe is at fault. And they'll put all this information into a crash report. They usually give you a card with a reference number at the scene so that you can get this crash report. It generally takes a couple of days to get into the system. Now, if you want to get this report, you have to go online to get it. And there is a cost involved. So you may want to consider some possible free resources.
If you want to talk to an injury attorney, generally they offer free consultations, and as part of that free consultation, usually they will get a copy of the police report so that they can have an idea what's going on with the case. In addition, you may want to talk to your insurance adjuster, especially if it's for your insurance company. If they have it, then they may be willing to share a copy with you—although sometimes the insurance adjusters are going to ask you for the police report.
If you're not interested in any of the free resources, then the website to go to in Indiana is buycrash.com. And so when you go to buycrash.com, the first page is a page where you actually pick the state where you're requesting the police report. So if you pick Indiana, then you get this page here and you have two choices. You can either enter the report number or you can do a general search by using the last name of one of the drivers that was involved and the date of accident. There's a Captcha challenge. And when you do the general search, then you're going to get search results such as this. And when you find the report of the accident that you were involved with, and you add that to your cart, you put your credit card information and they will email the copy of the report to you.