What You Need to Know About Rental Cars After an Accident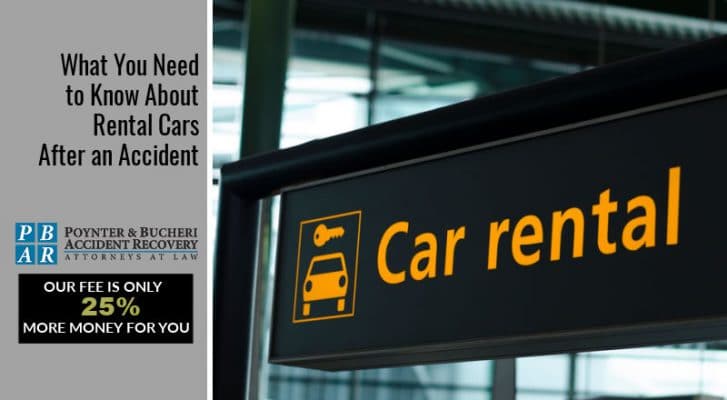 What you'll learn reading this article:
After an accident, you are entitled to a rental car to provide for transportation while your own vehicle is repaired or replaced.
Depending on your insurance, you may have certain time and model constraints on the type of vehicle you are provided.
Should you be involved in an accident in a rental car, you may need to follow different steps with your insurance company based on coverage. 
After a motor vehicle accident, you are often left with a damaged car that either needs repairs or has been totaled. In both cases, you lack transportation. So what are you to do?
Here are some answers to your questions about renting a car after an accident and rental reimbursement coverage.
Am I Entitled to a Rental Car After an Accident?
Yes. The inconvenience of losing access to your vehicle and transportation because of a negligent driver can be frustrating, and you absolutely are entitled to the loss of use of your vehicle. Either your own car insurance company or the negligent driver's auto insurance should cover the cost of a rental for you while you await the necessary repairs on your vehicle or, in the case of a total, a replacement.
When dealing with the insurance company, you may find that the insurance company will try to put you in a cheaper or smaller vehicle than your car that you are getting repaired or replaced. Your loss of use claim should be based on the loss of your actual car cost. Be careful, however, that your insurance policy may have limitations on your rental coverage. It is best to contact the insurance company first to find out their position. 
How Long Am I Entitled to a Rental Car?
After a car accident, most insurance companies will provide coverage for a rental for a certain period of time, say 30 days. Repairs at the body shop may take longer than this or you may be waiting on the insurance check to be able to have the funds to replace a totaled vehicle.
Should you need a rental for longer than insurance is willing to provide, it may be difficult to negotiate after the fact, though you should be able to contact them to discuss an extension. If possible, you should speak with both the insurance company and the repair shop before an agreement is made to help ensure that you will receive the coverage you need.
What Kind of Car Will the Agency Provide?
It may depend on the insurance company, but you should be provided a comparable car to the one you lost due to the accident. If you drove a high-end Italian sports car or a luxury SUV, you can make the argument that you are owed a matching rental. Of course, if you drove a one-of-a-kind custom car, an exact match will not be possible. However, you should be able to get a rental that is as close to the quality of your car as the company is able to provide.
Should I File a Claim With My Company or the Other Driver's?
Filing with your own company may mean your claim is processed sooner, but there may be a fixed limit on the number of days and the price of rental under your own insurance coverage.
The at-fault driver's insurance, however, is responsible for paying for your rental, so filing with them should keep you from out-of-pocket expenses with the rental car company. They may choose to examine your claim more thoroughly than your own company, though, which could mean a lapse in transportation while they process the request.
What About If I Have an Accident in a Rental Car?
While not ideal, it certainly happens that rental vehicles can be involved in accidents. Your first step always should be to ensure the safety of you, your passengers, and the other vehicle's driver and occupants. Then you should follow standard protocol for a car accident.
When it comes to insurance, you'll want to contact your company as soon as possible to report the accident. If you have a policy that includes collision damage and comprehensive coverage, your rental car will be covered by your policy. If you purchased additional insurance on the vehicle from the rental company, be sure to let your own company know.
You also should contact the rental agency to inform them of the accident—they should help you with any additional steps you will need to take.
Overall, be sure to always read the fine print on insurance and rental agreements and ask for clarification if and when you don't understand something.
Poynter & Bucheri Accident Recovery—Indianapolis Personal Injury Attorneys
If you or a loved one has been injured physically or mentally by a person, product or company, you need to know your legal rights. Our personal injury attorneys are experienced with cases like yours and can evaluate what your case may be worth. We will ensure that you are protected and compensated for your injuries and losses.
Why pay up to 40% in attorney fees? Our fee is only 25%* and we fight to win your case or you pay no attorney fees at all. Don't hesitate – one of our experienced attorneys can assist you right away. Call 1-800-265-9881 for a free case review.
Video Transcript
Hi, I'm Richard Bucheri from Poynter & Bucheri Injury Attorneys. And today, I want to talk about what you need to know about rental cars after your accident. So if you're involved in an accident, one of the more inconvenient things that happens is that your car is damaged, it needs to be repaired, or maybe it's a total, in which case, you don't have a car to drive. And if you do need a car to drive, you are absolutely entitled to loss of use of your vehicle. And in fact, if you have a luxury SUV, for instance, then there's an argument to be made that they should replace it with a luxury SUV. If you have an Italian sports car, then they should probably replace it with a high end Italian sports car. But before you go and run up a big giant rental car bill, I would encourage you to communicate with the insurance companies, whether it's the third party, the insurance of the person that hit you, or your own insurance company to see what limitations that they may argue apply as far as your rental car.

So some insurance companies won't pay for a rental car after a period of time. And so, while you may be able to sue the driver for the loss of your luxury SUV for two months that it takes to get the custom rims that you ordered, at the end of the day, there may be an argument with the insurance company as to whether they have to pay that or not. And if you get a judgment against somebody that's never going to be able to pay it, then you're going to be out that money. So that's why it's important to communicate with the insurance companies about the rental car, try to get their agreement that they are going to cover the rental car for a period of time and make sure that that period of time is going to cover the time that it's going to take to repair or replace your vehicle. If you're not going to be able to get it done in that time, then call them and tell them that you need additional time with the rental car.