Why is My Insurance Settlement Offer Lower If I Ask Myself Than If I Use an Attorney?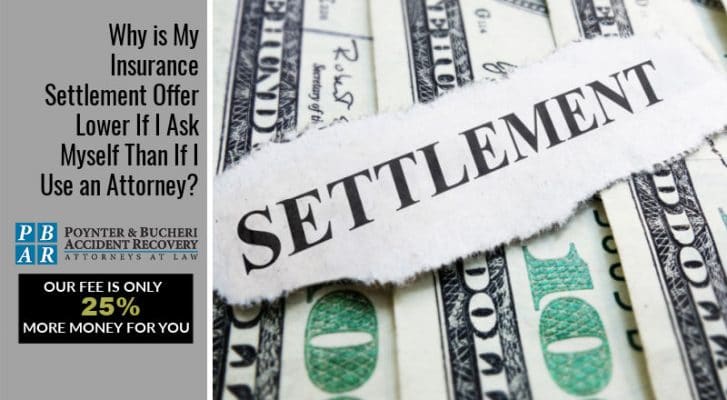 What you'll learn reading this article:
Statistics show that attorneys can negotiate much higher payouts for personal injury claims than those who forgo representation.
Insurance companies actively work to keep from paying you the settlement you deserve. 
Noneconomic damages for pain and suffering aren't a given in an insurance company settlement agreement but hiring an attorney can help you receive these damages. 
If you've been injured because of someone else's negligence, we understand that hiring an attorney can seem like a daunting, expensive task in the middle of what is already a headache for you and your loved ones.
You may be tempted to try to negotiate an insurance claim yourself, believing this is the easiest route to take. However, to get the compensation you deserve, it is in your best interest to contact a law firm for legal advice Here are the reasons why:
Insurance Companies Will Attempt to Give a Lowball Offer
An insurance adjuster's primary job is to save their company money, no matter how friendly and helpful they may seem. The bottom line is their bottom line: for each claim they receive, the insurance company will work hard to pay out as little as possible.
Adjusters will work to save their company at every turn, finding tricks and loopholes to deny claims or limit your potential payout, meaning you are the one losing out. They will set arbitrary deadlines and use their leverage to scare you into accepting a settlement that is not in your best interest. The presence of an attorney will save you time and money, and when an attorney negotiates with the insurance company for you, the company will lose their upper hand and ability to string you along.
Attorneys Get You Pain and Suffering Compensation
While you certainly can attempt to represent yourself with an insurance company offer, the fact is that they are not required to provide compensation for pain and suffering. In order to receive these damages, you must provide evidence, witness statements, documents, draft a demand letter, and know how to best evaluate the monetary value of your property damage and noneconomic damages from years of experience.
Rather than attempting all of this yourself and perhaps making an error in paperwork or calculations that would get your claim thrown out, turning to an attorney from the beginning can ease your mind and wallet. Representing yourself is just playing into the hands of the insurance company.
Statistics Show Attorneys Get You More
A 2012 study by the Consumer Federation of America found that insurers may use computerized systems to manipulate settlements and "broadly underpay injury claims" by providing payouts that are "less than what injured consumers should receive under the terms of their insurance policies."
Since 1999, there has been an increase in the number of attorneys hired to represent personal injury cases due to the Insurance Research Council's study which saw injury claims filed with an attorney receiving 40% more in settlements than those without legal representation. A second IRC study found that 85% of the funds paid out for injury claims were awarded to individuals who hired attorneys to represent their injury claim.
Personal Injury Attorneys Cost You Nothing Out of Pocket
If you believe that you'll have to pay out of pocket to work with a personal injury attorney, that's not the case! Not only do we provide a free case review at Poynter & Bucheri Accident Recovery, but we work on a contingency fee of 25%* for motor vehicle accidents.
Most personal injury lawyers take 33% to 40% of your settlement in attorney's fees. When PBAR is on your side, we not only will help you win more money, but we will leave more in your pocket. That's not even counting the priceless feeling of peace of mind brought on when you know your case is being handled by a team of professionals.
Poynter & Bucheri Accident Recovery—Indianapolis Personal Injury Attorneys
If you or a loved one has been injured physically or mentally by a person, product or company, you need to know your legal rights. Our personal injury attorneys are experienced with cases like yours and can evaluate what your case may be worth. We will ensure that you are protected and compensated for your injuries, lost wages, and pain suffering.
Don't hesitate—one of our experienced attorneys can assist you right away. Call (800) 265-9881 for a free consultation.
* Disclaimers: 25% fee ONLY on car accidents cases that are resolved prior to jury trial. Client remains responsible to pay for all costs, expenses and medical bills, regardless of settlement or recovery. Liability and medical causation must not be disputed. This 25% fee is valid for only 15 days after date last advertised.