Who is Liable if You Slip and Fall on City Sidewalks?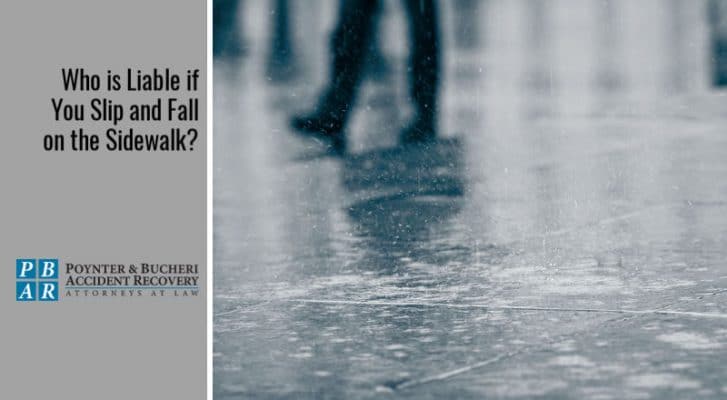 What you'll learn reading this article:
It's not always obvious who's responsible for a certain area of the sidewalk and for removing ice and snow from these areas.
After a slip and fall on city sidewalk injury, you'll need to determine who's liable for that section of sidewalk and how they were negligent.
Even if you were partially at fault, you can likely sue for compensation.
A nice stroll quickly turns sour when you slip and fall on a city sidewalk. City and suburban sidewalks are common sites of slip and fall accidents because they're heavily used and concrete is prone to cracking and crumbling and other dangerous conditions.
If you stumble on a broken sidewalk and tumble to the ground, who's legally responsible for your injuries? A homeowner or private property owner? A business owner? The city or government entity? What if they try to blame you?
First, Ask Who's Responsible
The first thing you'll need to do is determine who's responsible for the slip and fall on city sidewalks in the precise location where you were injured. Most people don't really think about it, but sidewalks flow in and out of ownership/responsibility as we walk along them.
In many areas, the homeowner or business owner is expected to maintain the sidewalk that adjoins their property. This means as you walk down the sidewalk, one stretch of it is the responsibility of Mr. Jones, the next Ms. Smith, and the next Mr. Davis, and so forth.
A certain long stretch of sidewalk might be the responsibility of the city or county instead of the businesses behind it. Or responsibility could fall to the owner of a nearby shopping center. It's almost impossible to know without doing some checking.
Start by contacting the city and asking who's responsible for the sidewalk exactly where you were injured. If it's the city, it's okay to notify them that you were injured but don't answer any questions until you speak to your premises liability lawyer. If it's an individual or business owner, again, talk to your lawyer to discuss your slip and fall case before discussing the situation with them.
Filing a Lawsuit: Limits and Liability
In Indiana, you have a limited time to file a personal injury lawsuit regarding a slip and fall accident. The statute of limitations says you must file the suit within two years of the date of the incident.
But there's also a much shorter window involved. If the sidewalk falls under the responsibility of the city or county, you have just 180 days to file a tort claim or you'll miss your opportunity.
In order to prove that a person or entity is liable for your injuries, you'll need to show that they were negligent in their duty to maintain the sidewalk. You'll also be required to prove that your injury was the direct result of that negligence.
This means you'll need to gather as much evidence as possible from the scene of your fall. Take photos and videos, noting the weather conditions and anything else that contributed to your accident. If anyone saw you fall, request their contact information and share it with your lawyer for a possible interview.
Save your medical bills and any other paperwork related to the situation. Indiana allows personal injury compensation for:
Current medical bills
Future medical bills
Lost wages
Physical pain and mental suffering
Don't Be Afraid of the Blame Game
It's common for a business owner or property owner to try to blame you for your own injuries. If they do this, don't back down. Even if you're partially at fault, it's unlikely that they'll be held totally blameless.
As long as you share no more than 50% of the fault for your accident, you can still receive compensation for a slip and fall injury in Indiana. Your monetary award will simply be reduced proportionately by the amount of your contributory fault.
So if the court determines that you were 10% at fault and your damages are $40,000, you would receive $40,000 minus 10%, or $36,000. As you can see, that's still well worth the lawsuit!
Remember, you have a right to seek compensation for a sidewalk injury. Talk to an Indiana slip and fall lawyer as soon as possible to receive legal advice. Your lawyer can help you with everything from figuring out who the property owner is to handling a settlement or court appearance successfully.
Poynter & Bucheri Accident Recovery – Indianapolis Personal Injury Attorneys
If you or a loved one has been injured physically or mentally by a person, product, or company, you need to know your legal rights. Our personal injury attorneys are experienced with personal injury cases like yours and can evaluate what your case may be worth. We will ensure that you are protected and compensated for your injuries and losses. Don't hesitate – one of our experienced attorneys can assist you right away.
Call our law firm at 1-800-265-9881 for a free case review.