Hire a Lawyer Right Away to Avoid Irreparable Damage to Your Case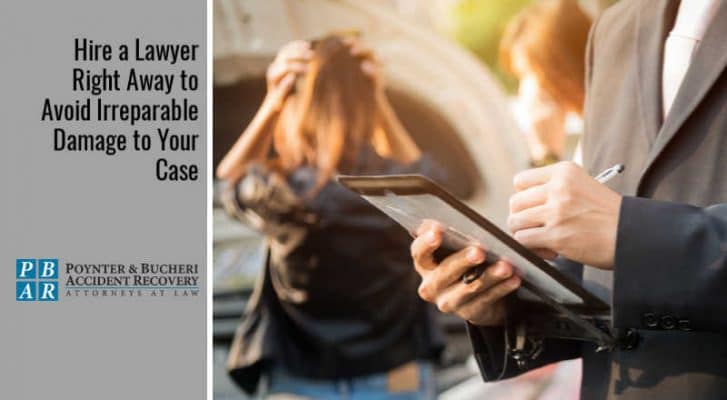 What you'll learn reading this article:
Many well-meaning individuals cause irreparable harm to their case before even leaving the scene of the accident by providing written or recorded statements that can be used against them later. 
Posting online, particularly on social media, can damage your case, even if you are just sharing the news with close friends and family.  
Signing documents or agreeing to settlements without an attorney is one of the top ways a victim can lose their chance to receive monetary damages for their injury.
When you're injured in an accident, it can be a bit of a whirlwind to sort out what you should and shouldn't do. Oftentimes, there are a lot of various authority figures — from police officers to insurance agents to doctors — telling you or asking you for information, and sometimes documents or forms you are provided to sign may seem contradictory to your best interest. So how do you best avoid causing irreparable damage to your personal injury claim? The number one thing you can do is to hire a lawyer right away.
Why Hiring a Lawyer Should Be Your Number One Priority After an Accident
The period right after a personal injury can be traumatic for a variety of reasons, not in the least your personal pain and anguish caused from the injury itself. Between the overwhelming insurance claims process, navigating the medical treatments and appointments, and dealing with the financial implications of all of the above, sometimes hiring a lawyer is at the bottom of your list. However, to make the entire process easier, hiring a lawyer should be your number one priority after an accident that causes you personal injury.
The PBAR legal team is devoted to guiding our clients through the process of filing an accident claim and minimizing the stress this process can cause for you. We know you are already a victim and do everything we can to simplify and reduce excess fears and worries for you, our client. With our expertise, we are able to help our clients avoid some of the most commonly made mistakes accident victims unwittingly make after an accident that can end up hurting their chances of receiving the fair compensation they deserve for their accident claim.
Our talented attorneys at PBAR will not only help you pursue your best interests but will offer you immediate advice on how to avoid making mistakes that could later jeopardize your claim. All too often, injured individuals are taken advantage of by their lack of knowledge of how the system and the courts generally work, but at PBAR, we refuse to leave you out in the cold.
Top Ways Accident Victims Damage Their Own Case
We want our clients to know that after hiring us to fight for their rights in the case of a personal injury due to a person, product, or company, that they should avoid the following mistakes made by accident victims that often result in damaged cases. Help us help you!
#1 – Talking to Insurance Adjusters
Give your statement to the police at the scene but be careful what you say. Keep your statement short and concise. Tell the truth, don't speculate. Do not talk to insurance adjusters or give a recorded statement without consulting a lawyer first. Insurance adjusters are trained to ask leading questions, and some injuries may not show symptoms right away.
#2 – Not Seeking Medical Care or Failing to Follow Through
Even if you think you are fine, or that your injury will heal on its own, failing to seek medical care is a big mistake. Soft tissue injuries often can be hard to spot, and by not seeing a doctor after an accident, such as a fall or a car accident, can allow insurance companies to claim you are not as injured as you may be. Similarly, if you seek treatment but fail to follow through with it, your case can be damaged as a company can claim that you did not take your irreparable injury seriously.
#3 – Signing a Medical Release for the Insurance Company
Signing a medical release for the insurance company before talking with an attorney will allow the company access to your medical history. This means they may find pre-existing conditions that they will then try to use to devalue your claim.
#4 – Accepting a Settlement Without an Attorney's Input
A settlement agreement is a contract, and once signed, you are bound to it. Never sign an agreement without speaking to an attorney first, as many settlements will prevent you from seeking additional compensation and may not be giving you a fair deal.
#5 – Posting About the Accident or Injury Online
In today's world, it can be hard to not share everything about our lives online. However, in the case of an accident that involves a personal injury, posting about the incident online can harm your case. The opposing party's defense attorneys can find posts or comments you made about the accident, and no matter how innocent, twist them or use them to cast doubt on your claim.
Poynter & Bucheri Accident Recovery – Indianapolis Personal Injury Attorneys
If you or a loved one has been injured physically or mentally by a person, product or company, you need to know your legal rights. Our personal injury attorneys are experienced with cases like yours and can evaluate what your case may be worth. We will ensure that you are protected and compensated for your injuries and losses. Why pay up to 40% in attorney fees? Our fee is only 25%* and we fight to win your case or you pay no attorney fees at all. Don't hesitate – one of our experienced attorneys can assist you right away. Call 1-800-265-9881 for a free case review.
Video Transcript
Hi, I'm Rich Bucheri from Poynter and Bucheri and I wanted to talk today a little bit about an issue that's come up just recently because of everything that we're going through and that's people having a difficult time finding an attorney, especially an injury attorney, because of the shutdown. And there's a few reasons for that but what I would say is if you're in this situation where, let's say you've been negotiating with the insurance company about your case and it's been close to the two year statute of limitations and you haven't been able to come up with an agreement and so now you have to file a lawsuit, but unfortunately you're calling around and people just aren't able to respond to you and law firms aren't able to help you do that, so we've had that situation come up.
Another situation is people have a current attorney and unfortunately because of the social distancing practices and things like that, they aren't able to go to the attorney's office to meet with them in person and it seems like basically every time you call you're not able to get ahold of anybody.
And then finally there are people that have been recently been dropped by their attorney, maybe before all of this happened and so now there are deadlines pending in their case or there are discovery or there's discovery that is supposed to be answered and nobody is working on the case. And so you're trying to call around to find an attorney to help you out with this and you're just having a very, very difficult time.
And the reason for this is a lot of law firms are not set up necessarily to have its workers remotely work. So some law firms are able to handle this a lot better than others. And it just depends on your law firm and the kind of technology that they utilize in order to be able to stay up and running in a time like this.
So how can we help here at Poynter and Bucheri? Well, first of all, we do things like phone and video conferences and we kind of routinely did them even before all of this happens. We're fairly familiar with how to do this in a fairly easy way. Now we're using Zoom conferences so that we can talk to all of our employees on a regular basis. Employees that are working them from home because our phone systems are such that they're basically plug and play into the internet. So even though everybody has their phone at home, they're still connected to the same phone system so that we're able to communicate effectively and transfer calls that we get into the office to one another so that you can talk to the right person.
Secondly, we have a client portal and I'm going to kind of show you a little bit about this, but this is a way for us to effectively communicate with our clients so that they can know what's going on with their case. And I'll just kind of show you a little bit about what that looks like here. So we have this client portal in use, we send you an email and you sign up for it with a secure password. And in this way we're able to get messages to you, have you review documents, you'll know the upcoming events on your case and things like that. So that's one of the other tools that we use in order to be able to work on your case remotely.
And then finally we have e-signature options. So it used to be that every time a piece of paper had to be signed, we'd either have to mail it to you by snail mail or you'd have to come to the office and physically sign it. And obviously that's something that wasn't very convenient. And so with the proliferation of e-signatures, we decided that we were going to go all in on that as well. And so we use that technology and I'll just kind of let you take a look at what that would look like. So you'll get an email and this'll be the email that you give us at the beginning of the case. And when you just click that button on the email to view and sign a document, this is a sample fee agreement that I just put together, and you obviously review it very carefully, make sure you know what you're signing and then you just click and type your name. And you are consenting to be bound by the signature and your signature gets inserted there. And so then you just hit submit and it's submitted.
So these are all various things that our law firm uses to be able to work remotely, work in this current environment and be able to get cases done and still be able to effectively litigate cases. And so if you are having difficulty finding an attorney and you're wanting to speak with somebody about your case and your situation, please don't hesitate to give us a call. It's a very simple to get ahold of us. We actually still answered the phones throughout most business hours. We also have ways to contact us through our website via a chat option, or you can do a form submission and we'll get right back with you. So just let us know if you need our help and we'll be more than happy to help you. Thank you. And stay healthy.