Tips for Small Business Owners and Employers in Indiana during COVID-19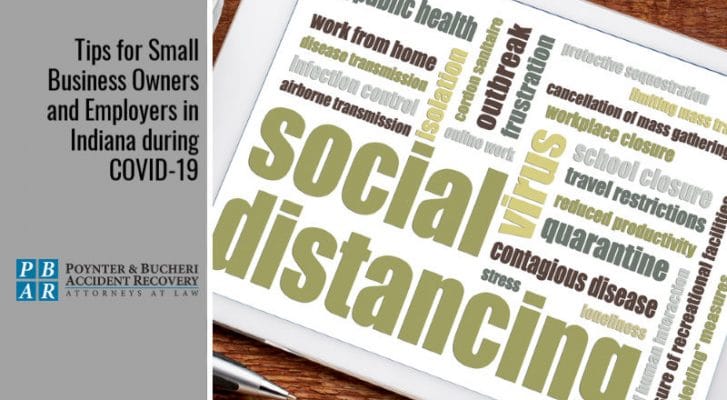 What you'll learn reading this article:
What the 10 executive orders Governor Holcomb has filed (thus far) for the benefit of Hoosiers and to help curb the spread of coronavirus mean for you and your business.
Ways suffering business owners and employers can receive emergency funds, such as from Federal Injury Disaster Loans.
How to file for unemployment in Indiana and other important tips for surviving this difficult time financially.
The coronavirus has disrupted the daily lives of millions throughout the globe, and we at Poynter & Bucheri are hyper-aware of just how trying times of extreme stress, illness, loss of business and more can affect individuals and their families.
Because of this, we have put together some tips for small business owners and employers to help relieve uncertainty and provide some reassurance for our fellow hardworking Hoosiers.
Understanding Recent Government Action
On March 6, Governor Eric J. Holcomb issued his first executive order in response to the coronavirus, or COVID-19. This order, 20-02 (his second of the year 2020), officially declared a public health emergency for the state of Indiana due to the 2019 outbreak.
By doing so, Gov. Holcomb opened up government resources to combat the virus and to help Hoosiers seek help and information about its spread. His remaining orders do the following:
Small Business Loans in Response to Coronavirus
SBA Administrator Jovita Carranza recently announced that the U.S. Small Business Administration would be offering "low-interest federal disaster loans for working capital to Indiana small businesses suffering substantial economic injury as a result of the coronavirus (COVID-19)."
This means that small businesses, organizations such as private nonprofits, and agricultural and aquacultural initiatives may qualify for Economic Injury Disaster Loans of up to $2 million if financial hardships from the coronavirus pandemic have kept them from meeting their operational costs and financial obligations that would otherwise have been met had the disaster not occurred. According to Carranza, these loans are applicable to paying off fixed debts, bills and payroll.
Applicants can download the application and submit it online via the SBA website.
FMLA and COVID-19: What You Need to Know
If you have employees who have worked for at least 12 months, have at least 1,250 hours of service over the previous 12 months, and "work at a location where at least 50 employees are employed by the employer within 75 miles," then they are eligible to take leave under the Family Medical Leave Act.
Employers are required to provide employees job-protected, unpaid leave under FMLA, which in many cases may include coronavirus-related family and medical issues. This applies to employees who are sick or who have family members who are sick.
For more detailed information about FMLA and pandemics, visit the U.S. Department of Labor website.
How to File Unemployment
Hoosiers are able to file for unemployment online via a computer or their smartphone by visiting www.Unemployment.IN.gov. This means you will need the following:
A valid email address
Important personal information, such as address, driver's license or ID, Social Security number, birth date and phone number
Information about your last employer
History of employment, such as dates when you became employed and unemployed.
Additionally, if you choose to receive direct deposits, you will need to provide a bank routing number and your account number.
For in-depth answers to frequently asked questions, please visit the DWD's Indiana Unemployment FAQ page, which provides detailed information on eligibility and steps to take after filing.
Poynter & Bucheri Accident Recovery – Indianapolis Personal Injury Attorneys
If you or a loved one has been injured physically or mentally by a person, product or company, you need to know your legal rights. Our personal injury attorneys are experienced with cases like yours and can evaluate what your case may be worth. We will ensure that you are protected and compensated for your injuries and losses. Don't hesitate—one of our experienced attorneys can assist you right away. Call (800) 265-9881 for a free case review.