10 Deadliest Stretches of Road in Indiana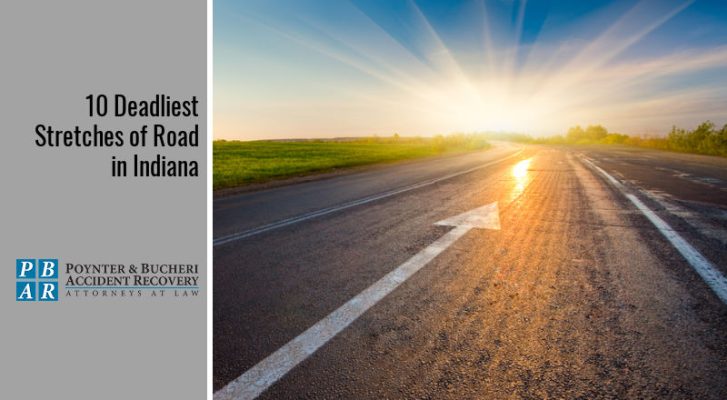 In 2022, Indiana was #10 on a list of most accident-prone states according to a study done by Insurify. 9.6% of Indiana drivers have a no-fault accident on their record (which is 9% higher than the national average).
Deadly Stretch
MoneyGeek analyzed over 2,300 fatal car accidents in Indiana from 2018 to 2020 to find which stretches of road were the most deadly.
38th St. from N. Hawthorne Ln. to Cornelius Ave.
I-80 W from Exit 9 to Exit 3
Madison Ave. from E. Murry St. to Lisa Walk Dr.
Shadeland Ave. from E. 21st St. to Mill View Dr.
E. 21st St. from N. Audubon Rd. to Snead Cir.
I-65 from Exit 9 to Exit 5
E. 30th St. from Bavarian Dr. to N. Bolton Ave.
IN-130 W from Tower Rd. to W. 600 N.
I-69 N from Exit 311B to Exit 316
W. Dunes Hwy. from Furnessville Rd. to N. Mineral Springs Rd.
MoneyGeek's analysis also dove into what factors caused the accidents. These were some of the factors by numbers they uncovered:
October, September, and July proved to be the top three months with the most significant number of accidents. 243 in a two-year span occurred in October (10.4% of the overall crashes), 235 in September, and 233 in July.
Fatal Crashes & the Law
These statistics are a chilling reminder to be aware of your rights as a motor vehicle operator and passenger.
If you have lost a loved one to a fatal car accident where the other driver was at fault due to recklessness or negligence, you have a basis for a personal injury claim. Under Indiana's General Wrongful Death Act, those who have lost a loved one in a motor vehicle accident can receive compensation through wrongful death suits or claims.
These claims could recover medical, funeral, hospital, and burial expenses, which can burden families and loved ones left behind after a fatal accident.
If you have lost a loved one in an accident and are contemplating a wrongful death lawsuit, the cases are usually complicated and have documentation of small details that need to be considered. Working with a personal injury lawyer from the start is the best way to receive the compensation that you are entitled to under Indiana law.
Indiana Negligence Lawsuits
Historically, family or personal representatives of an individual's estate were prohibited from filing a lawsuit for the death of a loved one, even if there was proof of negligence by another party. The claim died with the individual.
This is no longer the case.
There are three relevant wrongful death statutes in Indiana that may be filed by a parent, widow, child, or representative of an estate.
The Indiana Wrongful Death Statute
A general wrongful death statute begins when a personal representative files a suit. There is a two-year statute of limitations, meaning the suit must be filed within two years of the incident that caused the death. There is no cap on the amount of financial damages a plaintiff can receive. These damages may include but are not limited to hospital, medical, funeral, and burial costs, and loss of earnings of the deceased.
The Indiana Adult Wrongful Act
While not so different from the Wrongful Death Statute, the Adult Wrongful Death Act is explicitly applied to adults without a next of kin (unmarried and without dependents). Some sort of personal representative must bring the suit, and there is a damages cap of $300,000. Even if a jury awards a larger sum, it will be reduced to $300,000. The damages cannot include lost earnings, grief, or punitive damages but do include hospital, medical, funeral, and burial expenses.
The Indiana Child Wrongful Death Act
As implied by the Act's name, this statute applies to children under the age of 20 or 23 if the deceased was still a student. In this case, a parent can bring the suit forward. Damages may include compensation for the "loss of the child's love and companionship," as well as all healthcare and funeral expenses. There is also an allowance for appropriate psychiatric and psychological counseling for surviving parents and minor siblings, and uninsured debts. There is no monetary cap on damages that may be awarded.
How the Personal Injury Attorneys at Poynter & Bucheri Accident Recovery Can Help
If you have lost a loved one in a car accident, first, please allow the team at Poyner & Bucheri to extend our most sincere condolences as you navigate this unimaginable time. Know that our team can review your case and offer you guidance on how best to proceed. Personal injury cases can be overwhelming, but as a grieving loved one, you have a right to file a claim and receive compensation to help cover the cost of medical expenses and other damages.
We will help walk you through the process to ensure the best possible outcome for you while honoring your late loved one. Don't hesitate — one of our experienced attorneys can assist you right away. Call 1-800-265-9881 for a free case review.