What To Know About Pursuing a Meniscus Tear Car Accident Settlement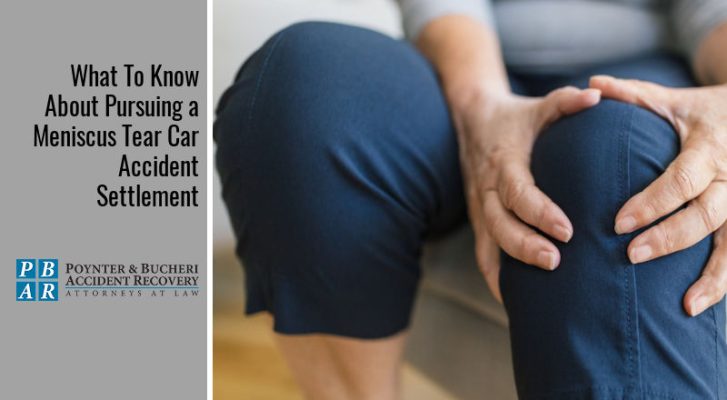 The sudden physical trauma of a car accident can cause various minor and serious injuries. The knee is especially susceptible to injury in a wreck because it contains different fragile parts, and one such vulnerable part of the knee is the meniscus. Vehicle collision victims frequently suffer from meniscus tears, which can lead to expensive surgeries and ongoing treatment. If you suffer from a meniscus tear from a car accident caused by another person, you need to seek a meniscus tear car accident settlement.
What is the Meniscus?
The meniscus is a piece of cartilage that serves as a small buffer between the shin and thigh bones. Although it's small, the meniscus is critical for your mobility because it absorbs shock, sustains weight, and stabilizes the knee. The meniscus contains two parts: the medial meniscus and the lateral meniscus.
Unfortunately, the meniscus is fragile and its surrounding ligaments are also susceptible to injury. If you suffer from a meniscus tear, you could face a lifetime of medical expenses, including surgeries, prescriptions, and physical therapy.
Frequent Causes of Meniscus Tears in Car Accidents
When becoming involved in a wreck, you can easily suffer from a meniscus tear. Some of the ways in which car accident victims tear their meniscuses include:
A driver's knee bends suddenly when they slam down on their brakes
A T-bone collision causes the knee to twist unnaturally
A front-impact wreck causes the knee to compress
A driver or passenger's knee hits the dashboard
The accident crushes the knee
Common symptoms of car accident meniscus tears include:
Knee pain
Knee swelling
Knee popping
Knee joint stiffness
If you experience any discomfort in your knee or another area of your body after a wreck, you need to seek a medical evaluation as soon as possible. Even if you only have minor pain, you could have suffered from a serious injury, such as a meniscus tear.
Recovering Compensation After a Meniscus Tear
In order to recover damages for your meniscus tear, you need to be able to prove that the other driver was at fault for your accident and the wreck directly caused your tear. Some of the evidence you can use to support your personal injury claim include:
Eyewitness testimonies: If you're physically able, you need to collect witness testimonies at the scene of the accident. Make sure to write down witness names and contact information.
Video and photographic evidence: You can take pictures and videos with your smartphone at the scene of the accident. Additionally, intersection cameras and security footage may have recorded the accident, providing you with invaluable proof that the other driver caused the wreck.
Phone records: Phone records may indicate that the other driver was texting or talking on the phone at the time of the accident.
Black box data: Many vehicles are equipped with black boxes that record speed, braking, turning, and more data. Black boxes are especially common in commercial semi-trucks.
Accident reconstruction experts: Accident reconstruction experts can give expert testimonies to corroborate that the other driver was at fault for the accident.
Medical bills and other evidence corroborating your injury: You need to keep all of the documentation relating to your injuries after the wreck, including medical bills, prescriptions, and doctor's notes. You can also use medical experts to corroborate the fact that the collision caused your injuries.
Unfortunately, some of this evidence is difficult to obtain without an attorney. A personal injury attorney can help you gather evidence by obtaining crucial proof, such as surveillance footage of the accident, black box data, and phone records.
How Much Can I Recover For a Meniscus Tear?
The amount you recover in a meniscus tear settlement from a car accident will depend on whether you can prove your case, whether you were partially at fault, and the severity of your injuries.
Indiana uses a modified comparative negligence system in personal injury cases. This means that you can recover compensation for personal injuries as long as you aren't more than 50% at fault for your wreck. For example, if a car pulls out in front of you and you were speeding at the time, you might both receive a partial percentage of the liability. The other driver may receive 70% of the blame while you receive 30%. In this example, the amount you can recover from the other driver is 30% less than if they were wholly liable. Your percentage of liability in an accident impacts the amount you can recover in damages.
The overall severity of your injuries will also dictate the amount that you recover. The average meniscus tear has a settlement value of around $10,000, but if you experience a serious meniscus tear that requires multiple surgeries, the injury could be worth up to around $150,000.
In addition to recovering compensation for medical bills, you also may be able to recover damages for:
Lost wages
Loss of future earnings
Mental anguish
Property damage
Contact an Indianapolis Car Accident Attorney
If you suffer from a car accident resulting in a torn meniscus or another injury in Indianapolis, you need to contact an Indianapolis car accident lawyer. Here at Poynter & Bucheri Accident Recovery Attorneys at Law, we've helped many Indiana residents recover the money they deserved for car accident injuries. Call us today at 1-800-265-9881, or schedule a free case review here.