How Do I Get a Hit and Run Settlement for Damages from This Type of Accident?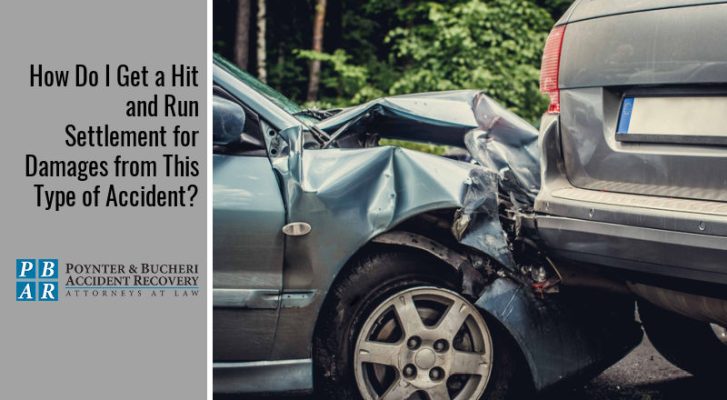 Car accidents are always serious and overwhelming for victims regardless of the circumstances. Those involved in accidents are likely to feel frightened and unsure of how to pursue legal action to be compensated for their financial losses. These emotions will only be magnified when dealing with a hit-and-run car accident. However, if you have a valid case, you may have legal options and be able to seek a hit and run settlement.
It's important to have an experienced legal team on your side in these cases. The experienced attorneys at Poynter & Bucheri have the knowledge needed to represent injured victims of hit-and-run car accidents. We have helped individuals recover compensation in all kinds of car accidents, and will fight hard for your right to fair compensation. In this blog, we discuss how you may receive compensation for damages from an Indianapolis hit-and-run car accident. 
Common Causes of Hit-and-Run Accidents
In Indiana, it is a crime to drive away from the scene of an accident without first stopping and exchanging information with the other driver. If someone damages your vehicle or causes you some sort of injury, it's vital that you are able to recover damages and hold the at-fault party responsible for their negligence.
Some of the most common reasons people flee the scene of an accident include:
Driving without a license and/or insurance
Operating a vehicle while under the influence of drugs or alcohol
Speeding
Operating a stolen vehicle
Texting or doing some other type of distracted behavior while driving
The driver already had a history of accidents and wanted to avoid further consequences, such as higher insurance premiums
The driver panicked
Under Indiana state law, drivers are required to stop after an accident if:
The accident causes injury or death to an individual
There is at least $1,000 in damages
The crash involves an unoccupied vehicle and the owner cannot be located
Steps to Take After the Accident
Immediately after a hit-and-run accident, there are a few important steps you should take to preserve evidence, strengthen your claim and ultimately increase your hit and run settlement, which include the following: 
Take a picture of the car that hit you, or at least the license plate, make, model, and color of the car.
Contact the police immediately to create a police report and identify the other driver.
Give the responding officer your personal account of the accident.
Take statements and contact details from eyewitnesses.
Take pictures of the damage to your vehicle and anything useful at the accident scene, such as road debris, tire marks, and road and weather conditions.
Always remember to seek medical attention as soon as possible after a car accident even if you believe yourself to be uninjured. Many serious injuries are not immediately noticeable after an accident and can lead to complications if left untreated. Seeking medical attention will also provide you with valuable medical records documenting your injuries which may strengthen your claim.
How to Recover Damages
If the hit-and-run driver is found, you can pursue a claim against their insurance or file a personal injury lawsuit. If the driver cannot be found, things become more complicated. However, you still may have options. The following insurance policies may still provide coverage after a hit-and-run accident:
Uninsured motorist coverage is required in Indiana and provides coverage for damages resulting from an accident involving a driver who cannot be located.
Personal injury protection coverage provides $10,000 in coverage for damages no matter who is at fault for the accident. Whether or not your PIP coverage includes hit-and-runs depends on your specific insurance policy.
MedPay coverage covers medical expenses regardless of who's at fault for the accident.
Contact an Indiana Car Accident Lawyer Today
You need an aggressive Indianapolis car accident lawyer to fight for your rights. Let Poynter & Bucheri Accident Recovery Attorneys at Law protect you and your family from aggressive drivers trying to flee the scene of an accident.
Call our law firm at 1-800-265-9881 or (317) 780-8000 to request your free consultation with an Indianapolis car accident attorney. Your free case review includes an explanation of your legal rights, a discussion of your options, and our legal opinion of your claim based on our years of experience handling car accident claims in Indianapolis.