Can I File a Claim for A Single-Vehicle Accident?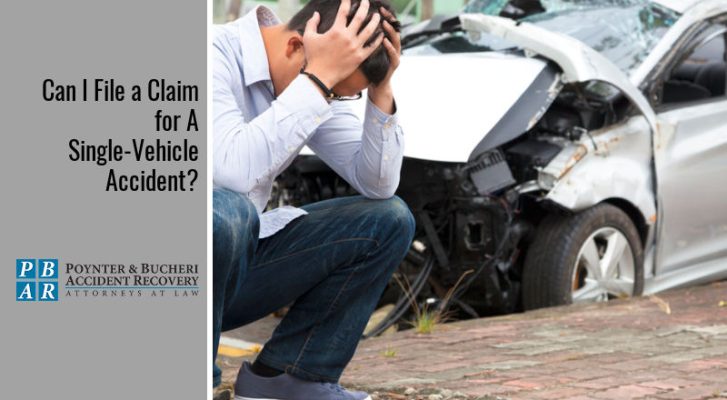 Vehicular accidents are always challenging experiences, even when they don't involve multiple cars. A single vehicle accident can be just as traumatizing as multi-vehicle accidents, and they can cause as much or more even damage to your car. They can also leave you with serious injuries. 
If you've experienced a single-car accident, you may wonder whether you can recover compensation for your vehicle damages or personal injuries. In this blog, we discuss single-vehicle accidents and when you can file a claim.
What Is a Single-Vehicle Accident?
Single-vehicle collisions refer to when a driver experiences an accident that does not involve another car. Single-car accidents can occur for a variety of reasons including:
Poor road conditions, like potholes
Road obstructions, such as an object or animal
Errors in road signs
Construction equipment
Slick or icy roads
Dangerous weather conditions, such as heavy rain, sleet, hail, and snow
Flying objects, such as freight falling from a truck
Driver error
Single-vehicle accident statistics indicate that these wrecks are more common than you may think. According to data collected by the National Highway Traffic Safety Administration, the United States has an average of 6 million crashes every year, and almost 31% of the accidents involve only a single vehicle. 
Do You Have to Report a Single Vehicle Accident?
Even if you're the only driver involved in an accident, you are typically obligated to report the event. In Indiana, if anyone suffers from an injury or if the property damage is worth more than $1,000, you are required to call the police.
Additionally, insurance companies require drivers to report accidents if their vehicles suffered serious damages. In the event that your vehicle only suffered minor damages and you didn't destroy anyone else's property, you are not required to report your single-car wreck.
Can I Recover Compensation for a Single Car Accident?
Whether or not you can recover compensation after a wreck depends on whether the accident was your fault and what kind of insurance policy you have. If the accident results from your own negligence, you are responsible for your vehicle damages and personal injuries. For example, if you text while driving and suffer from an accident as a result, you are at fault, and you wouldn't be able to recover compensation from another party.
Some types of insurance policies do cover certain damages even when you are at fault. Types of insurance policies that may still cover your expenses include:
MedPay or Personal Injury Protection Insurance: This type of insurance protects drivers in the event that they suffer from personal injuries after a car accident. Even if you're at fault, this insurance covers some or all of your medical costs.
Collision Insurance: Collision insurance covers your vehicle expenses in the event that you wreck with an object.
Comprehensive Insurance: Comprehensive insurance protects your vehicle when it's stolen or damaged from something other than a collision.
If you were not at fault for the accident or were less than 50% at fault, you may be able to recover compensation from another party. For example, if you had to quickly swerve out of the way because of an oncoming vehicle driving in the wrong lane, the other driver would likely be found at fault.
Other parties that could be liable for your single-car wreck include:
Manufacturers: If a faulty design or vehicle part caused you to wreck, you could hold the vehicle manufacturer or parts manufacturer responsible. For example, many drivers filed claims against Takata because they produced dangerous airbags.
Government: It's typically the state or local municipality's responsibility to maintain public roads, so if a dangerous or poorly maintained road causes you to wreck, you may be able to recover compensation from the government.
Does Liability Insurance Cover A Single-Car Accident?
Liability insurance pays for the property damage and personal injuries of others in the event that you're found at fault for an accident. Liability insurance does not cover your vehicle damages or personal injuries if you suffer from a single-car accident.
Contact an Indiana Single-Car Accident Attorney
When filing an Indiana single-vehicle accident insurance claim, you need a seasoned car accident attorney to assist you. Insurance companies will do everything they can to avoid paying out your claim, even if you're filing through your own insurance company. 
Here at Poynter & Bucheri Attorneys at Law, we've helped numerous Indiana residents receive the compensation they deserved from insurance companies and liable parties. We'll help you receive the damages you're entitled to after a single-vehicle accident. Call our office today at 1-800-265-9881, or you can click here to schedule a free case review.