When Should You Contact a Lawyer After a Car Accident?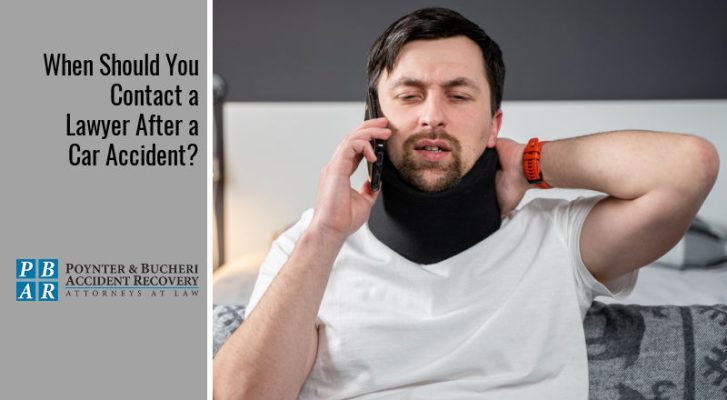 The moments after a car accident are often disorienting and stressful. Even if the accident was minor and caused minimal damage, you can still suffer from shock, which can make it difficult to think clearly and make decisions. And in the days or even weeks after the accident, many victims will try to suppress the experience and how it made them feel in an effort to move on as quickly as possible. However, it's important to contact a lawyer after a car accident as soon as possible.
Unfortunately, the stress people feel after a car accident, and their avoidance of properly handling the situation can hurt them down the road. But, no matter how you feel in the moments after the accident or in the days, weeks, or even months after, there are necessary steps you should take to protect yourself.
Sometimes, people don't realize how much a car accident will cost them until it's too late, especially where injuries are concerned. Some injuries are not immediately apparent after a car accident, but if you wait too long to seek help, it can affect your ability to seek compensation if symptoms do eventually appear.
In any situation, whether an accident is minor or severe, you should always seek help right away to ensure the incident is officially reported by the authorities and evidence is gathered in case you do decide to file a personal injury claim. Furthermore, though many people question when to contact a personal injury lawyer—especially if the accident was minor—the answer is always, as soon as possible.
Indiana Statute of Limitations for Personal Injury Cases
Most states have what is known as a statute of limitations for personal injury cases. If you fail to take action within that time frame, you risk having your case dismissed. In Indiana, the statute of limitations for personal injury cases is two years, meaning you have two years from the date of the accident to file a claim or a lawsuit to recover damages.
Though two years seems like a long time, it is not uncommon for victims of accidents to wait that long or even longer to take legal action. Again, in the days, weeks, or even months after the accident, some people may try to avoid dealing with it because of the stress that it causes. But the longer you wait, the more challenging it will be to win your case.
Car accidents can result in financial burdens as well as emotional and physical trauma, which some people don't acknowledge until it's too late. Those who become permanently disabled from a car accident, for example, might not realize how much the accident has cost them and how it has affected their life until years later. And while a personal injury claim or lawsuit can initially provide much-needed compensation to cover these damages and more, you are likely to get less compensation, if any, if you wait too long—even if you were severely injured and impaired. 
Why Hiring a Lawyer After a Car Accident Is Important
Following an accident, there are various factors that can affect how much money you will receive for your personal injury case. In cases where victims file a claim without an attorney, there is often insufficient evidence to support the claim, which means the insurance company will offer a lower settlement amount.
However, with an attorney on your side, you will be able to provide the evidence and proof you need to support your claim. Personal injury attorneys advocate for their clients' rights to ensure their needs are not swept aside. Insurers commonly look for ways to reduce settlement amounts, and without an attorney, they are more likely to take advantage of the situation and argue that there is insufficient evidence.
Furthermore, legal situations are often stressful and confusing for victims. But with an attorney, you can focus on recovering and moving on from your accident while they handle all of the heavy work. They can help you navigate the situation and offer you guidance on the best course of action to ensure you get the full amount of compensation you deserve.
So, exactly when should you contact a lawyer after a car accident? Right away. Even though you have two years, the longer you wait, the harder it is to gather evidence. And the less evidence you have, the more likely an insurer is to deny your case or offer a reduced settlement. 
How the Personal Injury Attorneys at Poynter & Bucheri Accident Recovery Can Help
Our legal team has years of experience advocating for the rights of injured victims to ensure they get the compensation they deserve after a car accident. We know how stressful these situations can be and understand that you may feel overwhelmed by all there is to do in addition to your emotional and physical trauma. Let our team of compassionate attorneys give you the support and guidance you need to win your case so you can focus on your recovery and move on.
Don't hesitate — one of our experienced attorneys can assist you right away. Call 1-800-265-9881 for a free case review.