Accidents Piling Up On Interstate 70 Amid Construction Project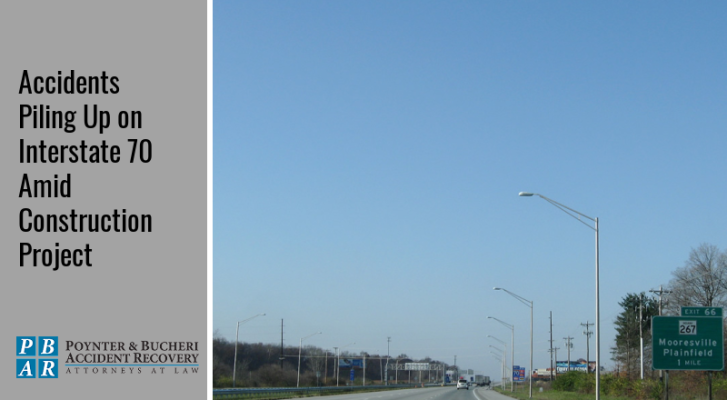 The stretch of construction on I-70 in Hancock County is causing serious safety concerns for Indiana residents. Although construction is necessary for the integrity of the interstate, many traffic accidents and incidents have occurred. The Indiana Department of Transportation knew that the construction would inconvenience drivers, but they failed to anticipate the number of vehicles that would wreck.
The incidents occurring on I-70 have largely resulted from irresponsible driving, and the high number of traffic accidents serves as a reminder that you need to drive with extra caution while in a construction zone. Whether you're driving through I-70 or another construction area, you need to follow signs and refrain from breaking traffic laws in order to ensure the safety of construction workers and others on the road.
Incidents and Vehicular Accidents on I-70
Construction professionals have been working on resurfacing I-70 Eastbound since June, and there have been numerous incidents and accidents since the beginning of the road project. The construction project has forced traffic to become single lanes both ways on I-70 Westbound, meaning that drivers need to drive cautiously.
The Hancock County 911 public information officer Greg Duda indicated that incidents and vehicular accidents are incredibly high this year on I-70. From June 2 to September 29, there have been 159 incidents, including 66 wrecks, between mile markers 108 and 113. Out of the traffic accidents that occurred, eight involved driver or passenger injuries. On September 29th alone, there were two serious semi-truck accidents. The main area in which drivers are having difficulty is at mile marker 111, so make sure to be especially cautious and vigilant near that area.
The Indiana Department of Transportation has created many signs and indicators informing drivers to traverse the I-70 construction area with caution. There are flashing lights and signs that are nearly impossible for drivers to miss, but many people choose to ignore the warnings. Public information officer Captain Robert Harris stated that a high number of traffic accidents have resulted from drivers not paying attention while at the wheel. He stated that drivers are, "Going too fast, following too close, or distracted while driving."
The I-70 construction project is expected to be completed in mid-November, and if you would like to receive traffic alerts regarding the area of construction, text I70Hancock to 226787.
Staying Safe While Driving Through Construction Sites
The numerous incidents and accidents that have occurred in the last few months on I-70 are a reminder that drivers need to practice extra caution when driving through a construction area. There are Indiana road work zone rules and regulations established by the Indiana Department of Transportation to protect construction workers as well as drivers and passengers.
As a driver, there are several ways in which you can perform safer driving while passing through a construction zone. Some of these include:
Following signs, lights, flags, and all traffic laws.
Practice extra caution when merging.
Be on the lookout for road workers.
Take construction into consideration before heading to your destination. If you aren't running behind, you'll be less inclined to drive over the speed limit.
Drive defensively, meaning that you keep a safe distance from other vehicles. 
There are hefty fines associated with irresponsible driving through a construction zone, including:
Up to a $300 fine for speeding for a first offense
Up to a $500 fine for speeding for a second offense
Up to a $1,000 fine for speeding for a third offense within three years
Injuring or killing a construction worker can result in a $10,000 fine and eight years in prison.
Reckless driving can result in up to a $5,000 fine and a year in jail.
Contact an Indiana Car Accident Lawyer
When driving through an area of construction, such as I-70, you need to operate your vehicle with extra caution. If you experience a vehicular accident, you may also need an expert car accident attorney to help you through the process. Car accident lawyers can help you prove if the other driver was at fault, and they can help you receive the compensation you deserve from insurance companies. For experienced car accident attorneys, you can count on, contact Poynter & Bucheri Accident Recovery Attorneys at Law. Call us at 1-800-265-9881 or click here for a free, no-risk case review.