What If You Are Hit By An Uninsured Driver In The State Of Indiana?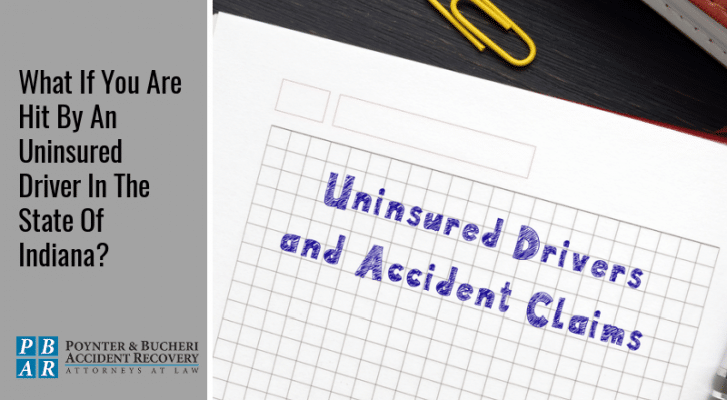 By reading this article, you will learn:

Why you need a police report after a collision
Statistics about uninsured drivers
Facts about Uninsured and underinsured auto insurance
If you are in a collision, the first thing you should do (after making sure of your own safety and the safety of others, of course), is to phone the police. It is crucial that you have a police report for many reasons:

First of all, in most cases, you are required by Indiana code § 9-26-1-1.1 to report the accident to the police if any of the following circumstances are met:
Any person is injured or killed
Property damage exceeds $1,000
Accident occurred in a city that requires a report
It is required by your insurance company

Second, you may need to retain a car accident attorney in the future to help you negotiate with the insurance company or to make a claim against the other driver. The police report will contain needed information.
Most people are aware that they should exchange contact information and insurance information with the other driver after an accident. It may come as a shock to find after your crash that the other driver is not insured.
Yes, of course, everyone is required by the state of Indiana to carry a minimum level of auto insurance, but not everyone obeys the law.
According to the Insurance Research Council (IRC), 12.6% of all drivers in the U.S. were uninsured in 2018; this works out to about 1 out of every 8 people.
In other words, there are approximately 32 million uninsured drivers in the United States.
In Indiana, the percentage of uninsured drivers is even higher: 15.8%.
The Hoosier state falls somewhere in the middle of other states for their number of uninsured drivers: not as many as in Mississippi, where fully 29.4% of drivers lack insurance, but not as few as New Jersey, where only 3.1% of drivers lack insurance.
FAQs
Q: What if the other driver explains that he doesn't have insurance and suggests that neither of you reports the accident so that you can take care of the costs between you?
A: This is not a good idea. First of all, you don't know how much the damage to your car will cost, and it ALWAYS costs more than you would expect. Also, you should phone the police so that you can get an official accident report, which will help you if you find that you are injured after all. Remember that many injuries, especially whiplash, are not immediately apparent after a collision.
Q: What if the other driver says he has insurance, but won't give you any details?
A: Ask the police officer at the scene to provide you with the information.
Q: What if the other driver (realizing that he will be in trouble for not having insurance) leaves the scene before you can get information?
A: This is a problem. Hopefully, there are other witnesses who will be able to provide the authorities with a description or even a license plate. Unfortunately, 13% of Indiana collisions in 2019 were classified as hit-and-run. That is 28,122 out of a total of 217,396 collisions.
All is not lost
At this point, having been struck by an uninsured (or missing) motorist, it is easy to despair but don't. Chances are, you are covered under your own insurance.
Indiana minimum auto insurance liability policies all must include the following minimum coverage requirements:
Bodily injury liability: Minimum of $25,000 per person and $50,000 per accident
Property damage liability: Minimum of $25,000 per accident
Uninsured motorist bodily Injury: Minimum of $25,000 per person and $50,000 per accident
Uninsured motorist property damage: Minimum of $25,000 per accident
Underinsured motorist bodily injury: Minimum of $50,000 per person and $50,000 per accident
The only reason you wouldn't have this uninsured/underinsured coverage is if you had rejected it in writing at the time you purchased your policy.
What is the difference between uninsured and underinsured motorists?
An uninsured motorist has no insurance. This is illegal.
An underinsured motorist may carry the minimum liability insurance coverage, but it simply isn't enough to pay for your accident costs.
The minimum liability insurance coverage required in Indiana is:
$25,000 for bodily injury or death of one person in an accident caused by the driver of the insured vehicle
$50,000 for total bodily injury or death liability in an accident caused by the driver of the insured vehicle and
$25,000 for property damage per accident caused by the driver of the insured vehicle
As most people are aware, medical costs can be prohibitive. Although you may have your own health insurance, copays and deductibles mount up. For example, even after insurance, an ambulance ride can cost an average of $450 to $21,700 (for an air ambulance). Almost more worrying is the fact that 71% of all ambulance providers don't take their patient's medical insurance.
If you are admitted to a hospital for your injuries, you will likely need more than the minimum amount of $50,000 bodily injury to pay your bills. This is where your uninsured motorist insurance policy can kick in to bridge the gap. None of the processes is easy to manage, though. You may need a car accident attorney to make sure that the two insurance companies compensate you fairly or to launch appeals if your claims are denied. You may even decide to make a personal injury claim against the at-fault driver.
If you have been hit by an uninsured driver in the state of Indiana, call our law firm at 1-800-265-9881 or (317) 780-8000 to request your free consultation with an Indianapolis car accident attorney. Your free case review includes an explanation of your legal rights, a discussion of your options, and our legal opinion of your claim based on our years of experience handling car accident claims in Indianapolis.