Have You Suffered an Injury from Broken or Defective Stairs? Here's What to Do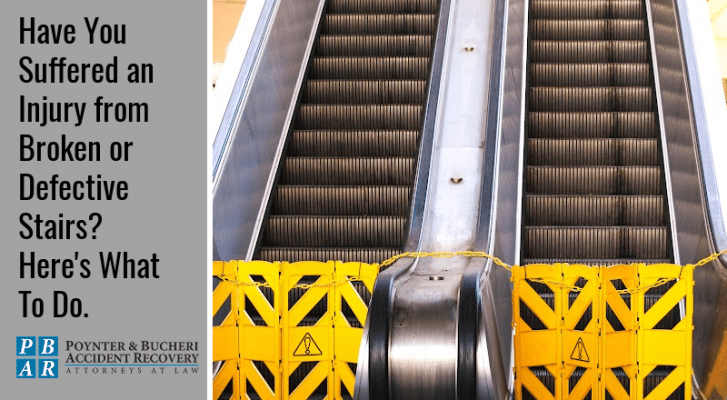 What you'll learn from reading this article:
Common injuries resulting from a slip or fall on stairs
Causes for accidental falls on staircases
Indiana Premises Liability Law requirements
You've probably experienced the heart-stopping moment when your foot failed to make contact with a stair, and you seemed likely to launch yourself through the air. That "missed stair" adrenaline surge is frightening and horrifying: you probably grabbed the handrail extra tightly as you continued the rest of your descent.
Unfortunately, for some people, a fall on the stairs is more than a momentary jolt of fear and quick recovery. Each year, there are over 12,000 stairway-related deaths and an average of 1,076,558 stairway-related injuries.
According to the National Safety Council, staircases are the second leading cause of accidental injury (motor vehicles are the first).
Common injuries (according to a study from the American Journal of Emergency Medicine) are:
Sprains and strains
Fractures
Lower extremity injuries
Head and neck injuries
Why do so many people fall on stairs?
Obviously, some people slip and fall because they aren't paying attention, because they are being careless, or because they feel dizzy. However, other people lose their balance and slip because of problems with the stairs themselves.
Possible staircase problems that could cause falls:
Loose, torn, or worn stair runners
Spilled substances making the stairs slippery
Objects or obstacles placed where they shouldn't be
Highly polished wood causing slipperiness
Rain, snow, or ice that has not been dealt with in a reasonable time
Broken or loose boards
Inadequate lighting
Building code violations such as:
Lack of handrails
Wobbly or unsecured handrails
Incorrect stair heights (risers) or depths (runs)
Inconsistent risers and runs
If you have injured yourself as a result of a problematic staircase at another person's house or in a place of business, you probably want to know who can be held responsible or if you can be compensated for your injuries. You may first want to consider filing a claim with the appropriate insurance company.
For example, if you are at a friend's house, you could file a third-party claim with their homeowner's insurance company.
If you are in a rented house or apartment, you could file a claim against the dweller's rental insurance policy. If the accident occurred in a common area, you could file a claim against the building owner's insurance.
If you are in a place of business, you could file a claim with the company's commercial property insurance.
In all of these cases, insurance companies may be reluctant to properly compensate you and will attempt to show that you are to blame for the accident. This is where an attorney can help you navigate the process until you are satisfied, and if that isn't possible, they can help you file a lawsuit. Even if the insurance company pays the claim to its highest policy limit, you may need more money in order to pay medical and other costs if you have serious or debilitating injuries.
The Premises Liability Law
In Indiana, the Premises Liability Law means that property owners are responsible for injuries, damages, or deaths that occur to those who are legally on their property if the accident or incident occurred because of unsafe property conditions.
In order for a premises liability lawsuit to be successful, you and your attorney will need to prove that at least one of these is true:

The owner of the property caused the problem.
The owner of the property knew about the problem but did not fix it.
The owner of the property should have reasonably known about the issue because it would have been noticeable during regular checks and maintenance.
If building codes were violated with such issues as incorrect riser and run measurements, you may also be able to sue for compensation from the building's architect, designer, construction company, or contractor.
You may be able to recover compensation for the following:
Medical expenses
Loss of income, including future income and possible reduced income
Other out-of-pocket expenses such as travel costs, over the counter medications, help with household chores, and home modifications to accommodate an impairment
Pain and suffering
Physical therapy
Therapist to deal with emotional trauma
Emotional distress
Development of phobias, such as fear of heights and falling
Scarring and disfigurement
Permanent impairments or disabilities
Loss of enjoyment of life and loss of consortium
The Statute of Limitations for Indiana personal injury lawsuits is two years. However, you will want your attorney to investigate the facts of the situation as quickly as possible in case you need evidence that something was not up to code (if it is fixed later on, you won't have the necessary proof), so contact Poynter & Bucheri as soon as possible.
Poynter & Bucheri can help!
If you or someone you love has been injured because of broken or defective stairs, contact the accident recovery experts at Poynter & Bucheri. Our fee is only 25% compared to the higher 40% rates with other attorneys. We will ensure you are properly compensated for your injuries and losses. Don't hesitate — one of our experienced attorneys can assist you right away. Call 1-800-265-9881 for a free case review.