How to Negotiate a State Farm Accident Claim & Personal Injury Claim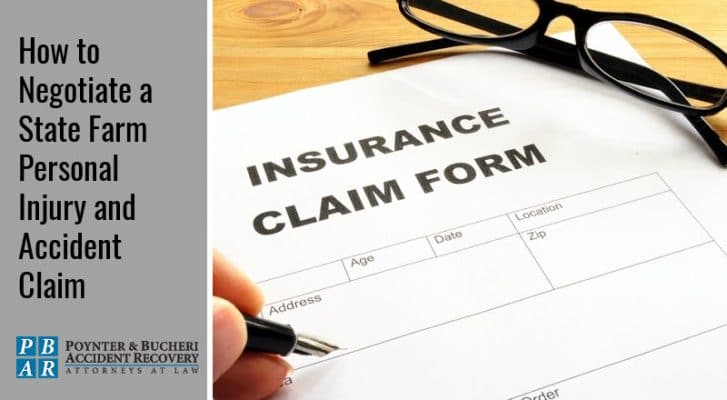 How to Negotiate a State Farm Accident Claim
What you'll learn from reading this article:
Background information about State Farm Insurance
The process of filing a claim with State Farm
The benefits of consulting a car accident attorney to negotiate for you
It's tempting to trust large corporations simply because we are so familiar with them. For example, State Farm Insurance has been around since 1922, when it was founded to provide car insurance for Illinois farmers. State Farm's advertising jingle is familiar to most people; "Like a good neiiiiiiiighbor — State Farm is theeeereee!" has been echoing in our collective unconsciousness since way back in 1971 when Barry Manilow first wrote it.
However, if you are in an accident with a State Farm insured motorist and are trying to receive the compensation you deserve, you may find that State Farm is not necessarily there for you.
Car insurance companies are not operating on a non-profit basis, so their objective when any claim is made is to pay out as little as possible. We are focussing on State Farm because it is the indisputable industry leader, owning 16% of the market share and premiums written in the U.S. (Geico and Progressive are the next two biggest companies, with 13% and 12% of market shares, respectively.)
State Farm
It is not uncommon for people to be unhappy with the amount of payout they receive from an insurance company after filing a claim. According to a study by the NAIC (National Association of Insurance Commissioners), 18% of all complaints stemmed from clients' dissatisfaction with the claim amounts offered to them (17% complained about delays, and 14% complained at denials of claims). After health insurance claims, at 39%, auto insurance claims generated the most complaints, at 32%.
What you should do if you are involved in a collision with a State Farm policyholder:
At the scene of the accident, exchange contact information and insurance information with the other driver.
If you are incapacitated and unable to do this, the information will be on the police report.
Consider consulting an attorney BEFORE you do anything else.
An attorney can initiate the injury claim on your behalf.
File an official claim by phoning the claims division. (Be prepared to wait on hold!)
A representative will generate a claim number.
An insurance adjuster will be assigned to you.
The claims adjuster will be sympathetic, but you should not let your guard down.
Before you are recorded or before you write an account of the accident, make sure you have reviewed your words carefully or consulted with an experienced car accident attorney.
If you are already dealing with injuries, medical visits, and the trauma of the accident, the last thing you want to do is deal with a possibly adversarial insurance company. Poynter & Bucheri car accident attorneys can send State Farm a letter of representation advising them to deal with us as your official legal counsel.
A State Farm Accident Claim (and other insurance companies) will require:
Your agreement to make a recorded statement
Your signature on a medical release authorization document
When you have been released from your doctor's care, you will tell the adjuster how much you believe your case is worth. Take into consideration the following factors:
Medical bills, including all aftercare
Lost income
Pain and suffering
You will need documentation for all of these, although it is hard to prove pain and suffering. The average person has no idea how much money to ask for, and, knowing this, an insurance adjuster will attempt to offer a low amount.
Do not negotiate by offering an amount lower than your first claim because this signals that you are willing to accept less money. The adjuster will use all of the algorithms and training at his or her disposal to offer the least amount of money possible to settle your case.
This is another part of the process where an experienced accident attorney can make a huge difference.
If you have tried to do everything on your own up to this point, and the insurance adjuster is trying to pressure you to settle, now is the time to consult an attorney who has the experience and knowledge to successfully negotiate with this huge corporation.
In general, insurance companies prefer to avoid jury trials, so having a lawyer litigate for you can leverage your position.
One final factoid: Despite having used Barry Manilow's jingle for the past 50 years, State Farm only ever paid him $500 dollars for it, with no opportunity to benefit from residuals. Perhaps he should have hired an attorney.
Keep in mind the fact that Indiana's statute of limitations for personal injuries such as those suffered from a car accident is two years. This means that you have two years from the date of the accident to settle your case except in special cases such as those involving minors. Failing to file a claim before this date means you may lose your right to compensation!
If you are injured in a car crash, seek immediate medical attention or have a State Farm accident claim or any other accident claim then call our office to consult with one of our Indiana car accident lawyers. Visit our contact page to request a free case review or call 1-800-265-9881 or (317) 780-8000 to speak with a representative.