7 Types of Injuries and Accidents to Avoid This Spring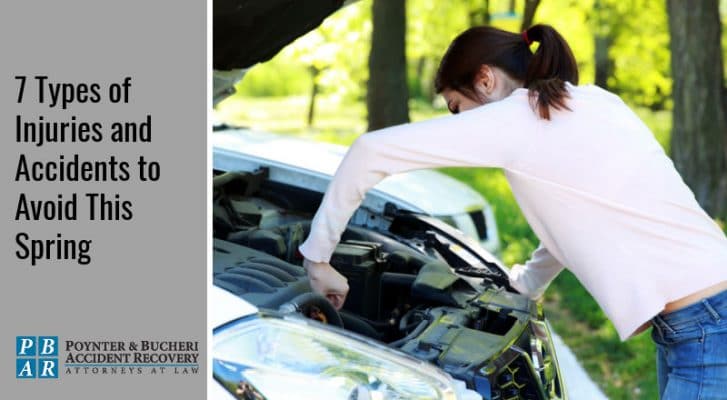 What you'll learn reading this article:
Springtime brings added risk of accidents and injuries.
It's important to minimize your family's risk of being injured or injuring a visitor.
There are seven types of spring injuries you should avoid.
It's springtime! Everyone is going outdoors to enjoy some warmth and sunshine. With redbud trees and peonies in full bloom, Indiana is particularly beautiful this time of year.
But good weather reliably brings an increase in personal injury accidents. When people head outside for hikes, sports, parties, and more, there's always a risk of getting hurt.
As personal injury lawyers, we see accident cases up close. We want to minimize your family's risk of being injured or injuring someone else, so here are seven things to keep in mind.
#1: Clean Up the Clutter
Clutter causes a huge number of slips, trips, and falls. You'd be amazed at how often personal accident attorneys handle springtime slip and fall injuries that involve people being hurt at outdoor get-togethers.
So do some spring cleaning and clear the clutter. Look around for tripping hazards like boxes, outdoor decor, sports equipment, and scattered toys. Electrical cords are also dangerous when they're strung across porches and patios.
#2: Beware of Dogs
The warm months are what personal injury attorneys consider "dog bite season." Man's best friend likes to go outside too!
Under our state's strict liability laws for dog owners, a victim doesn't need to prove the dog's owner was negligent. As long as the victim didn't provoke the attack, they'll likely win their case. So keep your dog away from visitors and when you're out on the town together, follow the rules about restraint and dog-free zones.
#3: Watch for Vehicles When Walking
Stay safe on your spring walks. Pedestrians are at risk of injuries from vehicles backing out of driveways, turning into parking lots, and making unexpected moves at intersections. These pedestrian accidents can cause severe bodily injuries.
#4: Look Out for Your Seniors
Seniors are at risk of soft tissue injuries and broken bones from all kinds of accidents. So this spring, check in on your friends and family members who are advancing in age.
Look for household hazards that could cause injuries. In particular, check the three things that are the biggest risks for seniors according to the CDC: fall hazards, vision issues, and medications that make them dizzy.
#5: Be Cautious on your Bike
Spring is a great time of year for a bike ride but beware of bike accidents. In Indiana, cyclists share the same rights as motorists but that doesn't mean motorists are willing to share the road. Ride cautiously and always wear a bike helmet.
#6: Review Your Home's Appliances and Equipment
Household equipment is surprisingly dangerous – and we don't just mean high-powered items like chainsaws and trimmers. An insurance safety study found that you're most likely to be injured by appliances you use frequently, like your oven, clothes dryer, microwave, and grill.
Don't forget about the dangers of unsafe playground equipment. The Consumer Product Safety Commission warns that young children are at risk of falls and strangulation from swings, slides, jump ropes, and climbing ropes.
#7: Travel Hoosier Highways Safely
All it takes is a sudden springtime downpour and the roadway is slick enough for a weather-related car accident. Indiana is famous for its spring thunderstorms, hail, and even tornados!
Keep in mind that Indiana is an at-fault state for vehicle accidents, which means one or more drivers will be assigned fault. So if you're ever in a crash due to unpredictable spring weather, make sure you have the help of an Indiana car accident attorney who can help you place the blame where it belongs.
Poynter & Bucheri Accident Recovery – Indianapolis Personal Injury Attorneys
If you or a loved one has been injured physically or mentally by a person, product or company, you need to know your legal rights. Our personal injury attorneys are experienced with cases like yours and can evaluate what your case may be worth. We will ensure that you are protected and compensated for your injuries and losses. Why pay up to 40% in attorney fees? Our fee is only 25%* and we fight to win your case or you pay no attorney fees at all. Don't hesitate – one of our experienced attorneys can assist you right away. Call 1-800-265-9881 for a free case review.