What to Do if You Are Injured at a Casino: Common Casino Injuries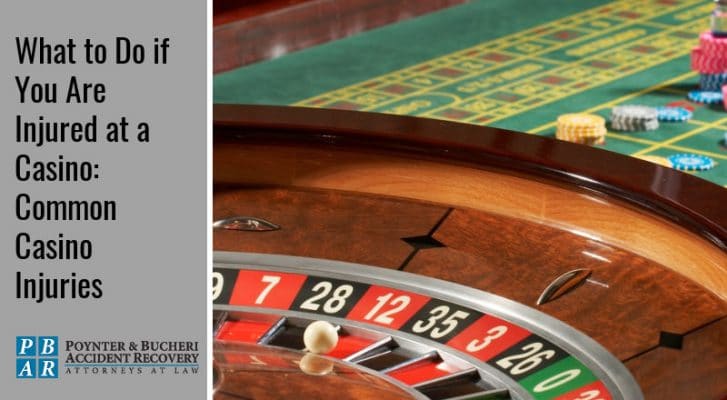 What you'll learn reading this article:
The most common casino accidents which can cause personal injury or harm
What to do if you are injured at an Indiana Casino
For many years, Hoosiers who heeded the call of Lady Luck had to travel to Atlantic City, Reno, or Las Vegas, but they now have a wealth of gaming options in Indiana. You may have enjoyed a night (or two!) of entertainment, good food, playing the slots, flipping the cards, or throwing the dice at one of these fun places. Maybe you traveled to the shores of Lake Michigan or the Ohio River, or perhaps you visited a land-based or Indian Casino; they all have lots to offer.
However, you wouldn't be reading this page unless something had gone wrong. What should you do if you were injured or made ill at a casino? Read on for some simple tips.
The most common casino injuries involve slips and falls, but there are several other hazards as well.
Slips and falls:
Slip and fall accidents can happen in a casino. Perhaps a cleaner has left a wet patch on the floor that isn't appropriately roped off, or maybe an area has been overzealously waxed. Stair carpeting may be worn and easy to slide on, or a parking lot may be icy and dangerous. There are many ways that casino visitors can get unlucky — apart from at the roulette tables.
Food poisoning:
Almost all casinos offer sumptuous buffets, but buffets can be dangerous because of cross-contamination, salmonella, or even E. coli. Problems occur with undercooked foods, foods kept insufficiently refrigerated or heated, or even something as simple as a serving handle (which has been touched by many guests) falling into the serving platter. The CDC estimates that each year, there are more than 228,000 hospitalizations and 2,600 deaths in the United States because of foodborne pathogens. This is nothing to sneeze at (especially around a buffet)!
Assaults:
Casinos can't reasonably know that one guest is up to no good and intends to injure another, but they can be held responsible for inadequate lighting, lax security, or overserving guests, all of which could lead to dangerous situations. You should not have to feel unsafe around rowdy or belligerent patrons, and you should not have to deal with any financial repercussions from possible injuries that occurred because of a casino's negligence.
Faulty equipment:
No, we're not talking about a papercut from that treacherous Queen of Hearts at the Blackjack table; casinos have plenty of equipment that may be poorly maintained or faulty. There are 26,895 slot machines and 875 table games in Indiana currently; think of all the chairs and stools that could possibly cause injury because they have broken. Thousands of patrons sit and swivel on them annually; accidents are bound to happen.
If you have been injured at a casino, there are a few steps you should take:
#1 Report the injury.
Obviously, you want to prevent any further injuries to other patrons, but you also want to make sure that you have documentation of what happened. Make a paper trail.
#2 Seek medical attention.
You may think that you just have a few bumps and bruises, but you may have a concussion or an injured back that needs immediate attention. Even if you don't feel the effects until a few days later, you will want to get checked out and — again — create documentation. Make sure that you ask your physician for a copy of your chart. You will need it when you make your casino injury claim.
If the casino has breached its duty, you are entitled to compensation for your damages. The attorneys at Poynter & Bucheri are experienced with cases like yours and can evaluate what your case may be worth. We charge no attorney fees unless you win!
Call 1-800-265-9881 for a free case review