Indiana Cell Phone Ban Goes Into Effect July 1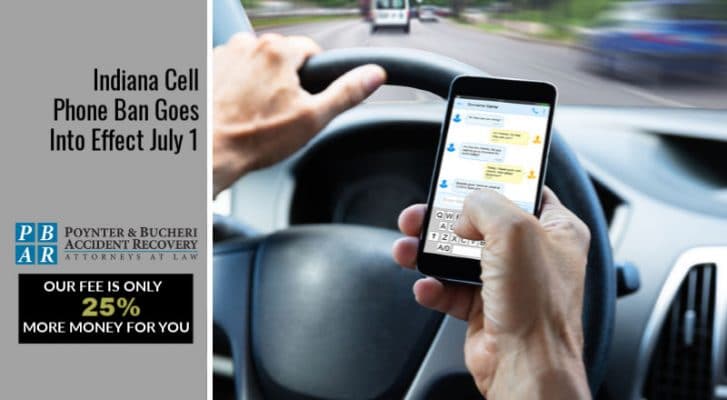 What you'll learn reading this article:
Starting July 1, Indiana's new ban on using cell phones while driving is in effect.
The goal is to reduce preventable distracted driving crashes on Indiana roads.
Violators risk fines and a suspension of their driver's license.
Almost half of all drivers admit to being distracted by their phones, even though they're aware of the dangers. In fact, an AAA Foundation report found that 87.7% of people agree that it's dangerous to talk on a cell phone while driving and 96.8% agree it's dangerous to drive while typing an email.
So why do so many people still do it? Maybe we just can't resist the lure of our cell phones. When your phone is near your hand and pinging with new messages, it's hard to resist taking a peek.
That's why Indiana Governor Eric Holcomb signed a new bill into law that bans Indiana drivers from holding their cell phones while driving, starting July 1, 2020. Holcomb says it's a matter of safety, telling the Indianapolis Star, "It's about saving lives."
It's a Fact: Cell Phone Bans Do Save Lives
Indiana joins 22 other states that have already enacted some type of ban on cell phones while driving. Other states have seen positive results from bans, including reductions in distracted driving crashes and traffic fatalities.
For example, both Connecticut and New York saw up to a 76% reduction in driver cell phone use after their bans were enacted. The effect was both strong and lasting, according to a 7-year follow-up study by the National Institutes of Health. In particular, newly-licensed teen drivers cited the ban as a reason to stay off their phones while driving.
The Insurance Journal reports that cell phone bans also have a significant impact on saving motorcyclists' lives. Motorcyclists are at high risk of death in crashes from being run over and/or crushed between cars by distracted drivers. Every state with a cell phone ban has seen at least a slight reduction in motorcyclist road deaths.
Here's Why You Should Take Indiana's Cell Phone Ban Seriously
Although Indiana previously enacted a texting ban in 2011, that law has been difficult to enforce. It's almost impossible for a police officer to prove you were texting unless they had a clear view of your cell phone screen.
The new ban that takes effect July 1 expands the existing law and means:
A person may not hold or use a telecommunications device at all while operating a moving motor vehicle.
Hands-free or voice-operated technology is permitted, but the device can't be in your hand at any time while driving.
There is an exception for bona fide emergency situations, like dialing 911.
Drivers who fail to follow the cell phone ban could face a fine of $50 to $500 depending on the situation and their history of previous violations. They could also lose their license for a subsequent violation.
To learn more about Indiana's new cell phone ban, or to hold a distracted driver accountable for injuring you, contact an experienced Indianapolis car accident attorney. Hopefully, the new law will spread awareness about distracted driving and save many Hoosier lives.
Poynter & Bucheri Accident Recovery – Indianapolis Personal Injury Attorneys
If you or a loved one has been injured physically or mentally by a person, product, or company, you need to know your legal rights. Our personal injury attorneys are experienced with cases like yours and can evaluate what your case may be worth. We will ensure that you are protected and compensated for your injuries and losses. Why pay up to 40% in attorney fees? Our fee is only 25%* and we fight to win your case or you pay no attorney fees at all. Don't hesitate – one of our experienced attorneys can assist you right away. Call 1-800-265-9881 for a free case review.