Follow These 8 Steps If You're Injured in a Spring Bicycle Accident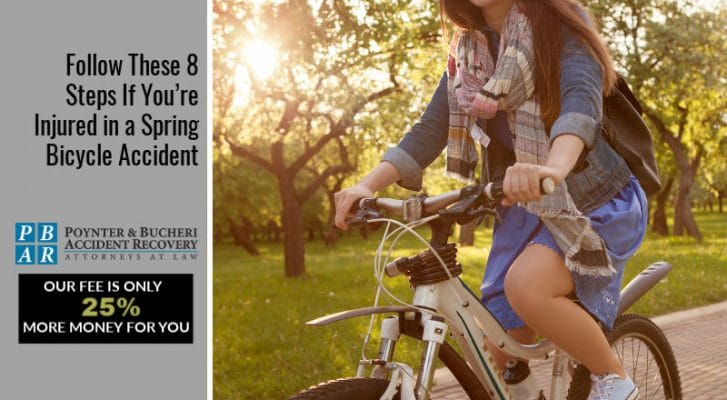 What you'll learn reading this article:
Bicycle accidents aren't always avoidable, but there are some steps you can take to better ensure your safety when you hit the road cycling.
You should treat a bicycle accident like a car accident in many ways, and follow standard procedure, such as calling 911 if hit.
Always seek medical attention after an accident as some injuries present themselves over time.
Now that the weather is nicer, more and more people are choosing to bicycle for both recreation and transportation, meaning that both bicyclists and motor vehicle drivers should be on the lookout for one another. While there are many roads in Indianapolis and its surrounding areas that include designated biking lanes, others see cyclists and motorists sharing the road. With the uptick in bicycles out and about, there is always the chance that an accident could occur.
How To Avoid Bicycle Accidents
For bicyclists, it is important to review common cycling safety tips regularly, especially if you are cycling after having been away from it for awhile. The following steps can be important in maintaining your safety and the safety of other bikers, pedestrians, and drivers:
Know whether there is a designated bike lane for your route.
It is important to follow all traffic laws, and knowing whether and when a lane is designated for cyclists is important.
Avoid "salmoning," or cycling against traffic.
While many people feel safer riding against traffic, it is actually much more dangerous. Always ride in the same direction as traffic, even if it means a longer route due to one way streets.
Wear brightly-colored clothing.
Maintaining your visibility is especially important when the time of day, position of the sun, and weather aren't on your side.
Wear a helmet and/or other protective gear.
Wearing a helmet is paramount to your safety, and if you plan on riding in heavy traffic or on uneven paths and roads, additional gear such as elbow pads may be helpful.
Add lights and reflectors to your bike for nighttime riding.
Help drivers see you by making use of reflective strips on clothing, your bike, or even adding headlights to your vehicle.
Pay close attention to cross streets, driveways, and parked cars.
Drivers aren't always on the lookout for cyclists, so be extra cautious in areas where drivers may first be starting their car or where you are crossing lanes of traffic
Consider riding in a group or with a partner to increase visibility.
The more the merrier–and the safer! When you can, ride in pairs or groups so as to be easier to see.
Even if you follow these tips, there is still the chance you could become involved in a bicycle accident. Here's how to best handle yourself if that occurs.
8 Steps to Take After a Spring Bicycle Accident
Get out of the road and to safety, but stay on the scene.
In order to see to your injuries and avoid any further accidents, first and foremost get off the road and to a safe location near the scene.
Call 911 and report the accident.
Just like a car accident, you will want to file a report for your insurance.
Seek necessary medical attention.
If you are not seen by paramedics at the scene, seek out an appointment with your medical provider and alert them to the accident. Some injuries are not readily apparent and may take time to develop symptoms, so keep a log of any you experience and your doctor updated.
Exchange information with the driver who hit you.
Be sure to get all of their contact and insurance information, but decline to comment on the accident itself, particularly in an audio or written record.
Take pictures and/or video of the accident scene and your injuries.
Be as detailed as possible. Multiple angles can be very helpful!
Get contact information for any eyewitnesses.
Ask them what they saw, and if they are willing to provide you their name and info to be contacted further.
Preserve your clothing, bike, and shoes.
After photographing them, put them in storage somewhere safe where they can be accessed should you need them if your case goes to trial. While you might be inclined to fix your bike, don't until speaking to an attorney.
Contact an Indianapolis personal injury lawyer experienced in bicycle accidents before signing anything, especially from your insurance.
You'll want a personal injury lawyer who has expertise in bicycle accidents to provide you with the best guidance when it comes to how to handle your unique case. Insurance adjusters will not take your best interest into account. Before signing anything, contact a lawyer you can trust to fight for your rights, such as Poynter & Bucheri Accident Recovery.
Poynter & Bucheri Accident Recovery – Indianapolis Personal Injury Attorneys
If you or a loved one has been injured physically or mentally by a person, product or company, you need to know your legal rights. Our personal injury attorneys are experienced with cases like yours and can evaluate what your case may be worth. We will ensure that you are protected and compensated for your injuries and losses. Most firms charge 33% or 40%, at PBAR our fee is only 25% – THAT'S MORE MONEY FOR YOU!
Don't hesitate—one of our experienced attorneys can assist you right away. Call (800) 265-9881 for a free case review.