Top Tips for Healthcare Workers and First Responders during COVID-19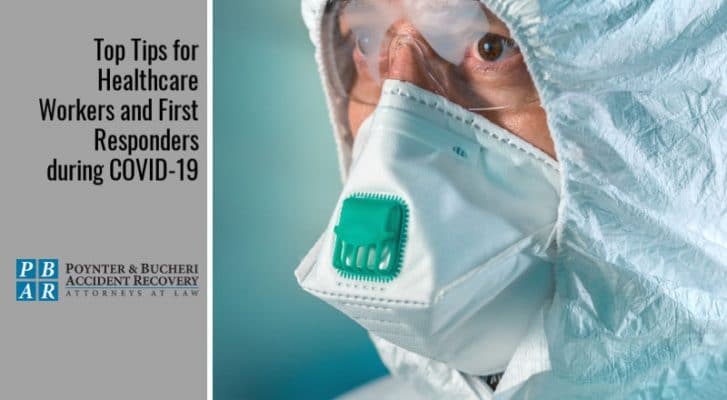 What you'll learn reading this article:
As of March 31, almost 50 Hoosiers have died from the novel coronavirus out of over 2,159 known cases.
The COVID-19 virus can survive on different surfaces for varying degrees of time and in the air for up to three hours.
Many Americans are struggling with mental health during this pandemic—a normal response but one that deserves attention.
While all of us are at some risk for contracting the novel coronavirus that has been disrupting the lives of millions the world over, there are some of us who are more exposed than others.
Many of us are able to stay at home, self-isolate and only go out for essentials like food and medicine. There are those who are unable to stay home, though: our healthcare workers, first responders and essential workers such as those individuals working at grocery stores and for delivery services. In addition, those in certain demographics and with underlying conditions are believed to be more at risk for developing severe cases of COVID-19.
Coronavirus Statistics in Indiana
According to the Indiana State Department of Health, as of March 31, there were 2,159 known cases of coronavirus in Indiana and 49 deaths thus far. This is out of a total of 13,373 who have been tested. Counties with the highest number of cases are as follows:
Marion – 964 cases
Lake – 146 cases
Hamilton – 127 cases
Johnson – 101 cases
Hendricks – 70 cases
Statistically, the ISDH has found that 51.6 percent of cases have been contracted by females, with males making up 48.4 percent of cases. Out of coronavirus deaths, however, males make up 65.2 percent of Indiana deaths, with females making up 34.8 percent. So far, no one under the age of 29 has died in Indiana and neither has anyone aged 40-49; the majority of Indiana coronavirus deaths have been in those aged 60 and older.
How to Protect Yourself and Your Families
If you are one of the hardworking Americans on the front lines of this pandemic, not only are we at Poynter & Bucheri grateful for you, but we also want to help you protect yourself and your families. Here are some of the top CDC-recommended ways you can protect yourself from possible exposure while on the job:
Maintain a distance of at least six feet from others.
Wash hands for at least 20 seconds with warm water and soap.
Avoid touching your face.
Learn your employer's plan for exposure control.
Additional tips:
Avoid coming into contact with bodily fluids without PPE (personal protective equipment). If you do come in contact, do not touch your face, and wash your hands as soon as possible for 20 seconds. Use an alcohol-based sanitizer if soap and water are unavailable.
Wipe down and sanitize surfaces, especially high-touch ones, when possible. Studies show the virus can last on surfaces for the following lengths of time:

Up to two to three days on plastic

Up to two to three days on stainless steel

Up to 24 hours on cardboard

Up to four hours on copper

Up to three hours in the air
If you are unable to stay at home during this time and do not live alone, there are several steps you can take to help lower the risk of bringing the virus into your home:
Wipe off all groceries and packages that enter the home or, if possible, leave bags and items outside for several days.
Remove your shoes before entering your home and spray them with disinfectant.
Shower and remove clothing when returning home; put worn clothing in the washer, and do not share towels.
Wipe your phone down with sanitizer wipes several times a day.
Clean high-touch surfaces in your car such as your steering wheel, gear shift, door handles and keys.
Disinfect credit cards and ID badges after use.
If you wear contacts and have the option of switching to prescription glasses, do so. Be sure to sanitize your glasses before setting them on any surfaces when returning home.
Practicing Self-Care During a Pandemic
This is a stressful time for all of us, but particularly for those on the front lines risking exposure to help the rest of us. Because of this, it is important to take time out daily to check in with your loved ones and yourself.
Practice self-care during this time, and keep in mind the following tips provided by the American Foundation for Suicide Prevention:
Accept some things are out of your control.
Do things that bring you a sense of safety and security.
Try to get outside each day.
Try to stay focused on the present moment.
Stay connected with those who support and care for you.
If you are struggling with mental health during this time, please consider visiting the CDC's Mental Health and Coping page for more techniques and information.