Collisions Involving Vehicles and Trains Are More Common in Indiana That You Think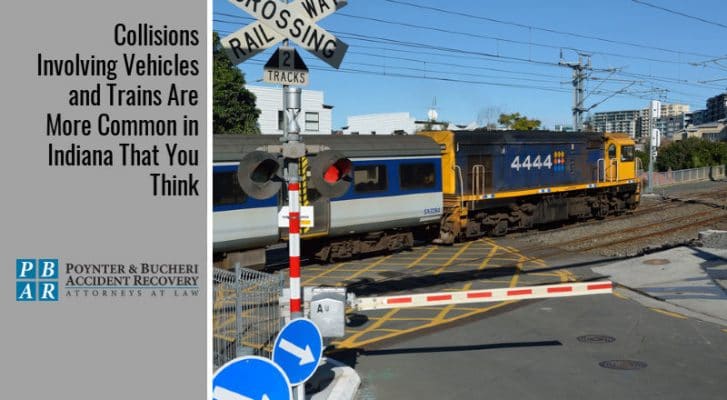 What you'll learn reading this article:
Indiana ranks #3 for the number of vehicle-train collisions in the United States.
Vehicle-train collisions are more common than you think, with over 2,000 collisions occurring in the United States in 2018.
Many accidents involving vehicles and trains occur at unprotected train crossings.
In December 2019, two different vehicles collided with the same train in Brownsburg, Indiana, leaving one person injured and one person dead. How does an accident like this happen? And how often does it happen?
In 2018, 150 vehicle-train collisions resulting in 17 fatalities and 54 injuries occurred in Indiana, which ranks number three in the nation when it comes to the number of vehicle-train collisions and fatalities. Federal Railroad Administration preliminary 2018 statistics for the entire United States show there were a 2,217 collisions with 262 fatalities and 840 injuries. This is fairly in-line with the last decade, with only 2011 and 2015 seeing over 1,000 injuries coming from vehicle-train incidents. The number of collisions, injuries and fatalities has greatly decreased from 1981, however, when 9,461 collisions resulted in 728 fatalities and 3,293 injuries. It still begs the question, why and how does a car collide with a train at all?
Contributing Factors to Vehicle-Train Collisions In Indiana
Negligence or Recklessness – Negligence or recklessness can contribute to vehicle-train accidents when either the driver of the vehicle or the train conductor, employee or company have not done their jobs responsibly. One example could be a driver who tries to "beat" a railroad crossing before the arms are fully down and ends up putting themselves in harm's way; another example could be a railroad employee who fails to signal properly or operates the crossing arm incorrectly.
Mechanical Error – Mechanical errors can occur without warning on vehicles, trains, tracks and crossing equipment. Because of this, it is important to remain vigilant as a driver whenever you are crossing or approaching a railroad track.
Human Error – A train conductor or rail operator may be inexperienced or over-fatigued, leading to a small mistake that could result in big consequences. Similarly, a new driver or someone inexperienced with railroad crossings may make an error in judgment that results in a tragic accident.
Lack of Familiarity or Awareness – Car accidents involving trains aren't nearly as common as car and truck accidents, and maybe this is a part of the problem. While trains may not be as popular as they used to be in America for public transportation, they are still used throughout the United States for freight in addition to commuter trains that transport passengers, especially in America's biggest cities. However, Americans don't tend to spend much time thinking about trains, and for many of us, trains are not a part of our everyday life. This may lead to drivers who don't live in the area of railroads not practicing or remembering safe driving when it comes to railroad crossings.
Unprotected Railroad Crossings – A very common cause of car and train accidents are unprotected crossings or railroad crossings that only have a sign and no safety gates, lights or warnings.
Vehicle-Train Collision Liability
When it comes to assessing who is liable for a car accident involving a train, there are typically five important factors to consider:
Was the car's driver acting responsibly and did they behave in a way that affected their safety?
Was the train's driver acting responsibly? Were they operating the train correctly?
Did the owner of the railroad track and any involved third parties maintain it and install safety lights, gates crossing arms or other warning signals at the crossing?
Is the city or county government responsible for maintaining the tracks? If so, did they maintain them correctly?
Was the train manufactured correctly? Were there any design flaws that could have contributed to the collision?
Driver Tips to Prevent Accidents Involving Trains
Be aware of any railroad tracks in your area
Know that trains are wider than the track itself; stay back a considerable distance at all times
Always treat a track like it is in use; stop and look both ways before crossing
Never stop your vehicle directly on a track; if your vehicle stalls on a track, exit it immediately and contact authorities
Do not walk along railroad tracks, take pictures on them or play around them
Be aware that trains can take up to one full mile to come to a complete stop
Poynter & Bucheri Accident Recovery – Indianapolis Personal Injury Attorneys
If you or a loved one has been injured physically or mentally by a person, product or company, you need to know your legal rights. Our personal injury attorneys are experienced with cases like yours and can evaluate what your case may be worth. We will ensure that you are protected and compensated for your injuries and losses. Why pay up to 40% in attorney fees? Our fee is only 25%* and we fight to win your case or you pay no attorney fees at all. Don't hesitate – one of our experienced attorneys can assist you right away. Call 1-800-265-9881 for a free case review.